We've seen you, out of the corner of our eyes.
Four early losses to Oregon State (No. 2 RPI), but bounce-back wins over Texas Tech (No. 16) and Baylor (No. 37). Home opener pushed back to March 19.
And then the sweeps. Broom jobs over Michigan State and Purdue at home and Penn State on the road. A 10-1 win at Minnesota to go with bookend walk-off losses to the defending Big Ten champ.
It's April 19 and Nebraska is 21-11 and 10-2 in first place in the Big Ten — 1½ games ahead of Indiana (7-2) and three games ahead of Michigan (5-3), Iowa (7-5) and Minnesota (7-5).
That's a good start. Possibly, ahead of where many thought Nebraska would be after last season's drought. Nobody has taken hold of the Big Ten race. By virtue of sweeping the ninth-place, 12th-place and last-place teams, the Huskers have risen to the top.
Just as the weather in Nebraska is turning, heating up and feeling like spring, so, too, is the Husker baseball season.
Call it the fifth-inning stretch. It's the halfway point in the Big Ten season, 12 down and 12 to go, and a rather big nonconference series at home awaits. All the heavy lifting is still ahead — the stuff that Nebraska fans care about.
It starts tonight at Iowa, which is 7-2 against the Huskers in the past four seasons, including a win in the Big Ten tournament in 2017.
Then back home to face Illinois, which is 3-6 in the league but has a No. 31 RPI.
After a weekend of Lake Michigan ball at Northwestern, the Huskers return to host Arizona State, 28-7 and fourth in the Pac-12 with a No. 35 RPI.
Then the regular-season finale home series against Michigan, which many picked to win the Big Ten but has started 5-3 (64 RPI) in the league.
Of course, there's one more game against Creighton (19 RPI) next Tuesday, which provides NU plenty of chances to boost its current RPI of 38 — which is nowhere close to consideration for hosting an NCAA regional.
That's OK. After last season ended on May 19, the Huskers want to get back to Omaha — that is, for the Big Ten tournament. They missed it last year for the first time since joining the league.
Nebraska looks like it's in solid position to make the Big Ten and NCAA tournaments. Then the Huskers can work on their postseason problem: a 1-6 record in their past four Big Ten tourneys and 1-6 in their past three NCAA regional appearances, dating to 2015.
Leave the demons for later. It's been a while since Husker fans had a late spring to get excited about. Could this be the year? Hey, first place in the Big Ten isn't a bad start.
"Well, it's better than being in last place," said coach Darin Erstad.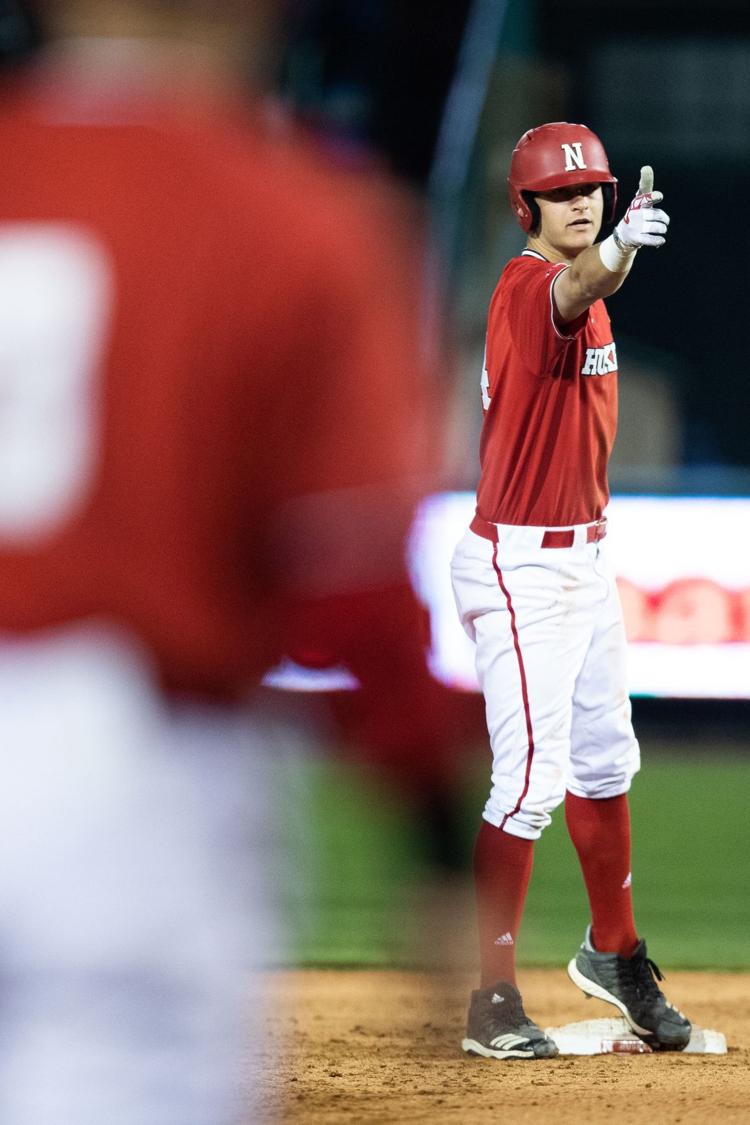 That's a perfect answer from Erstad, who has seen a lot of good from this squad but enough low moments to temper the mood. Twice it has come off weekend conference sweeps to produce flat Tuesday performances.
It's probably expected. The preseason talk was that Nebraska would be better, especially with a healthy pitching corps. This team has a group of seniors, looking to end their career right, to go with an infusion of several freshmen and sophomores fighting the ups and downs of four to five games a week.
"We're taking care of business," Erstad said. "I don't care who you're playing, to go out and finish off three weekends — it just doesn't happen very often. It's a credit to our guys for staying focused and finding a way to do that three times.
"I'm a realist. We can lose to anybody on a given day and we can beat anybody on a given day. We're not at that point where we can just roll the balls out there and win. We have to have a certain mentality, and when we do that, we can maintain the pace."
There are legitimate reasons to think this spring might have a happier ending. Nebraska's weekend pitching has been really good. So much of college baseball starts with a consistent Friday night starter. Senior Matt Waldron has been that guy for NU, with a strikeout-to-walk ratio (50 strikeouts, four walks) that leads the Big Ten.
The defense, which was shockingly absent last season, has returned of late. The bats have run hot and cold, rolling up 39 runs against Purdue one week and 10 at Penn State the next.
Erstad saw a good sign the other night in the loss to Kansas State: The Huskers hit the ball hard, but right at K-State defenders. The approach has been better. Walks are up and strikeouts are down.
And that means the all-important attitude is in the right place. That was Erstad's expectation for this season. His demand.
"Absolutely," Erstad said. "At Oregon State, I thought they backed down a little bit. We got ticked off. I know in a baseball season there are going to be bumps in the road, but I do like the mentality of this team.
"To this point, we've taken care of business. We've put ourselves in position. I'm not going to talk to them about what's ahead or the big picture. They know that. Everybody has those goals. It's how you get there, and everybody knows it's a day-to-day process."
Asked if he liked the leadership on his team, Erstad dismissed the notion: "The word leadership — I just want them to be themselves, take care of business. This isn't a goal to go out and play with a mentality. That's non-negotiable. That's the way it's going to be."
The folks on the outside can talk big picture and look ahead. Erstad won't engage in such matters. The spring spotlight is here. The coach is trying to keep his eyes and his team on the road ... to June.
"I'm a day-to-day guy," Erstad said. Now the days are getting longer. And bigger.
Timeline: Darin Erstad through the years
Darin Erstad was an All-American for the Nebraska baseball team and won a national championship as a punter for Tom Osborne. He spent 14 years in Major League Baseball and won three Golden Gloves before embarking on a head coaching career at his alma mater. Check out this photo gallery of Erstad through the years.