Remember the good old days of technology, when kids were kids and cellphones were the Nokia Brick?
Drake Beranek does. He got one when he was 16 years old, his sophomore year at Ravenna High. That was 15 years ago, and Beranek laughs now at what used to be the cutting edge of high tech.
"I was the first one to get the flip phone that didn't have caller ID so you had to memorize people's numbers," Beranek said. "No text messaging. You had the green and black screen.
"I remember the first time I signed up for Facebook. I was in business class my senior year, and one of my teammates came up and said, "Hey, you got to check out this new thing where people can write on your wall. I was like, what the heck are you talking about?
"We had a dial-up computer at home. I used to tell mom I was on the Internet so she couldn't call somebody."
Washington faces charges in California that he sent a former girlfriend a sexually explicit video of her, though Washington is not in the video and did not record it.
The story and the facts are still unfolding. But this was an alarming reminder for parents of what teenagers have access to on their smartphones and the decisions they make.
It's another reality check for coaches, too. Tom Osborne never had to deal with this. But now coaches like Scott Frost have to be on top of these things and figure out disciplinary measures for things kids do with phones.
This is a growing issue in coaching, one still evolving almost as fast as the smartphones themselves. I sought out three coaches — NU volleyball coach John Cook, Bellevue West High School football coach Michael Huffman and Beranek, Kearney High boys basketball coach — to get their takes. They're learning on the run.
» Cook, 62, still relates well with his players. But he doesn't do much social media. He says his staff monitors the players' social accounts, but he adds that the players might block their coaches — and that's fine with Cook. He wants his players to have their space and there's a trust factor in their relationship.
But isn't Cook afraid he'll miss something if the Huskers post something controversial?
"No," Cook said. "If there's something out there that's inappropriate from our team, we'll know about it. Because there's enough people who will see it and let me know."
Cook said over the years, he's had only one phone/social media incident that had to be addressed. Some players posted photos from a party — "with booze bottles everywhere," Cook said — and they were called in to be scolded. Their punishment?
"I can't remember," Cook said. "It was more the physical type consequences (running in practice)."
Cook said the university manual addresses social media issues, but leaves the policing and discipline to the coaches. Cook gives his players frequent reminders, and he addressed the Washington story with his players.
"We tell our players all the time, it just takes one bad click and you can really mess up," Cook said. "You got to think, 'Is this something I want to see 10 years from now?' You have to remember you are representing Nebraska volleyball. We just hammer on it. It's one stupid emotional moment. It can haunt you forever.
"When you go to apply for jobs, they're going to look at your social media."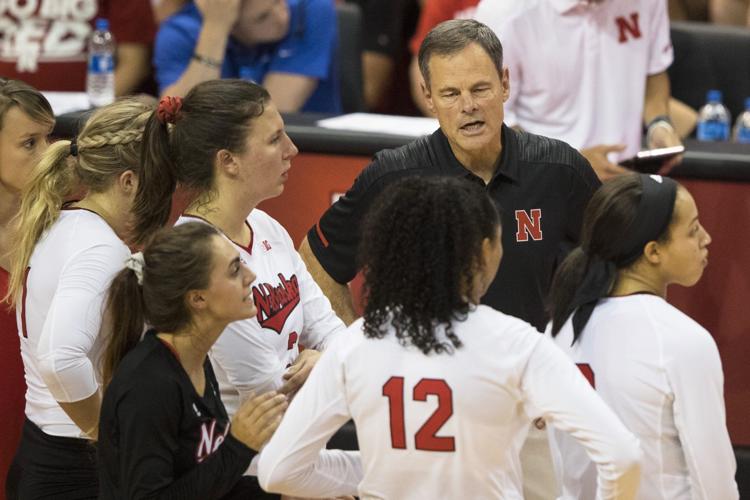 » Huffman has a thumbs-on approach to social media with his high school players. He follows all of them on Twitter and they are not allowed to block him. In fact, they must follow his account so he can send them direct messages whenever he needs to get a point across.
The Bellevue West coach regularly reminds his players that a like "means you would say it" and a retweet "means you say it and believe it." He likes to retweet an old post about a college coach who stopped recruiting a high school player because of a Twitter post.
"It's an issue," Huffman said. "I tell the parents each spring, if you knew what your kids were like with their phones, you would not let them bring one to school.
"The worst part about it is the (school) hallways. These kids have earbuds in, they're staring at their phones, they don't talk to anybody. It drives me insane. I tell the kids during football season, I don't want to see earbuds."
Huffman said there haven't been a lot of incidents. If a Bellevue West player does something inappropriate, Huffman will send the kid a message and tell him to delete it. The punishment: 100-yard "log rolls," or a drill where the player must roll on the ground 100 yards in his uniform.
"A couple years ago we had a fight in school and one of my ding-dongs filmed it (on his phone)," Huffman said. "He got a suspension from school. It's a teaching moment. You got to talk to the kids about this stuff. Most of them are pretty smart about it."
Huffman reminded that the teen years are when mistakes are made, and there's a generation of us who are glad smartphones weren't around to record our adolescence.
» Beranek is an interesting study, the new-generation coach. He is a head coach who had a cellphone in high school and college and was around when Twitter started — though he says he didn't partake until after his UNK and NU careers.
The native of small-town Ravenna has a Twitter account that he uses only to post an occasional video of his daughter. His Kearney High players, he says, are on Instagram. Beranek has an account but rarely uses it, and doesn't check up on his players.
His take: Teach your players well and then trust them — until they prove they don't deserve it.
"It's a slippery slope," Beranek said. "There's so many decisions that can be made throughout a day, and with all these things they can use, they have to be really good at making decisions.
"We talk about it as a basketball team. If shot-making is a skill that requires practice, the same thing is true about decision-making. You have to practice making good decisions. Every good decision you make during the day, you create good habits.
"There's a pretty good saying: 'Every time you make a rule, you take away a choice.' Rules aren't always the answer, either. At some point, kids have to be good decision-makers. They have to be able to make good choices."
In Kearney, Beranek said, the biggest social media violation he can remember is when a member of his team liked a Twitter post that questioned whether the girls team could beat a boys intramural team.
"I said, if you want to talk about that with your buddies, that's fine," Beranek said. "But once you click 'like,' everybody gets a chance to see what your opinion is."
Is there a schoolwide policy or statement about social media? "I'm sure there is," Beranek said, "but I have no clue what it is. Keep our fingers crossed so I don't have to know what it is."
Sign up for Big Red Today news alerts
Get a daily Husker news roundup, recruiting updates and breaking news in your inbox.
These things give an old dad more gray hairs. My three daughters have phones and it's crazy. I follow one of them on Twitter and my wife follows another on Instagram. The good news? You can track where they are. But what they're looking at? That's another story.
What Beranek said is true in a lot of ways: Teach and trust and hope.
I half-joked to the coaches that the worst punishment you can give to a teen is to take away their phone.
It does work. But one of the coaches already knew that.
Cook said he and his Huskers were on a team trip to China in 2014. They played horribly in one match and Cook was mad. He stomped onto the bus and grabbed a bag and took away all the players' phones.
"They had no way of communicating with their parents," Cook said. "Or anyone.
"The next night, they played great, and the next night after that. So I decided to give them back to them.
"One of our players, Cecilia Hall, said, 'Coach, I don't even want my phone back. I enjoy having the time away from it.' It was a great learning experience. What happened, we're on these bus rides and train rides, they had to interact with each other."
Photos: Top shots from 2018 Husker football season
Check out some of our favorite photos from the 2018 Nebraska football season.