Butch Hug was at Memorial Stadium when a police officer got hit with a frozen orange — one filled with vodka — during the 1984 Oklahoma game.
He was at the Devaney Center, cleaning up after a gymnastics meet, when he heard on the radio that Danny Nee and the 1994 Big Eight tournament champions were heading to the Devaney for a public celebration.
He was there in Minneapolis, in June of 2000, when Husker starter Shane Komine was injured in the NCAA regional and had to be driven to a local hospital. Hug did the honors.
Hug's title is officially associate athletic director for events at Nebraska. But I like to call him Mr. Wolf, the character in the movie "Pulp Fiction" who is known as a Mr. Fix-It.
Sign up for Big Red Today news alerts
Get a daily Husker news roundup, recruiting updates and breaking news in your inbox.
Hug is retiring from NU, after a career that spanned 37 years and too many coaches, facilities and historic moments to count. We're used to seeing Hug everywhere in Lincoln. Now we won't see him at all. He'll be missed.
There's a reason all of these games we attend go off without a hitch. That reason starts with Hug. He's everywhere doing everything to make sure Husker games are staged. He says his job description is "whatever's necessary." How do you get this job, anyway?
Hug, from Auburn, Nebraska, was a student trainer for the Auburn High football team. After graduation, Hug followed Auburn coach Max Kitzelman (a former Husker) to Midland College in Fremont.
He was set to do a little bit of everything at Midland — intramural director, painter, laundry man, baseball coach. But a year into his time at Midland, he was drafted. By the U.S. Army.
Hug was headed to Vietnam and spent a year in the war in 1968. Once there, he was moved from the ranks to a job as company clerk.
"I checked people in and checked people out," Hug said. "Most of the time it wasn't very pleasant checking them out."
Hug came home and graduated from Midland in 1971 and stayed until 1976, when he went to Nebraska Wesleyan as director of activities. Like many Nebraska kids, Hug's goal was always to play at NU. Or, in his case, work in the athletic department.
That chance came in the fall of 1982, when he got the job at the Devaney Center, closing down the building as "night man."
Thus started an MVP career behind the scenes. Some of the highlights:
» The incident in 1984 where the officer was hit by the orange changed the way NU secured the stadium for football games.
"Before that, it was a pretty relaxed atmosphere," Hug said. "By halftime, they left the gates open and people could come in and leave as they pleased. You could bring in whatever you wanted to, including drinks. And they did.
"We didn't staff the parking lots. People parked wherever they wanted. It was first come, first serve. We started to take over the game management and crowd management. We had people stay at all the gates and watched what you brought in."
» The 1986 NCAA flap over Husker football players handing out too many complimentary passes. Hug was moved to the ticket office to help start the new policy of having players sign their passes over to specific people.
» The football national championship days, when Hug first hit the road as an administrator.
"I traveled with the teams," Hug said. "Coordinated the late planes, the luggage, working with the hotels. Working 36-hour days. Those things were fun."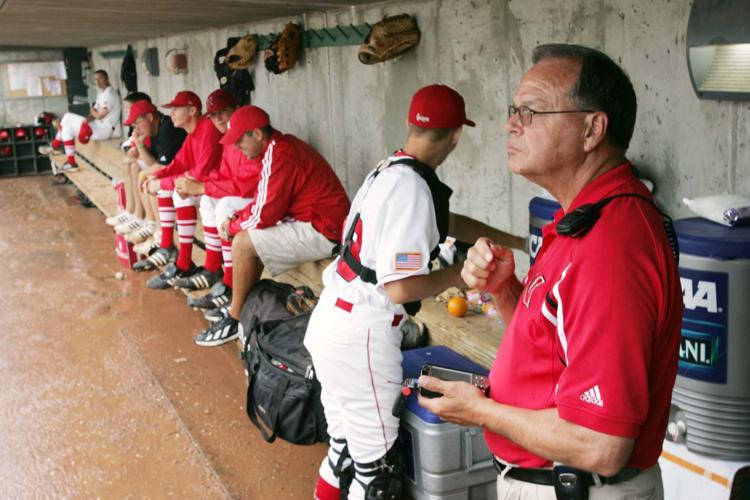 » Coordinating Nebraska's hosting of the 2001 NCAA super regional at Buck Beltzer Field. Hug said they had the option of playing at brand-new Haymarket Park, but coach Dave Van Horn declined.
"He said we don't know the field," Hug said. "He said if my shortstop misplays a grounder, somebody else goes to the College World Series. If a Lincoln Saltdog misplays one, they play another game tomorrow."
» His first introduction to football coach Bo Pelini, at the 2008 spring game.
"Bo lit into me very early in the game, about the clock," Hug said. "His assistant coaches said let's keep the clock running and let's get out of here. Bo said, 'I'm the only one who makes that decision.' He got on me, but he called right after and apologized."
Through it all, Hug's expertise helped NU host numerous NCAA events, including NCAA final fours in Omaha and the Big Ten baseball tournaments. The NCAA has hired Hug to work various baseball regionals.
He and wife Carolyn will stay in Lincoln, but figure to travel, starting with a cruise down the Danube River in Europe.
He'll remember the little things, like the ring of port-a-potties around Memorial Stadium that have to be hauled off after every game. One time, a fan tipped one over — and the unsuspecting fan inside ended up breaking his arm.
Or, the ABC golf cart that was parked outside the stadium and "borrowed" by someone who drove it to the "Bottoms" area and parked it in a garage.
"Every once in a while, you'd come in and see a beer can or two on the 50-yard-line," Hug said. "Somebody snuck in and thought it was a good place to have a drink."
Here's to you, Butch. Come back and visit. Promise you won't have to worry about the port-a-potties.
» Creighton baseball should make the NCAA tournament for the first time since 2012. Did I just jinx it?
Not likely. The Jays, 31-11 overall, have an RPI of 23 and a 6-2 record against NCAA Quad 1 teams. That's big-time stuff. And Creighton is going to need every bit of it, playing in the 16th-ranked conference.
The Jays, half a game behind first-place Xavier, could win the program's third Big East title this weekend when they host Villanova in the regular-season finale. That would be great, but not cause for a huge celebration. The other two times CU won the league, in 2014 and 2017, they missed the NCAAs. The Big East tourney winner got the bid.
Creighton has an NCAA tourney-caliber team. Some projections have CU as a No. 2 seed. Just keep winning, Jays.
» Meanwhile, Nebraska might have saved its season last weekend.
Not only by taking the series against Arizona State, which boosted NU's RPI to 38 and gave it two good résumé wins at a perfect time. But also, the way Nebraska fought back after getting beat up on Friday night. Nate Fisher and Reece Eddins saved the day, against ASU's heavy metal.
Will that serve as a momentum starter heading into this week's Michigan series and the Big Ten tourney next week? It should give the Big Red a ton of confidence. We'll see. This team has been up and down. The way the Huskers pulled themselves off the mat should serve well.
» One more and I'm outta here: A salute to Keith Mann and the Nebraska sports information office, which won its sixth "Super 11" award last week from the Football Writers Association of America, honoring the top sports information offices in the country. Mann and Co. do terrific work, serving the armada of media in the state and fans who can't get enough.
Photos: Nebraska football and basketball recruits attend Husker spring game
The Red-White spring game was a major recruiting event for both the football and basketball programs. Check out some photos of the top prospects as they hung out on the sidelines before kickoff.