He always wants a word when his college or pro team is struggling on the field, court or diamond. It's the talent, Talent Guy says. We don't have the players.
When will they have the players? The talent? Obviously when the team starts winning, well, the talent has arrived.
I pick on Talent Guy a little bit because the explanation takes little risk while seeming sage. As if Talent Guy, after hours of argument at a city council meeting about a garbage contract, can just walk to the microphone and say, "We need faster garbage trucks." Talent Guy can't tell you much about the garbage trucks on hand or, more to the point, the garbage trucks worth purchasing. Just get the good ones.
But let's assume Talent Guy keeps up on all the ins and outs of Nebraska football. It's worth noting that during the 2015, 2016 and 2017 seasons, the talent was indeed on campus in the form of official visitors. Players who, once we rattle them off in a minute, may make you wince a little.
Nebraska didn't get a lot of them. And seeing that the 2017 and 2018 recruiting classes are pretty banged up after mass departures, you can see how things might have been different — a little, or perhaps a lot — if the previous coaching staff had closed on a few more key prospects.
Yes, this is revisionist history and you can't directly correlate production in many cases from one school to another. And yes, some of the high-profile targets — such as Rahyme Johnson and Alaric Williams — didn't pan out at the collegiate level (another was even implicated in an armed robbery). And finally, of course, Nebraska couldn't have signed all of these players.
As a pastor I know says: The exception is always in the room. So the list lies somewhere between "all of this matters" and "none of this matters." Disclaimer over.
First, give credit where it's due: Mike Riley's staff identified the right skill talent to pursue, and it was good enough on organization and messaging to attract the players to Nebraska for official visits. NU's Friday Night Lights event was a helpful tentpole, but the Huskers' hustle on the trail in those three years was impressive.
The list is what it is because Nebraska nosed its way into the battles. Further, the constant churn of palace intrigue in that era — the hinting that Riley had to win now, the grumbling about calling too many passes, the complaints about his "Pac-12 staff" — couldn't have helped recruiting efforts.  
Let's start with the official visitors for NU's 2016 class. That was Riley's "regime change" class, which is not to be confused with the "transition" class that straddles two coaching eras. Transition classes — 2015 and 2018, for example — are notoriously hit-and-miss. Regime change classes — the first full cycle a coaching staff gets — are notoriously important. They're typically big classes full of contributors who form the backbone of an era. The 2005, 2009, 2016 and 2019 classes for Husker football. All those NU freshmen you've been told "get it" this year belong to the regime change class.
And so could have outside receiver Dez Fitzpatrick, inside linebacker David Reese, safety Isaiah Simmons, linebacker Cameron Goode and defensive tackle Jordan Elliott. All five took official visits to Nebraska. Reese and Fitzpatrick were heavy Husker leans to the point of being "silent commits," but they settled on Florida and Louisville, respectively, committing to coaches who ultimately were fired.
That's also true of Goode (California) and Elliott (Texas). Simmons picked Clemson, which offered late in the process and nipped Nebraska at the wire.
Here are their career stats:
» Fitzpatrick: 101 catches, 1,602 yards, 17 touchdowns
» Reese: 300 tackles, 15.5 tackles for loss
» Goode: 80 tackles, 14 tackles for loss, 6 sacks, 2 interceptions
» Elliott: 60 tackles, 16.5 tackles for loss, 4 sacks (last two seasons at Missouri)
» Simmons: 198 tackles, 24 tackles for loss, 8.5 sacks, 2 interceptions
Simmons is widely projected to be a first-round pick in the 2020 NFL draft and is probably one of three players on this list who will be an All-American this season.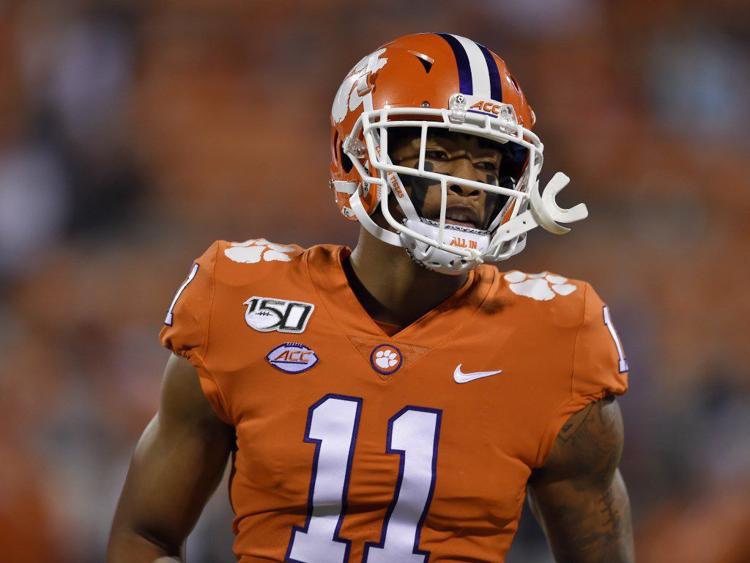 Moving on to 2017. These are visitors who came during and after NU's 2016 season. This is a long, lip-pursing group, especially at receiver and cornerback:
» Isaiah Hodgins, WR, Oregon State: 153 catches, 2,046 yards, 19 TDs
» CJ Verdell, RB, Oregon: 320 carries, 1,783 yards, 15 TDs, 40 catches, 437 yards, 2 TDs
» Jaylon Johnson, CB, Utah: 91 tackles, 3 tackles for loss, 7 INTs, 18 PBUs
» Thomas Graham, CB, Oregon: 156 tackles, 8.5 tackles for loss, 7 INTs, 29 PBUs
» Jaylon Redd, WR, Oregon: 82 catches, 844 yards, 13 TDs, 18 carries, 95 yards, 4 TDs
» Donovan Peoples-Jones, WR, Michigan: 90 catches, 1,103 yards, 11 TDs
» Deommodore Lenoir, CB, Oregon: 107 tackles, 5 INTs, 20 PBUs
» Kamren Curl, S, Arkansas: 163 tackles, 2.5 tackles for loss, 2 sacks
» Isaac Slade-Matautia, LB, Oregon: 59 tackles, 8 tackles for loss, 1 sack
» Jamire Calvin, WR, Washington State: 75 catches, 797 yards, 4 TDs (injured for 2019 season)
» Foster Sarell, OT, Stanford: Starter at right tackle in 2019
» Bryan Thompson, WR, Utah: 22 catches, 539 yards, 3 TDs
» Randal Grimes, WR, USC/UNLV: 40 catches, 583 yards, 6 TDs
» Jeremiah Holloman, WR, Georgia: 25 catches, 425 yards, 5 TDs (kicked off UGA's team, now at FIU)
» Chevin Calloway, CB, Arkansas/SMU: 32 tackles, 0.5 tackle for loss, 1 interception
» Robert Porcher IV, DL, Virginia Tech: 16 tackles, 3 tackles for loss, 2 sacks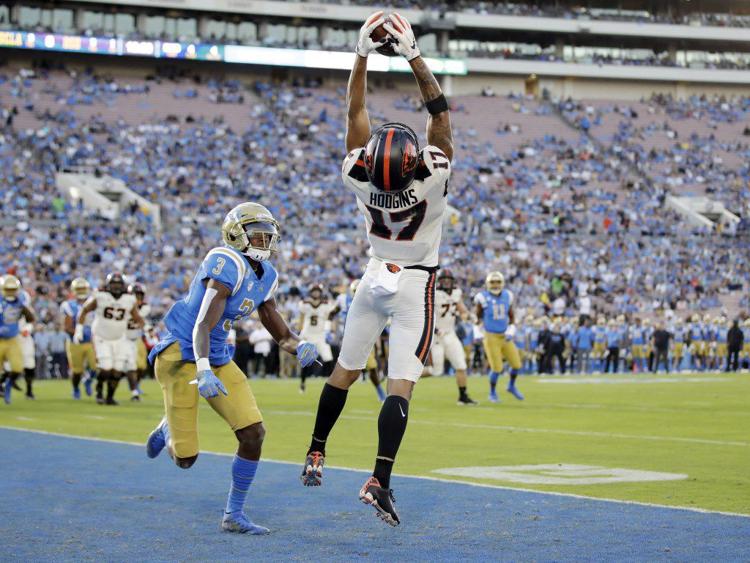 OK, on to 2018. This is the year Riley got fired and Scott Frost took over:
» Micah Parsons, LB, Penn State: 140 tackles, 11 tackles for loss, 2.5 sacks
» Talanoa Hufanga, S, USC: 102 tackles, 6 tackles for loss, 6 PBUs
» Andre Cisco, CB, Syracuse: 101 tackles, 9 INTs
» Aashari Crosswell, S, Arizona State: 76 tackles, 2 tackles for loss, 5 INTs
» Christian Tutt, S, Auburn: 50 tackles, 2 sacks, 2 INTs
» Jalen Redmond, DT, Oklahoma: 18 tackles, 8.5 tackles for loss, 3 sacks  
» Kobe Smith, WR, San Diego State: 50 catches, 627 yards, 4 TDs
» Josh Fleeks, WR, Baylor: 24 catches, 305 yards, 2 TDs, 2 rushing TDs, 548 return yards
» Jeshaun Jones, WR, Maryland: 22 catches, 288 yards, 5 TDs, 18 carries, 173 yards, 2 TDs (injured in 2019)
» Chris Bleich, OL, Florida: Listed as a starter at right guard but entered the transfer portal this week
» Jeremy Banks, RB/LB, Tennessee: 52 carries, 185 yards, 3 TDs, 2 INTs (thrown off team Oct. 4)
» Brendan Radley-Hiles, S, Oklahoma: 64 tackles, 3 tackles for loss, 1 INT
» Elijah Wade, DL, UCLA: 31 tackles
» Chase Williams, CB, USC: 28 tackles, 2 tackles for loss
» TJ Pledger, RB, Oklahoma: 37 carries, 239 yards
» Bryan Addison, WR, Oregon: 13 catches, 153 yards, 1 TD
» Brian Hightower, WR, Miami: 12 catches, 148 yards, 1 TD
» Otito Ogbonnia, DT, UCLA: 29 tackles, 1 tackle for loss
» Cameron Brown, WR/CB, Ohio State: 8 tackles, 1 tackle for loss
» Mario Goodrich, CB, Clemson: 8 tackles, 1 INT
» Joshua Moore, WR, Texas: 7 catches, 53 yards, 1 TD (now suspended)
Now, about the 2019 All-Americans. Simmons, Parsons and Hodgins (second nationally in TDs, sixth nationally in catches for an improving team) have a shot at making one of the All-America teams. Nebraska had a good chance at Simmons, and to a lesser degree Hodgins. Parsons? He visited Lincoln — turned heads at Friday Night Lights, too — but he was always headed to Penn State. And he's flourished there as the new LaVar Arrington.
The list tells you a few things:
» NU was in on so, so, so many receivers — receivers it could use right now. Hodgins is the best of the bunch, but he's not the only one. Nebraska has to lean so hard on Wan'Dale Robinson — who's taking more shots than Rocky did from Ivan Drago — because he's so good and doesn't have enough elite help.
» If Clemson doesn't offer Simmons — and if its defensive coordinator, Brent Venables, isn't a Midwestern guy — Nebraska may have that one difference maker on defense it needs. Simmons' stats, good as they may be, have been reduced by the sheer amount of elite talent around him. He'd be the featured star at many schools for three years, not one.
» Nebraska lost to a lot of Pac-12 schools — especially Oregon — because for three years it laser-focused on the West Coast with "Calibraska." The strategy didn't quite come through.
NU's new national strategy — to focus on Georgia, Florida and Alabama — is probably the superior decision culturally. Those kids tend to fit better in Lincoln, a small-to-big town more similar to a lot of small-to-big towns in the South than it is to Los Angeles or San Francisco.
Of course, Nebraska continues to recruit California, but the state has always been a 50/50 deal for the Huskers. For every Roy Helu or Eric Martin, there was a JT Kerr or Dijon Washington. So building the bulk of a recruiting class on that state was always iffy.
A lot of official visits were spent on Pac-12 all-stars. Jaylon Johnson, who's one heck of a player at Utah, loved his visit to Nebraska, which won nine games the season he visited. He still went to Utah.
So that's the ghost of Talent Past.
Talent Present is a 2019 class that features Robinson, outside linebacker Garrett Nelson and a ton of players Nebraska has chosen to redshirt. Some of that is out of necessity — six offensive linemen and two defensive linemen were always going to need a year in the weight room and at the training table. But some of that is a conscious decision to develop for the future.
Remember that NU won some key recruiting battles to forge the 2019 class. Beat Clemson for Jimmy Fritzsche. Beat Wisconsin and Michigan for Bryce Benhart. Beat USC and Arizona State for Noa Pola-Gates. Beat a lot of teams, including Ohio State, for Wan'Dale Robinson. Beat USC and Stanford for Ty Robinson. Beat Tennessee and South Carolina for Jackson Hannah.
Talent Guy will have to wait for that class to pan out. It has a full offense redshirting (except for Wan'Dale Robinson): A quarterback, two running backs, a tight end, six offensive linemen and four receivers. Couple that with the quarterback, two offensive tackles, two running backs and two wide receivers committed in the 2020 class. Folks, that's basically a two-deep for the NU offense of the future. The talent, come December's signing period, will be here.
After that, Talent Guy may want a get a coffee with Development Guy. They'll have a lot to talk about.
Photos: Nebraska football's 2020 recruiting class
See more pictures of the members of Nebraska's 2020 recruiting class.