Nebraska just wrapped up the 2017 recruiting class, but the Huskers are already about to enter an important stretch for the next one.
The early months of the recruiting cycle were key for the Huskers in 2017. They handed out more than 100 offers, initializing their relationships with many recruits that wouldn't sign for another year. But that class proved how early recruiting can pay off, as many of those recruits offered in February, March and April ended up signing with Nebraska.
That doesn't even include the four signees that were offered before signing day 2016. 
But if last year was any indication, the Huskers will be especially active in the month of February. Nebraska offered at least 94 recruits in the month of February last year. Of those, 18 visited Lincoln at some point and five signed with the Huskers.
The rest of the spring saw a solid chunk of NU's top targets come into view. The Huskers offered seven of their signees in the months of March and April, and an eighth — Elijah Blades — was offered in May. Former commits Robert Porcher, Jamire Calvin and Reese Leitao were all offered between February and April as well.
And about half of Nebraska's class committed during the spring. The Huskers added three commits in March, five more in April and another in May. There was a 16-day stretch from April 14-30 when four recruits gave their pledge to the Huskers.
A bonus for Nebraska in 2018 is that it's ahead of where it was a year ago. Nebraska has extended scholarship offers to more than 100 players in the 2018 class and already has three commits on board, two from Nebraska (Cameron Jurgens and Masry Mapieu) and another from California (Eric Fuller).
"We are earlier last year than the year before," Mike Riley said on signing day, "and we are earlier today than we were last year."
The next couple months should also feature two important visit dates as well.
Nebraska held its 2016 junior day on the second Saturday of March. Jaevon McQuitty committed to the Huskers on that day last year. Eventual signees Keyshawn Johnson Jr. and Austin Allen visited as well. Some other top targets at the time like Darnay Holmes were on campus, and several players that chose to walk on also took part in the festivities.
The Huskers will also hope that this year's spring game on April 15 is as productive as the last one. Brenden Jaimes committed to Nebraska while in town for the 2016 spring game. That also attracted a large group of "Calibraska" recruits, including Johnson Jr., Tristan Gebbia and Tyjon Lindsey, plus eventual signees from elsewhere like Ben Miles and Deontre Thomas.
So while fans may still be looking back at what Nebraska recruited in 2017, the coaches have already turned their attention to the 2018 class, and there'll be plenty to follow over the next few months.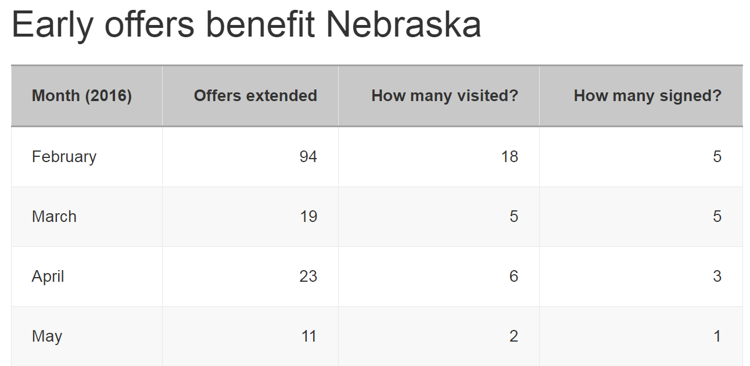 Photos: Nebraska's highest-ranked commit from each recruiting class since 2002
Check out the Huskers' highest-ranked commit, according to Rivals.com, from each recruiting class since 2002.
Photos: Future Huskers sign national letters of intent
The 2017 Nebraska recruiting class makes it official during signing day ceremonies across the country.