LINCOLN — Travis Fisher minces few words on the recruiting trail. The Nebraska defensive backs coach wants good players, of course, but he looks for far more than recruiting rankings.
"I tell them from the jump, 'You'll have to excuse me, but I don't even know how many stars you have,' " Fisher said. "It doesn't matter to me. That's someone else's job who ranks the kids. Maybe some of those kids are offended, maybe they're all about the star ratings, so they're not coming to Nebraska. That's great for me. I don't have to worry about a kid worried about rankings."
When recruits arrive — like the four defensive backs who have already signed with Nebraska's 2019 recruiting class — Fisher's first teaching point is most basic: the stance. He builds them up from there, making clear in every lesson the purpose behind the fundamental.
"I always want to give these guys the 'why,' " he said.
He makes no distinction in team meetings between highly ranked players and guys who got the late scholarship offer. He plays no favorites and deems no job off limits. And he expects his defensive backs to bond. If a group of them is out and one isn't there, Fisher wants the group to know where that other one is.
This is part of how Fisher develops players. And in Scott Frost's program — which recruits as well as the last several coaching staffs, and maybe better — development is in the secret sauce.
Nebraska figures to have its highest-rated recruiting class since 2011, just before its first season in the Big Ten. Heading into signing day, the 247Sports composite has Nebraska 19th. ESPN ranks NU 21st. Rivals rates the Huskers' class best of all, 14th nationally, with 10 four-star recruits.
But the Huskers have rarely had lowly rated classes. Since joining the Big Ten, Nebraska has never been lower than 32nd in Rivals' rankings. And Big Ten West teams that have bested NU on the field in recent years — Wisconsin, Iowa and Northwestern — have lacked the Huskers' recruiting pedigree.
But what they've often had is a culture of development. And NU has to get that back with Frost and his new coaching staff.
Sign up for Big Red Today news alerts
Get a daily Husker news roundup, recruiting updates and breaking news in your inbox.
For various reasons — lack of coaching continuity, injuries, odd position fits, missed evaluations — the highest-rated recruits in Nebraska's classes from 2011-17 often didn't pan out.
Take the top six in each class, according to the 247Sports composite. That's 42 players in all, spanning from Aaron Green — the nation's No. 32 player in 2011 — to Keyshawn Johnson Jr. Out of those 42:
» Seventeen either transferred, didn't show up or gave up the sport before their eligibility was up. This total doesn't include Greg McMullen, a regular starter who spent four years in the program before choosing not to return for his fifth, or Nick Gates and Randy Gregory, who declared early for the NFL draft. But it does include Green, Charles Jackson, Bubba Starling, Tyler Moore, Paul Thurston, Johnny Stanton, Monte Harrison, Jalin Barnett, Jordan Stevenson, Lavan Alston, Patrick O'Brien, Bryan Brokop, Tyjon Lindsey, Elijah Blades, Avery Roberts, Tristan Gebbia and Johnson.
» Three — Gregory, Daimion Stafford and Jordan Westerkamp — made the coaches' or media's All-Big Ten first or second teams.
» Just two — Gregory and Stafford — were selected in the NFL draft. That's the same number of players who were selected in the MLB draft — Starling and Harrison.
» Quarterback Tommy Armstrong was a four-year starter and one of the top players who panned out.
The trend was particularly bad in the Mike Riley era. In the 2015 class, three of the top six have left. In the 2017 class, it's five of the top six.
It's the roster mess Frost and his staff have to clean up. And based on their time at Central Florida, it's something they can reverse. In fact, they've already begun.
Of the six highest-rated prospects in the 2018 class, three — Adrian Martinez, Maurice Washington and Caleb Tannor — played prominent roles as true freshmen. Martinez had the best freshman season statistically of any Husker quarterback, and he's a dark horse Heisman candidate for 2019. Washington and Tannor both are favorites to start as sophomores next season.
In the 2019 class, three of the top six — Wandale Robinson, Nick Henrich and Luke McCaffrey — are already on campus.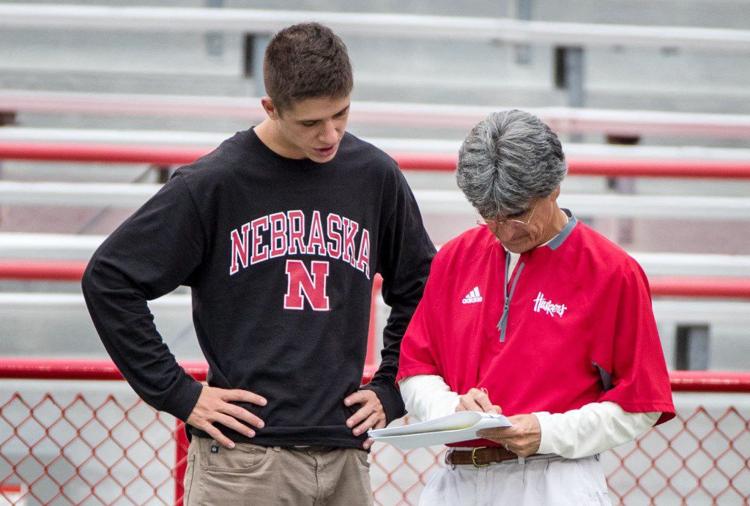 NU quarterbacks coach Mario Verduzco has two of the highest-rated prospects on the team in Martinez and McCaffrey. His work with Martinez made Verduzco a nominee for the Broyles Award, and his in-depth approach — complete with tests, written evaluations and a focus on the domains of learning — is designed to both tax a young player and accelerate his chance to play.
"The learning curve that we like to work on — with regards to any player — we want that thing to be steep," Verduzco said. "You're here midyear, man, let's get you ready to play, whether you're going to play or not. And we have a unique way of doing that. I think it's effective and efficient. And, after that, a young guy's talent comes to bear."
Verduzco recruits initially for athletic ability — he said Frost wants that component — and then does a deep dive into recruiting for the "effective" domain. Leadership. Emotions. Values. He winnows from there.
"By and large the guys we're going to recruit and have recruited are good guys — high work ethic guys, good personalities, good teammates," Verduzco said. He's seen it already in McCaffrey, who was asking in-depth questions of Verduzco just days after he signed in December.
"He's not putting his toe in, he's jumped in head first," Verduzco said. Martinez's to-do list includes all the drills he already knows with the "global" view of his strengths and weaknesses. High on the list for Martinez: ball security. He had 12 fumbles last season, second-most among FBS players.
Verduzco also limits the teaching his quarterbacks get to his tutelage. "No gurus," Verduzco said. No private quarterbacks coaches who often complicate the learning process and mess up the throwing motion, Verduzco said, instead of making the art of throwing a ball easier.
Verduzco has found that once quarterbacks are presented with all the data and drills, they warm quickly to his approach. He has Martinez and UCF's McKenzie Milton as quarterbacks who hit the ground running despite being true freshmen.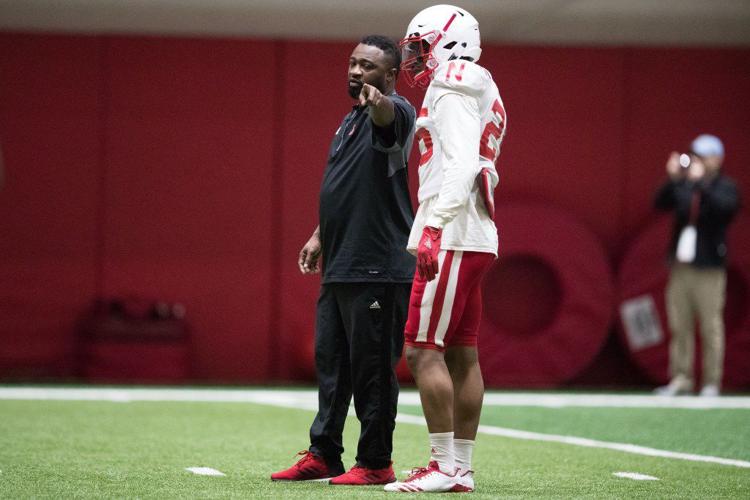 For Fisher, one trick for finding prospects who fit his coaching style is listening for what they don't say.
"Some highly ranked kids, most of them are so worried that, being highly ranked, that's supposed to mean they're playing as soon as they get on campus," Fisher said. "That stuff is poison."
He didn't get that vibe from Noa Pola-Gates, the highly rated four-star who picked Nebraska over USC, Alabama, Penn State and others.
"Noa's was more about the people he was going to be around — comfortable with the university, comfortable with the staff — and he was also concerned about life after football," Fisher said. "Noa's a little different than most of the kids ranked as high as he was."
A little different, perhaps, than one player whom Fisher thinks had a big turnaround in 2018: Lamar Jackson.
Jackson is one of the rare top-100 recruits Nebraska has landed in the last decade. He is the fifth-highest rated player NU has landed since 2011, according to the 247Sports composite.
Jackson hadn't lived up to expectations in his first two seasons, and when Fisher arrived — becoming Jackson's third position coach in as many seasons — he heard more about Jackson than any other player on the team.
"Highly rated, didn't make very many plays, needed to be humbled," Fisher said, adding that his position room had a "California vs. everyone" feeling to it. "All kinds of stuff. I heard it all."
Fisher watched only a little film of Jackson — "because it didn't really matter" — and didn't see all the negatives he'd heard. He didn't see a player "100 percent afraid to tackle," for example.
"I saw someone who really needed to be pushed in ways he hadn't before," Fisher said. And so Fisher pushed Jackson in a variety of ways. He used the motivation of incoming freshmen — especially Cam Taylor, whose role looks to expand in 2019. He coached Jackson hard to improve his technique and tackling. After Jackson committed a penalty against Purdue, Fisher and NU's defensive staff pulled Jackson and benched him. Jackson could have left but didn't after a meeting with Frost and defensive coordinator Erik Chinander.
He won his starting job back at Northwestern and a Blackshirt after a win over Minnesota. He tied for the team lead in interceptions and was second in pass breakups. A perfect season? No.
"But I thought Lamar was one of the most improved players on the team," Fisher said.
It was development. Taking the talent on hand and making it more. Players want development, Fisher said, and want to earn their jobs once they arrive in college. Everybody's good enough for a scholarship at the Big Ten level. Who signs where matters. How those players grow and improve is equally key.
"Most really good football players know they're highly ranked but they don't even care," Fisher said.
Photos: Top shots from 2018 Husker football season
Check out some of our favorite photos from the 2018 Nebraska football season.