Sevion Morrison was groggy. But his nap was interrupted by good news: Nebraska would be calling in five minutes.
The running back and his Edison Prep teammates were halfway through a three-hour drive from Tulsa, Oklahoma, to a game on a Friday afternoon in late October. As the bus cleared for a stop at McDonald's, Morrison rubbed his eyes and answered his buzzing phone.
Husker assistant Ryan Held was on the other end. Nebraska, Held told him, wanted to be the first school to offer a scholarship.
"That moment was emotion," Morrison told The World-Herald. "I felt I worked hard for that. Then I went and killed that game."
Sign up for Big Red Today news alerts
Get a daily Husker news roundup, recruiting updates and breaking news in your inbox.
The consensus three-star prospect ran for 242 yards (14.2 per carry) and four touchdowns in three quarters. He finished the season with more than 2,700 rushing yards and 38 total scores. Now nine months after that first call, he holds offers from more than 20 major college teams.
But Nebraska's leap of faith has stuck with Morrison. He made sure Lincoln was his first official visit — the June 21 experience was "way different" than he expected — and he left on a high that hasn't really ended.
NU initially found him through Colby Ellis, a Husker grad assistant originally from Oklahoma.
Of roughly 40 running backs the Huskers have offered in the 2020 cycle, Morrison was the second brought in for an official visit after Marvin Scott from Spruce Creek in Port Orange, Florida.
"Sevion is a kid that hasn't been too far from home," Edison coach Tony Daniels said. "And I know he was glowing and giving a 10-plus rating on the Nebraska trip. He really, really enjoyed his time there."
Morrison usually knows where he's going on the field, but his next step in the recruiting process is uncertain. He would like to take official visits to Arkansas and Missouri — he's made unofficial visits to both — along with Iowa State, but no plans are set. Washington is another possibility as he seeks a place with a family vibe and a chance at early playing time.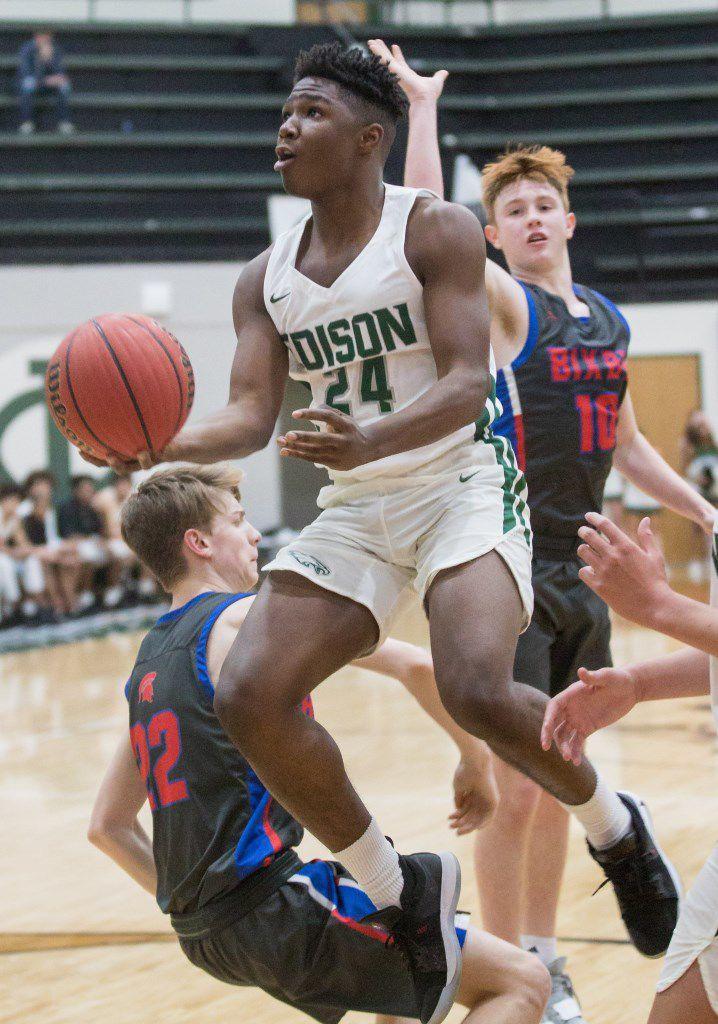 Morrison said he's considering making his decision in December, but "I want to do it before the season." He and NU coach Scott Frost have talked frequently about his potential role running and catching the football.
Morrison doesn't have offers at this point from Oklahoma or Oklahoma State. Although he grew up in Oklahoma, he rooted for individual players growing up instead of the Sooners or Cowboys. His favorite was legendary OU back Adrian Peterson, who is the reason he plays running back and wears No. 28.
Daniels, unsolicited, likened Morrison's running style to Peterson's. Both have long gaits, good balance and shoulders squarely north-south. While much of the 16-year-old's highlight film shows long sprints on the outside, the coach said his work between the tackles has been just as impressive.
Morrison didn't play football in seventh or eighth grade, instead focusing on basketball. But Daniels persuaded him to go out in ninth grade, and the athlete who doubles as a track sprinter hasn't looked back. He laughs about having to overcome a dislike for being touched — and that's why he runs so fast.
"When I didn't like being hit, I weighed about 157 (pounds)," said Morrison, who now carries 201 pounds on his 6-foot frame. "It's easy to give a hit now. Usually when I give a hit, with how fast I'm coming, the defender is either falling on his shoulder or his back."
Photos: Nebraska football's 2020 recruiting class
See more pictures of the members of Nebraska's 2020 recruiting class.