The Legend of the Pipeline is alive and well and now extends to Clemson, South Carolina.
This happened three years ago. Clemson coach Dabo Swinney asked Nebraska teammates Aaron Graham and Tommie Frazier to speak to the team on the eve of the 2016 season. The Tigers had just lost to Alabama in the national championship game.
"He wanted us to talk about playing for the championship and falling short and then coming back to win it," Graham said. "After we got done talking, Dabo's all kinds of fired up."
Then Clemson defensive coordinator Brent Venables addressed the team. Venables, who played at Kansas State, was a graduate assistant for the 1994 KSU team.
"Venables says, 'Guys, I'm telling you this — I've never seen anything like that in my life,' " Graham recalls. "I've never seen an offensive line like that. They were telling us where they were running the ball and we couldn't do anything about it."
It's true. On a cold, gray October day in north central Kansas, Nebraska took the No. 2 ranking to KSU Stadium without Frazier, its Heisman Trophy candidate. Backup quarterback Brook Berringer had a collapsed lung. Running back Lawrence Phillips had a sprained thumb. K-State players had boasted all week that it was finally their turn.
Nebraska's offensive line was upset enough that they decided to give themselves another handicap. Not that it mattered.
"Zach (Wiegert) started it by telling them (K-State defensive linemen), 'We're running the ball right here, go ahead and try and stop it,' " Graham said. "I believe we ran the isolation, which is the fullback lead, something like 44 times in that game.
"No disrespect to them, because they were good. We just had too many hosses on our side. It clicked for us all year but in that particular game, it was that feeling of being unstoppable. They put nine, 10 in the box. It didn't matter.
"By the end of the game, we were all telling them where we were going."
This is the 25th anniversary of that season, the first national championship for Tom Osborne, a season of unbelievable twists and turns. The backbone of that year was the Pipeline.
Many say it's the greatest offensive line in Nebraska history and, if that's the case, go ahead and add one of the best in college football history.
Senior Zach Wiegert at right tackle, senior Brenden Stai at right guard, junior Aaron Graham at center, senior Joel Wilks at left guard and senior Rob Zatechka at left tackle. Four fifth-year seniors, one fourth-year junior.
They were the epitome of the Nebraska offensive line: strength, athleticism, development and chemistry. Back then, NU had so many linemen that line coach Milt Tenopir and Osborne often moved linemen around to make the best unit.
It was truly a different era.
Nebraska coach Scott Frost is trying to rebuild the Pipeline tradition. In last week's opener, he had three juniors, a sophomore and a redshirt freshman. The sophomore and redshirt freshman were making their first start.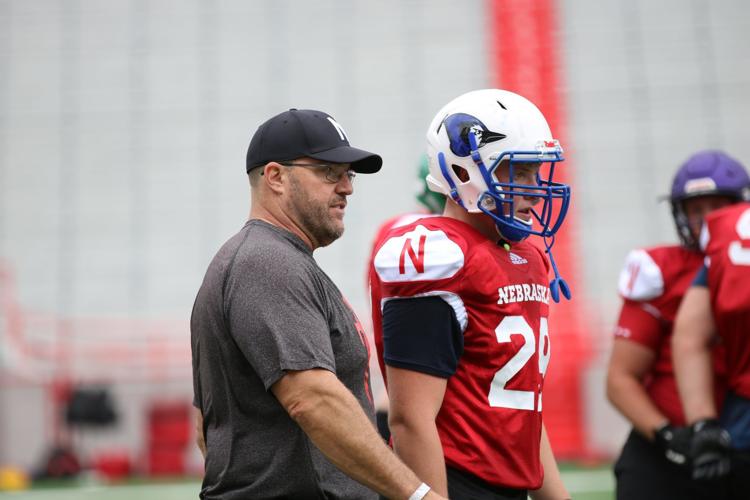 Back then, the joke was that Nebraska offensive linemen didn't start until they got their AARP cards. It wasn't far from the truth.
"One of the things that really stood out to me about that line was how long we were together," Zatechka said.
"Myself, Joel, Brenden and Zach all came together in the same recruiting class. Joel and I even played side by side in the Shrine Bowl.
"Four of us played five years together. When we redshirted, we were on the scout team, banging heads with Kenny Walker, Trev Alberts and John Parrella. When Aaron was a redshirt, they stuck him on the second-team offense. He never played on the scout team, but that meant he spent five years running the Nebraska offense. Talk about a guy who knew it up and down. It was a genius move by the coaches."
Graham said, "By my senior year (1995), I knew the offense as well as Tommie or Brook. I get goose bumps thinking about it."
Nebraska offensive linemen waited their turn. Zatechka bounced around from tackle to guard, left to right, as a utility man. Stai probably could have started as a sophomore, except for that right guard ahead of him.
Outland Trophy winner Will Shields.
Sign up for Big Red Today news alerts
Get a daily Husker news roundup, recruiting updates and breaking news in your inbox.
The actual five-man lineup in 1994 didn't start together until that season. By then, they had just enough experience to drive defenses and their coach crazy.
"We never made calls," Zatechka said. "None of us ever talked. That drove Tenopir crazy. He wanted chatter.
"But you learn those plays against all these different fronts for so long, with each other, you always knew what the call is going to be. And you trusted the other guy knew. So you would go run the play without ever making the call.
"Sometimes, if we thought a defense was trying to figure us out, we would give a dummy call. Basically a fake audible. You'd point at the linebacker and get them thinking we were coming at him, then do a double-team on the nose guard."
One of the few times that didn't work was in the Orange Bowl against Miami. That game was famous for the Pipeline wearing down future Hall of Famers Warren Sapp and Ray Lewis.
But early in that game, Sapp sacked Berringer on a play where Graham made a last-second call for Zatechka to help on Sapp. But Zatechka was already going left when the call was made.
"They gave me that sack," Zatechka said. "I was so pissed that on a two-point conversion later that game, I came down and crushed Sapp, pancaked him."
The five friends competed on the field and in the O-line room, where Tenopir gave out a lot of perfect 2.0 scores each week.
"If we were anything below perfection, it was frowned upon," Graham said. "That was hard to do. Imagine playing a game where you did not make one error.
"It started three days after the last championship game (loss to Florida State in the Orange Bowl). Stai, Wilks and I were in the weight room with a dedication and focus we hadn't had before. There was a burning desire from all five of us to be remembered as one of the greatest lines to ever play."
That drive spawned confidence. It got to the point where the scenes at Kansas State became common.
"We used to huddle three yards from the defense and didn't care if they heard us," Graham said. "One game, Tommie said, 'Watch this.' He turned his head and said to the defense, '28 Option, on one.' We're running the option. They couldn't stop it."
Both Zatechka and Graham watched last week's opener and felt for the inexperienced linemen. Graham said the errant snaps from redshirt freshman Cameron Jurgens caused timing issues that threw off the offense. He says it's correctable.
Zatechka pointed to a play where Jurgens and sophomore left guard Trent Hixson both appeared to leave a double-team of the nose guard and go after the middle linebacker — leaving the nose guard to make a tackle for a loss.
"That's the kind of mistake you'll see from these guys," Zatechka said. "It's experience. They just need to play together."
When they were redshirt freshmen, Zatechka's band of brothers were getting that chemistry down on the scout team, not in a game. But that's today's game, Zatechka said. You see younger starters, but not necessarily groups that grow together.
"You see so many guys coming out of high school now who are so much more physically developed," Zatechka said. "It's just something you didn't see as much back then. So you see a lot of these young guys playing right away. You end up with a mix. You don't see four fifth-year seniors and a fourth-year junior."
Those four years together created a band of brothers that carries on.
Zatechka is an anesthesiologist for OrthoNebraska in Omaha. Wilks is a firefighter and EMT in Portland, Oregon. Wiegert and Graham have land development and real estate companies in Omaha. Stai is director of development for the NU athletic department.
They still get together once a year, for golf or a Husker game or to make an appearance at the first Pipeline Camp last June.
A few years ago, when Graham's family lost everything after a lightning strike destroyed their house, Stai showed up with boxes of clothes and shoes from the athletic department for Graham's family. Wilks sent Graham old photos of the group on a zip drive.
Five years ago, four of the five (all except Wiegert) competed in the tug-of-war competition in the Cornhusker State Games. They actually lost the first round — and had to win five in a row to get a rematch in the championship.
"We didn't have a game plan, we were just relying on brute strength and athleticism," Graham said. "The other guys had this 'heave, ho' thing they were saying.
"About a minute in, we were stalled, and I looked over my shoulder and said, 'Pull, Brenden, pull.' And I hear this huge 'ROARRR.' He did it again. We pulled them across and it was exhilarating.
"I'm into rowing now. I'm trying to get them to do that."
They're still coming at you. Just try and stop them.
Photos: Nebraska's inaugural Pipeline Camp