Welcome back, Mr. Frost. How was the honeymoon?
It's going to be an interesting week around Lincoln. That is, Lincoln, Nebraska, and not Lincoln, Colorado.
One of the most memorable road trips in Nebraska history was shaping up on Saturday, as Husker fans took over Folsom Field and painted the old relic red.
With a 17-0 halftime lead and Colorado and its fans clearly not involved, this looked like fun.
Then the second half began. With a Nebraska timeout. Then the Huskers blew the lead. And then lost the game, in overtime, 34-31.
Sign up for World-Herald news alerts
Be the first to know when news happens. Get the latest breaking headlines sent straight to your inbox.
There's a giant segment of Husker Nation that agrees with that assessment, along with one other that the head coach made afterward.
"I put this on me," Frost said.
The coach did not have a good day.
Frost is clearly the same coach who went 13-0 at UCF, pushing so many right buttons. But this was a day of wrong buttons and decisions and a blown game that will burn into his memory.
There was some bizarre stuff. Coming out of halftime, Nebraska had the ball and knew a touchdown drive could stomp on the Buffs.
Timeout. Huh? According to Frost, his offense wasn't lined up right — this, coming out of the locker room at halftime.
And while the Huskers scored 31 points, the offense still looked stalled in neutral. There were play calls that didn't make sense. An offense with exciting parts but not much identity or confidence right now.
The two plays that folks will be talking about are the first two plays of overtime. CU went first and was held to a field goal. Nebraska had to at least like its chances, with quarterback Adrian Martinez.
But the first two plays were run plays to the left, with Frost taking Martinez out of the mix.
Now, the sophomore quarterback had an uneven day. He was brilliant at times and found big plays but also was sacked six times and held the ball too long at times and had an interception.
But he's Adrian Martinez, right, and you put the run-pass option in his hands at the 25 and take your chances, right? Nebraska rushed for 179 yards, but the Huskers' offense is not to be confused with one that can grind it out on the run. The two rushes by Maurice Washington gained 1 yard — before Martinez was sacked on third down.
Asked afterward about the first two plays of the series, Frost said something interesting: "I didn't want to run the risk of throwing an interception and losing the ball."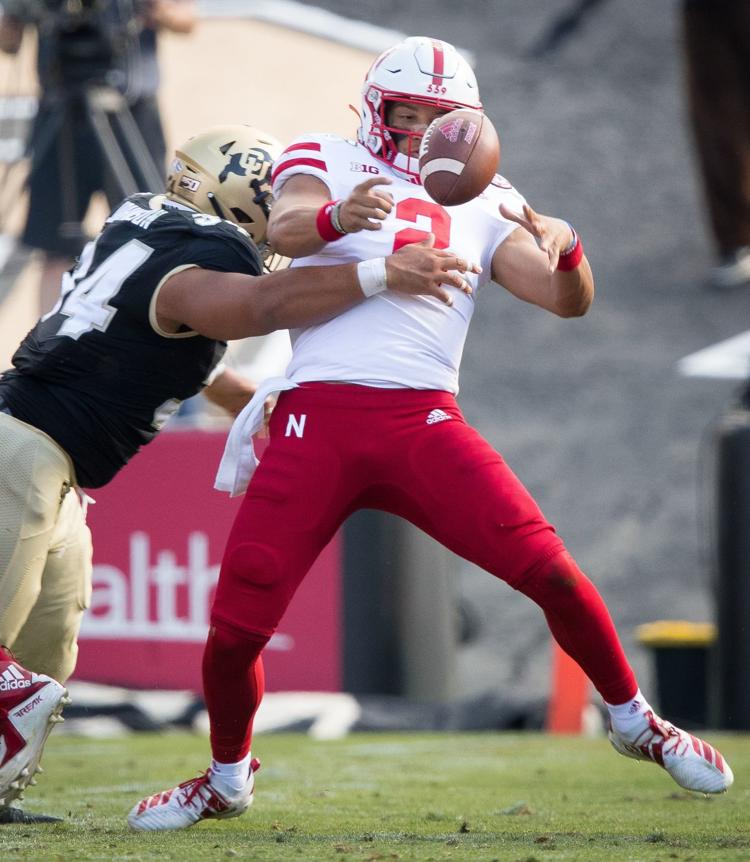 Frost was not hired to sit on the ball in overtime. His offense is expected to have multiple scoring options, ready and willing at any time.
That quote tells you something isn't right. And it's not.
Frost did not forget how to call plays. But he looks less like an offensive genius than a coach who isn't comfortable with his options. He looks and sounds like a coach who doesn't have a lot of confidence in his group. Afraid Martinez would throw an interception?
The coach went on to say, "We've got to get more chunk plays. We aren't an offense that can just grind it out."
A lot of that is the offensive line. And that's fine. The line was supposed to be better this year, but far from a finished product.
But it's not just the line. It's the receiving corps. Senior graduate transfer Kanawai Noa from Cal can't be found. The running backs are doing the bulk of the receiving, and that's not bad in this offense. But they have to have help. Look at Colorado's receivers. Nebraska needs some dudes.
Meanwhile, Martinez looked better on Saturday, but he's clearly not the same player he was as a freshman. He looks hesitant. He's taken a step back. Were Devine Ozigbo and Stanley Morgan that important?
The good news is Frost is an offensive guru and a smart guy. The bad news is, Frost kept talking about how he has to find this and that from his offense. He sounded like a coach who wasn't sure where it was going to come from. Frost's offensive genius is about to be tested.
There was more good news from Colorado. Nebraska's defense showed up again, particularly up front. The Blackshirts were on the field too long in the second half, but that's not an excuse. And not why they got duped on the 96-yard touchdown pass to K.D. Nixon.
Let's face it, it never should have come down to any of that. But Nebraska played with fire too long in Boulder. Over the years, the Huskers have gotten out to three-touchdown leads only to hang on for dear life while Colorado came storming back in the fourth quarter.
Finally, that pattern in Boulder came back to bite them.
Sure, it hurts. But there's time to heal. The Colorado game used to finish the regular season and a loss often defined the season.
This time, there have been two games and Nebraska is 1-1 with an entire Big Ten season ahead.
But forget being ranked. Forget the Big Ten West race. Forget UCF's second season.
We're two games into Frost's second season at Nebraska and the coach has one inexplicable loss and some answers to find.
"I just want to go back to work," Frost said as he opened his postgame press conference. "I wish it could start right now."
Photos: Nebraska takes on Colorado in Boulder