Earlier this week, I called Matt Turman to talk about his nephew, Noah Vedral, waiting and getting that big moment.
But as we talked, it hit me that there's a bigger story. The story about the small, small world of Nebraska football. And the power of fate.
I'm now convinced that it's Vedral's fate to not only start Saturday at Minnesota, but to come to the rescue of coach Scott Frost.
There's an unnatural force going on here. Something that seems preordained.
Stick with me here. This is bizarre.
If Vedral starts for Adrian Martinez this Saturday, it will be nearly 25 years to the day that Turman had his legendary day at Kansas State.
The No. 2 Huskers traveled to Manhattan trying to hold their season together. They lost starting quarterback Tommie Frazier for the regular season with blood clots in his leg. And backup Brook Berringer had a collapsed lung.
Enter Turman, the walk-on from Wahoo.
The similarities between 1994 and 2019 aren't perfect. The teams are totally different. The 1994 club was trying to stay on course to win the national championship — and playing a Kansas State team looking to announce its arrival as a big-time player with a takedown of Nebraska.
"But there are quite a few similarities," says Turman, now the coach at Omaha Skutt. "Both of us got to play the week before.
"The previous week, I played the second half against Oklahoma State. It was 9-3 at half. I'm walking out the door to go back on the field and Coach (Tom) Osborne said, 'Brook can't go, you're up.' "
Turman helped turn a 9-3 halftime lead into a 32-3 win, including a deep pass to Abdul Muhammad that Turman said "was like the pass Noah threw to Wan'Dale Robinson.
"The similarities are pretty striking."
"It was cold and wet that day, kind of drizzling, at K-State," Turman said. "That's kind of what the forecast is for Minneapolis."
It's a little weird, right?
Of course, the big difference is that Vedral will be called on to make more plays with his arm and feet. Turman had an offensive line known as the best to ever play for NU, and he was handing off to an all-timer running back in Lawrence Phillips.
"My security blanket was pretty good," Turman said. "But I was worried about screwing it all up for everybody. I grew up idolizing Coach Osborne. He has a chance to go undefeated and win a national championship. I didn't want to be the guy who screwed all that up against Kansas State."
Turman's job was so simple it would have been hard to mess up.
Osborne called 50 rushing plays. Forty of those went between the tackles, right behind center Aaron Graham and guards Brenden Stai and Joel Wilks.
Kansas State was loading the box to stop the run and force Turman to throw, but NU was having none of it. Phillips, nursing a broken thumb, carried 31 times. Fullbacks Jeff Mackovicka and Cory Schlesinger had 10 carries.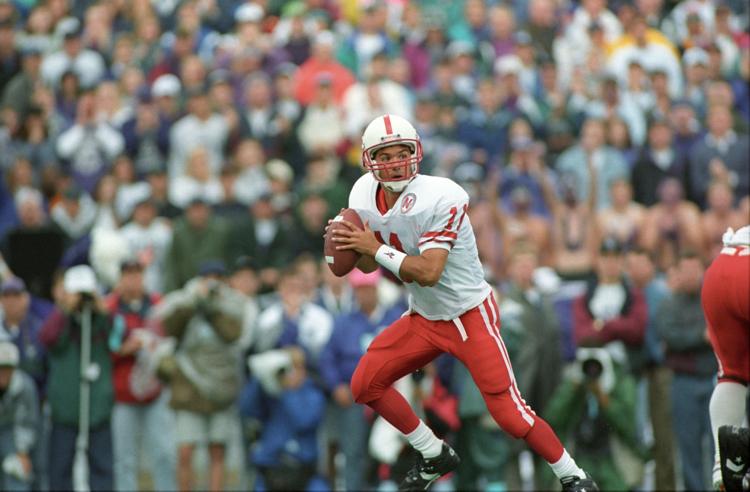 Turman actually ran four times for 10 yards and completed 2 of 4 passes for 15 yards before Berringer came into the game late to run quarterback keepers angled to the sideline and keep him from getting hit.
The Turmanator became a legend that day for not screwing up, but oh, what might have been.
"We were running an option to the left," Turman said. "They were sending a guy at Lawrence to make sure (I) ran it. I had a lane and I remember seeing it open. I hit my right foot and tripped and got about an eight-yard gain. If that doesn't happen, it's probably a 60-yard touchdown."
What a glorious sight that would have been. Up in the stands, Sara Turman would have screamed.
That's where our story takes a really cosmic, all-planets-aligned turn.
Mike Vedral is known these days as Noah's dad. Mike is a former Husker tight end, a walk-on from Gregory, South Dakota, who was with the team in 1991-92.
In 1994, Mike was working in Lincoln and still spending time around his former teammates. The week of the K-State game, he got a call from Osborne. Could he drive Tommie Frazier and injured safety Mike Minter down to Manhattan for the game?
"I got into the game and got hit in the head with a battery or something," Mike said. "We get to our seats and there was Matt (Turman)'s sister, Sara, and her then-boyfriend. I didn't think anything of it."
After they watched the victory together, Mike told Sara that he and some friends were going to the Orange Bowl. If she was down in Miami, to look them up if she wanted someone to hang out with.
Lo and behold, Sara did call when they were in Miami. Mike invited her to tag along with him and former teammates Gerald Armstrong and William Washington. They were going to hit South Beach on New Year's Eve.
"We hit it off," Mike said. "The rest is history."
It was almost that quick.
"I got home (Lincoln), waited three or four hours and I called her," Mike said. "We talked for nine hours in two days. After that, I said I think we've talked about everything we can talk about. I think we should spend the rest of our lives together.
Meanwhile, Matt Turman takes some credit for this because he and Jon Vedral — Mike's brother — were roommates and friends. Turman says they were the reason that Mike and Sara got together.
Whatever the case, Mike Vedral and Sara Turman got married July 21, 1995 — seven months after their first date. A few years later, they would have their first child, Noah.
His birthday: Oct. 15, 1998.
"Four years after the K-State game," Mike said. "It's all weird stuff."
So if Mike hadn't gone to the Kansas State game — Matt Turman's big day — he wouldn't have met Sara and, well, this stuff will blow your mind if you think about it.
Mike, in pharmaceutical sales, and Sara, a lawyer, have five kids and live in Wahoo — hometown of the Turmans. Mike has coached his sons on the side, and had Noah serving as a student-manager for his grandpa — legendary Wahoo Neumann coach Tim Turman.
"He loved football," Mike said of Noah. "He would draw pass routes on our back deck door when he was 6 or 7. We'd be driving down the road and we'd come up a big hill and he'd say, 'Look, dad, the road is in the shape of a fly route.' "
Where does Noah's poise come from? Mike says "from my wife. That's Tim Turman. The Turmans are very calm, cerebral people. The Vedrals, we're a little wild."
This story has one other connection: Matt Turman and Frost. The latter transferred back to Nebraska while walk-on Matt was waiting behind Frazier and Berringer. When Turman thought it was his turn in 1996, Frost stepped in.
"We became friends," Matt said. "We still keep in touch and text each other before games. Probably a lot like Noah and Adrian (Martinez), friends but also competing."
I don't have to ask the question, Turman brings it up: Any regrets going to Nebraska or staying there? Turman had other walk-on chances at Iowa State and Division II chances to play right away.
"I always answer no," Turman said. "I got two national championship rings that I feel like I earned. They weren't just given to me."
Turman has one keepsake from that K-State game: an enlarged photo of the five giant offensive linemen all looking at the diminutive Turman, their eyes fixed on him as he calls a play.
He loves that photo. It's his moment. He had his moment. That's more than most players can say. Matt hopes Noah gets his, too.
He expects to hear from his nephew this week. He's ready to give advice if asked.
"The best advice I got was from Turner Gill, the quarterback coach, right before I ran out to call the first play," Turman said.
"He said, 'Just get the snap, and then you're just playing football. Same thing you've been doing since you were 8 years old. Just get the snap and everything will fall into place.' "
Then Turman, remembering NU's issues with center snaps, chuckled. "Unfortunately, that may not be totally in Noah's control on Saturday. Hopefully it will."
Control is an interesting word. As Turman knows so well, sometimes fate is in charge and you just gotta follow.
Photos: Nebraska takes on Northwestern in Lincoln