That's where I'm setting the bar for Nebraska-Ohio State. I'll explain in a minute, and you might think I'm setting the expectation too low for this big moment and opportunity for Nebraska football.
But let's keep in mind what coach Scott Frost said after Thursday's practice. In fact, he said it twice.
"We've got nothing to lose. Just go out and give everything we got and see where the chips fall."
And asked about the crowd's impact on Saturday night's game, Frost said it's the Huskers' job to start their engine, saying, "It's up to us to keep the game close for as long as we can."
Nothing to lose? Keep the game close for as long as they can?
OK, so Nebraska football isn't quite back yet.
Sign up for Big Red Today news alerts
Get a daily Husker news roundup, recruiting updates and breaking news in your inbox.
Keep in mind, this is Frost sending a message to his team, a bunch that has struggled this year with the high second-year expectations. Nobody's picking NU, he says. Go attack, play loose.
Maybe this is Frost playing first tee sandbagger to Ohio State's Ryan Day. I'm not sure that will work. The tone of Day's press conference earlier this week was that the Buckeyes aren't sure how good they are and they're in for a long, tough game.
Maybe everybody's sandbagging. If so, we're in for a hellacious game.
More than likely, Day and Frost are both correct. Here in Gabrielle Union's home state, we know Frost as a straight shooter who doesn't sugarcoat. If he says it, he believes it.
His comments, though, are a departure from the guy who swaggered into the Big Ten a year ago. Reading between his lines, Frost may be saying that he has seen the Buckeyes' game film and they're that good, his project is going to take more time than he thought and he's got to try to beat the No. 5 team in the country without a kicker.
What he needs is a celebrity guest kicker.
I get all that, and I understand where Frost is coming from. But I do take issue with the idea that there's nothing to lose.
On a weekend that is a celebration of the rebirth of Nebraska football, the announcement of a $155 million facility and ESPN's "GameDay" here to see how close Frost has Nebraska to the Big Ten's standard, only one thing could ruin the moment.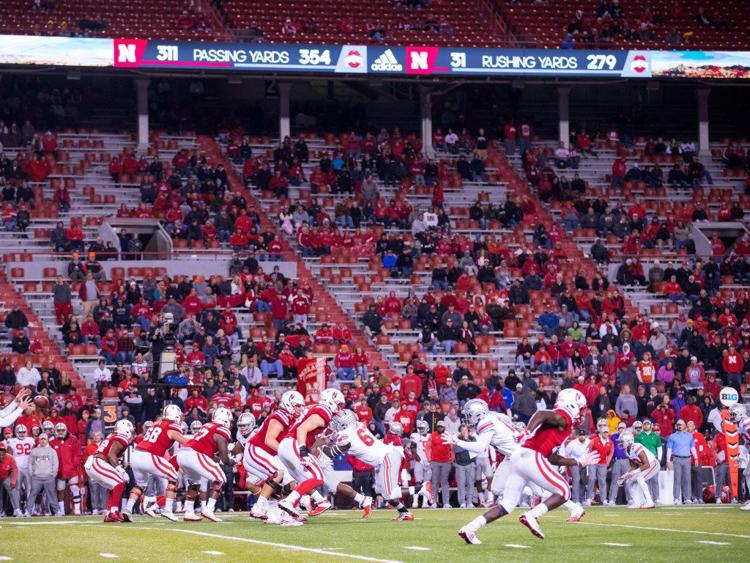 It was the second-worst conference loss at home in program history, and it was worse than the score indicated. Urban Meyer, strolling the sideline in his white windbreaker, never let up. Nebraska never showed up.
It was 35-0 by halftime, and many Husker fans had seen enough. Half of Memorial Stadium emptied into the streets.
By the start of the third quarter, you could see the long lines of red tail lights as cars looked to get as far from the debacle as possible.
The blowout has become a signature of Nebraska football during the past two decades.
Even Frost had his 56-10 loss to Michigan last year before his team saved face by nearly winning at Ohio State. Frost's culture was in a weird place last September. But that needs to be the last debacle.
There's no excuse for them anymore. Frost's building isn't near completion. But there's enough talent — and coaching — to prevent those sorts of snowball games.
If anything, this weekend is the perfect time for Frost to show his program is closer to Ohio State, not further away.
Ohio State has looked dominant while overwhelming three mid-level nonconference teams and Indiana. The Buckeyes have done what good teams do to those opponents. But by their own admission, they wonder what will happen if they get tested in front of a hostile crowd.
Can the Huskers make OSU uncomfortable? Can they take this thing into the fourth quarter? High drama in a big game at home is what this program, these fans, crave.
Is Ohio State really 17 points better? We're about to find out.
Nebraska's best chance to win is to keep it close and create self-doubt in a Buckeye team that has had it easy so far. You do that by attacking, not going conservative.
Expect Frost to throw everything at Ohio State and push the game into a shootout, if that's what it takes. He's prepared to go for fourth downs in field goal territory. Prepared to go for 2-point conversions.
This untimely lack of a kicking game puts extreme stress on a team that had massive leaks last week. In this dance, NU must limit turnovers and penalties. Zero would be nice. If the Huskers get in their own way, watch out.
It should be great TV, revolving around A-List quarterbacks Adrian Martinez and Justin Fields. What can the defensive coordinators do to make them uncomfortable, force mistakes? What will the young geniuses calling the plays do with their chess pieces?
If Nebraska can get this game into the fourth quarter, imagine the atmosphere. The Huskers might have everything to win.
It's been too long since "GameDay" has been in our city, too long since a game like this that could elevate the program. These were staples of every season. And the Huskers always seemed to rise to the occasion.
The Nebraska brand never went away. But it faded. ESPN is here because of Ohio State, but also because of Nebraska and Frost. They still bring the star power.
When folks talk about Nebraska being back, they're talking about that penchant for winning big games. The fact is, when Nebraska is really back, nobody will need to say it. You'll know it. You'll see it, feel it.
This weekend is an opportunity to take a step — maybe a big one — toward that.
Photos: ESPN College GameDay visits Nebraska