LINCOLN — When the final nail was being driven into the heart of Husker football, Adrian Martinez had a horseshoe of noise rise around him.
It was November 11, 2017, and Nebraska had just lost 54-21 to Minnesota in a pitiful performance, further paving the way for the end of one coach's tenure and the return of a native son. Martinez, meanwhile, was pulling away from a commitment to Tennessee and looking hard at the team that invades Memorial Stadium on Saturday night.
Ohio State. He visited Columbus for its blowout of Michigan State.
The Buckeyes were kicking the tires of several prospects in the 2018 recruiting class, knowing full well they had Dwayne Haskins, the quarterback of their near future, already in the fold. The man charged with deciding if Martinez deserved a scholarship, Ryan Day, couldn't decide. Shoulder surgery shelved Martinez his senior season of high school.
"It was just hard for us because there was no senior film, and at the end of the day, we just weren't sure," Day said this week. He's now OSU's head coach.
Scott Frost was sure. Injury and all, he had Martinez No. 1 on his board.
And when Frost parlayed an undefeated season at Central Florida into a head coaching job at Nebraska, he had his signature recruit: a dual-threat quarterback who, in his best moments, plays like diamonds in a straight flush. A 6-foot-2, 225-pound Martinez can run downhill at a linebacker, fit a pass in between two safeties or buy time against a pass rush, sliding gently to his right to find his tight end.
When his cards lay out like that — the way they did in a fourth-quarter comeback at Illinois — his teammates see the look in his eyes and know what's coming. They've seen it in practice. They hope to see it in front of an ABC national audience Saturday, roughly eight hours after ESPN's "College GameDay" closes tent outside the stadium.
"It makes you just want to sit and watch and let (the offense) be on the field," NU safety Eli Sullivan said Monday. "As much as we want to be on the field on defense — getting turnovers, having fun, getting sacks — you see them operate and you're like, 'Whew, good thing that's not us.'"
Martinez's performance at Illinois — 328 passing yards, 118 rushing — made Day a further believer.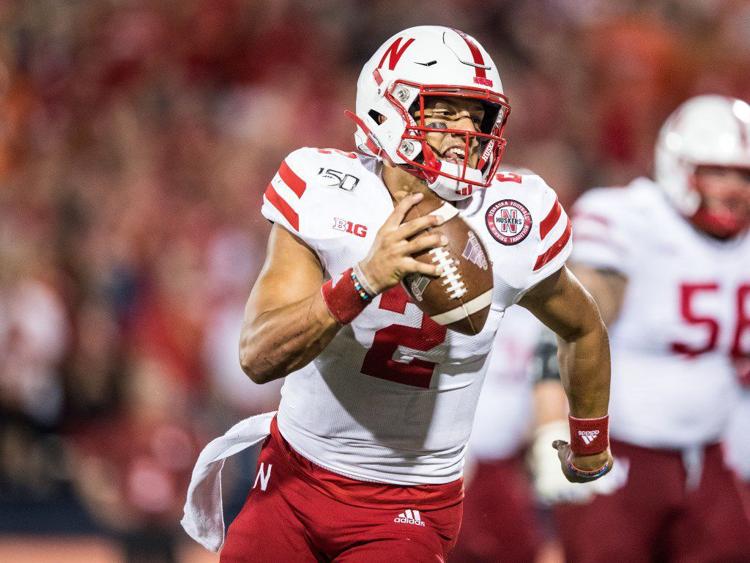 Not that OSU's coach has to be repentant. His failure to nab Nebraska's No. 2 merely forced Day's hand to pursue Georgia's No. 1.
Justin Fields, the five-star quarterback in Martinez's class who left the Bulldogs after one season, is off to an even hotter start in 2019. He's accounted for 19 touchdowns and hasn't thrown an interception.
He's different in playing style from Haskins — third-place finisher in the 2018 Heisman Trophy race — but similar in production. And like Haskins, he's surrounded by the kind of skill talent that makes good quarterbacks look great and No. 5 Ohio State a 17-point favorite.
"He's just like Adrian," Sullivan said of Fields. "You think you've got it covered down perfectly, and he's running 25 yards down our backside. We've got to fix that a little bit."
Fields will be the most dangerous quarterback NU (3-1, 1-0 Big Ten) has faced this season. Martinez will be that kind of threat for Ohio State (4-0, 1-0), as well.
No. 1 and No. 2, dueling it out.
They've actually met before, as high-profile quarterbacks tend to do, at the Under Armour All-America Game after they'd signed with their respective schools. Martinez played in the game. Fields didn't.
"We played a lot of pingpong that week," Martinez quipped this week. "Got to talk smack there. He's pretty good at pingpong, but we tried to stay on the same team on that one."
Saturday night's game could turn into a match of two quarterbacks.
Ping. Martinez ranks eighth nationally — and first in the Big Ten — in total offense with 1,287 yards.
Pong. Fields has been more efficient, averaging 7.98 yards per play to Martinez's 7.57.
Ping. Martinez has 21 passing plays of 20 yards or more compared to Fields' 15.
Pong. Fields' ball security has been better. No picks. Two fumbles to Martinez's five. He's also completing nearly 70% of his passes in an offense that allows him to embrace his love for passing.
"Any football player will be a better football player when he can play like himself," Fields said.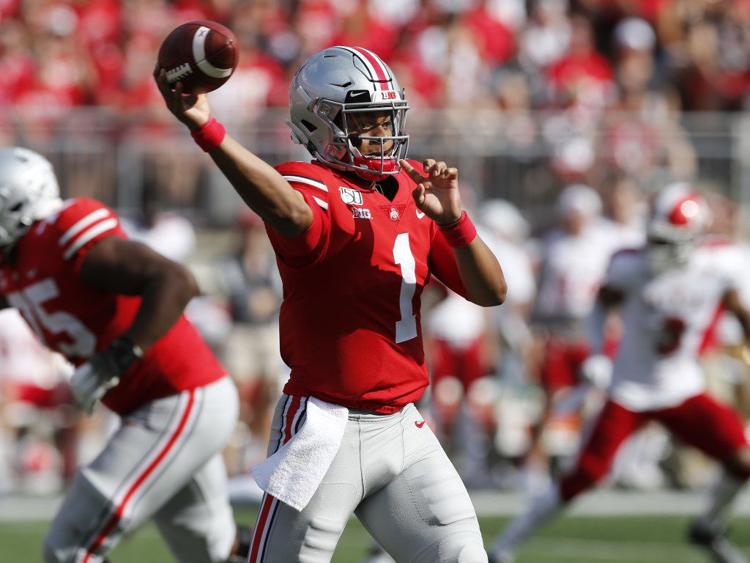 Ping. Martinez has shouldered the load in big road games. He nearly upset Northwestern, Ohio State and Iowa last season. And with a better defense, he likely would have. While Fields appeared in several big games at Georgia — including the 2018 SEC title game — he never carried the weight of a starter.
Fields has done the majority of his best work against Austin Peay, Middle Tennessee, Massachusetts, Florida Atlantic and Miami (Ohio). His first road game as OSU's quarterback — at Indiana — featured a fraction of the noise Fields will face in Lincoln.
Fields has never had to stage a comeback. Martinez did last Saturday at Illinois. In this case, No. 2 is No. 1 in experience.
And Martinez has learned a few lessons as he took a few lumps. How to make plays work even when they're not perfect. How, when you're down by more than a score, one play can't tie the game all at once.
"Chop at it and chop at it and just be persistent," Martinez said.
It's a helpful mindset for a game where NU may have to score at least 31 points — its total last season at Ohio State — to pull out a win. Frost has presided over what seems to be a team with a loose, nothing-to-lose mindset. There's no reason for NU to be anxious or worried, Frost said. Embrace the big stage and "let the chips fall" where they may.
Martinez — mystery man to Ohio State in 2017, X-factor for Nebraska in 2019 — has to embody that mindset, Frost said, the way he did at Illinois when his team trailed by two touchdowns.
"You should never need anyone to tell you to play as hard as you can, and I don't think Adrian does, but I definitely saw the Adrian that I expect that game and I don't expect to see anything else," he said.
Nebraska will need No. 2 to get the better of No. 1 on the gridiron. This is no game of pingpong.
Sign up for Big Red Today news alerts
Get a daily Husker news roundup, recruiting updates and breaking news in your inbox.
Photos: Every season-opening starting Husker quarterback since 2000
With Nebraska in the midst of another quarterback competition, take a look back at photos and statistics from all the passers that started the opening game of the season since 2000.