LINCOLN — Scott Frost has been known as an offensive mastermind for about seven years now.
Oregon and Central Florida are synonymous with speed and scoring explosions. Nebraska's 2018 offense with Adrian Martinez was so good, it alone convinced some the Huskers would return to a conference title game for the first time since 2012.
In Year 1 in Lincoln, there were only two reasons his scheme slowed.
The first was a crushing Michigan defense out for blood last September in the Big House. The second was a near-blizzard at Memorial Stadium in November against Michigan State. Backup quarterback against Troy, on the road at Iowa or Ohio State, didn't matter much. Frost's offense still put up big numbers.
But the flaw of the Frost offense was discovered Saturday. It came from nowhere, and flew high over Martinez into the  sun for a 20-yard loss.
"We gotta take care of our quarterbacks, and it all starts with us as centers," offensive line coach Greg Austin said. "Our job is to make his job easier and, if anything, on Saturday we made it a little bit tougher."
Martinez was out of sorts, as was the offense. There are multiple reasons. Coaches this week said they think there were too many new plays implemented. The practices last week weren't crisp. But the origin of the problems could be pinpointed to the origin of the play. The snap.
The high snaps or off-rhythm snaps from both centers — redshirt freshmen Cameron Jurgens and Will Farniok — messed up a good portion of the plays, Austin said.
"When the quarterback is in the air when the ball is snapped, that throws off everything," Austin said. "For one, his eyes are in the sky, when his eyes should either be on a read key in the run game or his route combination in the pass game."
Plus, when the snap is in varied spots, Martinez has to worry about catching the snap, something that should be second nature. That worry, on top of keeping his eyes up and worrying about a blitz or a route, makes the quarterback's life harder than it needs to be.
Against a defense that finished near the bottom in nearly every statistical category in the Sun Belt last season, Nebraska gained 276 total yards — third worst since Frost was hired. The 66 plays and 15 first downs were also third fewest.
The only games worse statistically last season were the 56-10 loss at Michigan, which the first-team offense didn't play most of, and the 9-6 Michigan State win in the snow against one of the best defenses in the Big Ten.
Frost has been calling offensive plays since 2013.
The 276 yards Saturday is the fifth-worst day of offense he's been part of at Oregon, UCF or Nebraska. He's called less than 66 plays nine times in his career, and gained 15 or fewer first downs twice — both in 2018.
Frost called it as anemic of an offensive day as he's been part of. He took some of the blame, as did Martinez. But the offensive line knows it messed up.
"It was not a very satisfying win for us," left tackle Brenden Jaimes said. "It's not the way we wanted to win."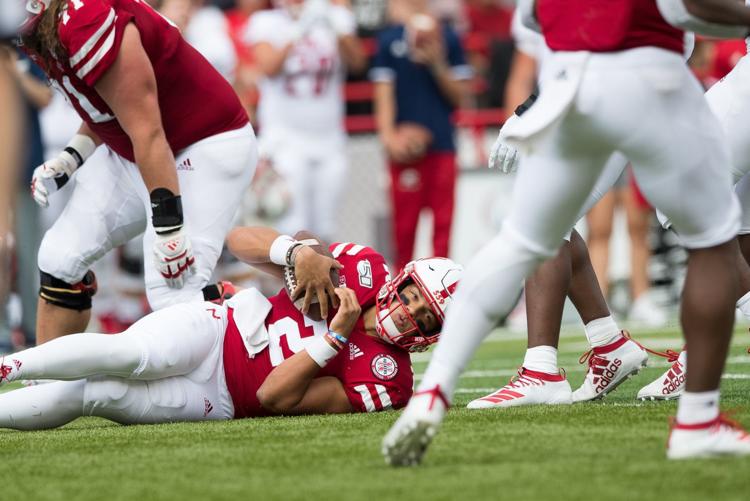 Jurgens started at center for the first time. Trent Hixson, a sophomore, also got his first start. Both were nervous.
On top of nerves, Jurgens started playing center full time last spring and has battled two injuries during the past year. He wasn't full-go until late in fall camp.
"I think it's just getting more reps and getting more game reps, having a guy there, and so many fans and, I mean, everything is correctable and just rushing myself," Jurgens said. "I'll be ready for it next week."
The most jarring part of Saturday was the juxtaposition of reality and expectations.
Jurgens had drawn comparisons to Dave Rimington, the former Nebraska great. The offense was said to look significantly different with Jurgens at center.
Instead, it was a day of 2.5 yards per carry for the running backs and Martinez's worst passing performance as a Husker.
Quarterbacks coach Mario Verduzco shrugged off the idea of a snap being the reason Martinez was off. It was his fault, Verduzco said, for not preparing Martinez better.
Martinez didn't blame the centers, either. It wasn't an effort problem up front, the quarterback said, it was just getting the details down.
But the five guys in front of Martinez are vowing to make sure it doesn't happen again.
"I think just 10 guys doing their job and one guy not," Jaimes said. "Obviously, we'll get it fixed. It's an easy fix."
Photos: Nebraska opens season against South Alabama