That's been the mantra for the Nebraska volleyball team for the past nine months after it came up short 15-12 in the fifth set of the national championship match against Stanford in December.
The Huskers used those three points as motivation during their offseason workouts and preseason training to try to close the gap between themselves and championship level.
Sign up for World-Herald news alerts
Be the first to know when news happens. Get the latest breaking headlines sent straight to your inbox.
"We always talk about those three points that we lost by," sophomore setter Nicklin Hames said. "It's been a huge part of this team because we are going to be motivated and we don't want to lose by three points again."
NU (7-0) will get a chance to measure itself against the defending champions when the Cardinal visit the Devaney Center on Wednesday night in a match televised on BTN.
Junior outside hitter Lexi Sun said the Huskers are looking forward to another chance to play the Cardinal. While they've taken care of business so far, they are ready to see how their offseason work stacks up against Stanford.
"We've been waiting for it basically all of preseason," Sun said. "We weren't looking past the other games we've had thus far, but I think we are excited and it's finally here. We are all ready, and it will be a great test for us."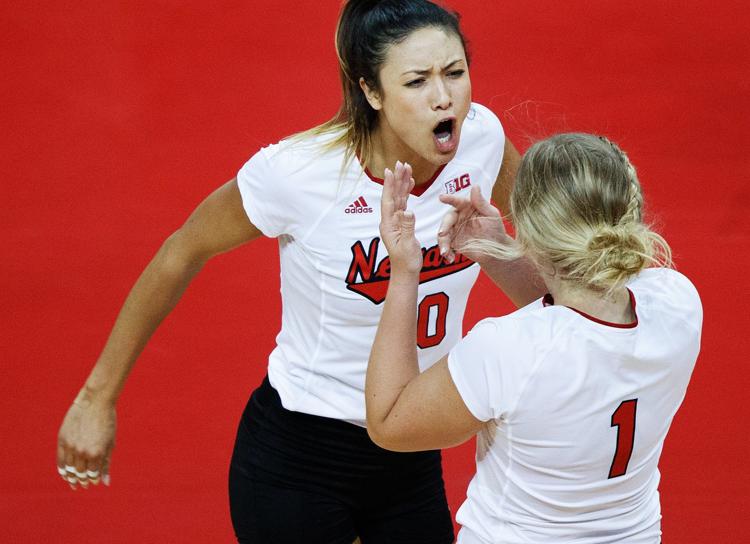 This won't be a straight rematch as both teams have new faces in key spots. Stanford replaced middle blocker Tami Alade, who led the nation in blocking last year, with graduate transfer Madeleine Gates, who was a second-team All-American at UCLA in 2017.
The backbone of the Cardinal team is its senior class, which has made three Final Four appearances and won national championships in 2016 and 2018. Setter Jenna Gray, outside hitter Kathryn Plummer, libero Morgan Hentz and opposite hitter Audriana Fitzmorris have a combined seven first-team All-America awards and two second-team selections. Plus, Plummer is the two-time reigning player of the year.
Meanwhile, Nebraska doesn't have a senior on its roster and replaced a pair of All-Americans at outside hitter and libero with two freshmen — Madi Kubik and Kenzie Knuckles.
Hames said the Huskers are excited about the challenge, but can't get too caught up in trying to avenge last year's loss.
"Stanford is definitely one of the best teams in the nation," Hames said. "They have a lot of experience, and you can really test how good you are against them. If you can battle, you know that you are there. It is a great test for us to see where we are and how much we need to improve toward the end of the season."
Although the Cardinal return a more experienced lineup, it's the Huskers who own the top ranking. Stanford (5-1) lost to No. 7 Minnesota on Saturday and dropped a spot in the polls.
NU coach John Cook said the Huskers haven't yet earned the No. 1 ranking and have to raise their play another level against Stanford. Cook wasn't shy about using the Cardinal as a comparison point because they've proved that they compete at the highest levels.
The Huskers have struggled at times this season while losing their focus. Cook said he isn't worried about that for the Stanford match. The players will be locked in for the biggest match this season.
"You've got the No. 1 and No. 2 teams," Cook said. "The two teams who played for the national championship last year. It's here in Devaney. It'll be in front of a big crowd. TV. This is what we want in college volleyball."
Photos: Meet the 2019 Nebraska volleyball team