LINCOLN — Jaevon McQuitty leaned against a wall on the second floor of the Hawks Center and answered all the questions. On this morning after practice, the Nebraska receiver was wide open.
The 20-year-old redshirt sophomore has done interviews like these before. About recovering from shoulder surgery after he enrolled early out of Columbia, Missouri, in January 2017. About the knee injury in a fall camp blocking drill that same year that ended his season before it began. About the learning curve that has left the former four-star recruit with more catches in spring games (four) than real ones (zero).
"It's just hard," McQuitty said. "I just constantly had battles with myself; that's what it really was. I had to change my mindset, just get myself right, stop feeling sorry for myself. I was tired of my situation. I just wanted to change where I was at."
The difference now, he said, is he doesn't feel alone.
He looked to his left and saw receiver Andre Hunt — they always remind each other to "watch some good tape today." A few feet away was tight ends coach Sean Beckton, who isn't his position coach and didn't recruit him but always offers an encouraging "Keep it up!" and a listening ear. At the end of the room stood offensive coordinator Troy Walters, who brought up McQuitty unsolicited as someone who has stepped up his game in fall camp.
"I feel that my teammates are trusting me more now coming into this camp," McQuitty said. "So it's going really good."
Sign up for Big Red Today news alerts
Get a daily Husker news roundup, recruiting updates and breaking news in your inbox.
Physically, he's finally ready to contribute. He recovered from his early injuries just as Nebraska underwent a coaching change. Suddenly, he had to go from a possession receiver in a West Coast offense to a threat in the slot, outside or running sweeps. He dropped 10 pounds and arrived at fall camp around 200 and armed with a better understanding of the offense.
Now with the season opener barely more than a week away, signs point to McQuitty as a contributor. Beckton overheard coach Scott Frost mention to Walters earlier this month that "McQuitty is really playing." Walters noted some "splash plays" the wideout has made in camp and includes him among the six or seven guys "you believe in."
The receiver's mindset is a long touchdown pass from where it was before, too.
Asked about the influx of talented true freshmen, McQuitty said he sees opportunities to mentor instead of obstacles to playing time. His biggest area of improvement — he repeated the word "focus" six times — has translated into consistent performances.
"Jaevon is a guy that really, really has some tools, but a lot of times mentally his head's not where it needs to be," Beckton said. "So I'm really trying to work on keeping him focused and locked in more. When he's not in, seeing the signal, seeing what's going on in front of him as a coverage and taking that mental rep every single play. I think it's helped him. His game has really picked up."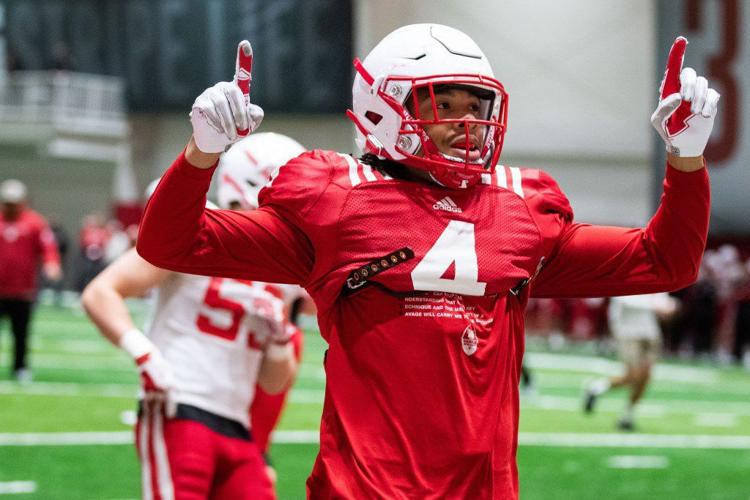 Hunt, a redshirt freshman, has noticed the difference, too. Now McQuitty is "bringing it" with every camp workout. Coaches still get on him, but he's been more teachable instead of backing off.
"He's not putting his head down or nothing like that," Hunt said. "He's embracing it and then fixing it the next practice."
McQuitty, who appeared in six games last season, said it took a while for him to find the confidence that once made him a coveted prospect. He's found it through a receivers group he looks forward to seeing every day. He's found it through his faith in God.
And he's not grinding only for himself anymore. If his role is to pick up teammates and block on the edge, he's ready to do it. This is a new start.
"I ain't want to just be a guy that people forget about," McQuitty said. "I just wanted to contribute to my team and be something for my team."
Photos: Nebraska football practice Wednesday Aug 14