LINCOLN — After its first big scrimmage of training camp, Nebraska football's Twitter account blasted a two-minute highlight reel of the workout, which was closed to the public and media.
About halfway through the video, there was a play that would have made any point guard proud — much less a quarterback.
Freshman Luke McCaffrey was in the open field, scrambling away from two defensive linemen and toward freshman cornerback Quinton Newsome, who stepped up to tag down the green-shirted McCaffrey.
At that moment, McCaffrey flipped the ball sidearm to wide-open receiver Jaevon McQuitty. Completion. Nice gain. An example of McCaffrey's improvisational skills in the open field.
It mirrored a play he'd made the previous Wednesday. In the midst of giant offensive and defensive linemen, McCaffrey darted forward into the pocket, approached the line of scrimmage and, seemingly in midair, threw the ball down the line of scrimmage to another wide-open receiver.
McCaffrey's position coach, Mario Verduzco, didn't recall the Wednesday magic directly after practice. But after watching it on tape, he deemed it, via text, "friggin outstanding," in part because McCaffrey had "assurance" as he made the play that it was safe enough to make.
"Any time you're on the move — to the right or to the left — and you're going to throw the ball on the move inside, you have to have assurance," Verduzco said after Wednesday's practice. "Because sometimes what happens when guys get on the move and they burst, all they see is their teammate's colored jersey and not the guys around him."
Verduzco then referred to a play when starter Adrian Martinez tried to do the same thing McCaffrey did.
"He threw it inside — which he very rarely does — but it got picked," Verduzco said. "He didn't have assurance. Seeing those things from Mac, making sure he has assurance, that's tremendous."
McCaffrey has seemingly created the best kind of dilemma for Verduzco and Nebraska's coaches.
He's good — potentially very good — for a true freshman quarterback. He enrolled early and learned the playbook so well that when he took Verduzco's 700-plus-question test he performed "out of sight."
"It was really, really, really good — as good as I've ever been around for a young guy," Verduzco said.
McCaffrey's size — 6-foot-2, 200 pounds — and skill set are different enough from Martinez that opponents wouldn't get the same look. Martinez stands tall and often sweeps around defenders when he scrambles. McCaffrey, like his older brother Christian, can squeeze into smaller spaces between defenders and pop out the other side like a surprise.
But like the rest of Nebraska's backup quarterbacks, the freshman from Highlands Ranch, Colorado, sits behind a Heisman Trophy candidate, a quarterback so talented that former California receiver Kanawai Noa — now a Husker — said he's more talented than NFL quarterback and Cal grad Jared Goff. NU doesn't often produce these kinds of signal callers.
Of course, families like the McCaffreys don't come around often. Luke's dad, Ed, was a Super Bowl-winning receiver. Christian is a star running back for the Panthers who had 1,965 yards from scrimmage last season. Another older brother, Dylan, is the heir apparent as Michigan's quarterback. Luke is shorter but more athletic than Dylan, and he's taller than Christian. He's a potpourri of their skills.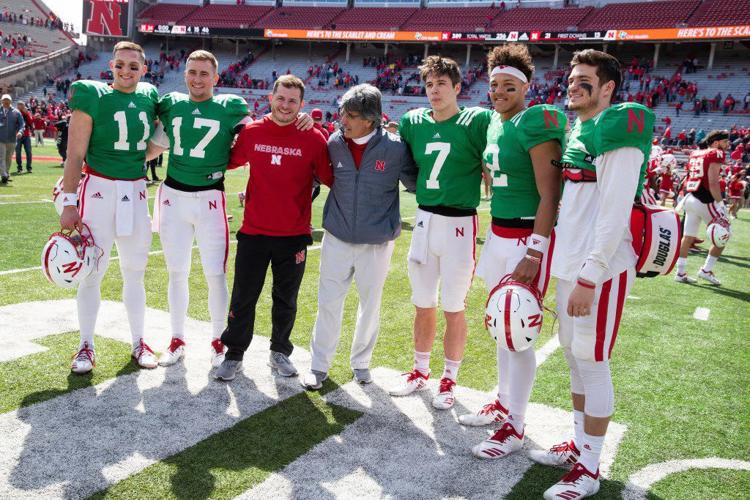 But, again, he sits behind Martinez, which means a redshirt season is likely, though he can play in up to four games.
Complications with his throwing motion — what Verduzco calls his "stroke" — were hurdles McCaffrey had to clear. Every Husker quarterback gets coached to have their eyes and feet working in tandem while identifying the correct defenders.
"The stroke issues we'll get worked out," Verduzco said. "Obviously he's a high-work ethic guy and a great young guy. And then it's just going to be a matter of him getting reps."
Those often come with lower units. But in the handful of times McCaffrey gets to work with the top offense, he's been impressive, Verduzco said.
Enough that he's pushing Noah Vedral and Andrew Bunch for the backup job. Depending on how many close contests Nebraska might have this year, a backup might play in four or fewer games.
"There's a fun battle going on in that second spot between him and Bunchy and Noah," Verduzco said. "Probably Noah has the advantage going into fall camp, but we want to make sure it's as spirited as we can possibly make it."
Photos: Nebraska fall football practice, Aug. 7
We got our first look at the Huskers in action on Wednesday, so check out a photo gallery from practice.