LINCOLN — Curtis Ledbetter is back at first base. And he's loving it.
Sure, the uniform fits a little differently from when he was an All-Big 12 performer at Nebraska in its College World Series heyday in the early 2000s. The Huskers' first-year volunteer coach is more worried about avoiding foul balls than tracking down fair ones. Baseball in general — with exit velocities, video scouting and in-depth analytics — has evolved since his playing days.
But right now, Ledbetter wouldn't trade this chance to coach for anything. He's already swapped a steady salary to work for free.
"The position's amazing; the paycheck isn't quite amazing at this time," Ledbetter said. "But it's what I've always thought that I wanted to do, and I've really enjoyed it so far."
This spring season has been about getting back on the field for Ledbetter, who spent the past 10 years as Nebraska's director of operations. It's been about channeling his passion as a teacher and evaluator, throwing batting practice and smacking warmup grounders to infielders.
But this week? This week he'll find out if his dream job at Nebraska could be financially viable for him and his family in the long term.
Up for vote is a proposal that would allow schools to convert their volunteer positions into paid jobs. Results from the Division I Council — made up of athletic directors, administrators, faculty athletics reps and student-athletes from every Division I conference — will finalize Friday.
Like any good coach, Ledbetter doesn't spend much time worrying about circumstances he can't control. But he knows the decision will profoundly impact college baseball. And him.
"If this coaching thing lasts one year, awesome," Ledbetter said. "If this thing lasts 40 years, awesome. I'll always know I took this chance on myself and my family was willing to take this chance. And we'll see where it takes me."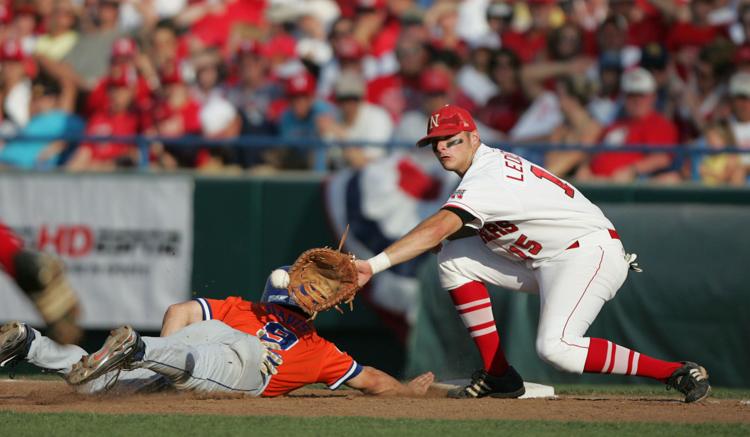 Time to take a chance
Ledbetter's first big carer decision came 11 years earlier. The former 18th-round pick of the Seattle Mariners was playing independent-league ball in Michigan when his former college coach, Mike Anderson, called with a job opportunity.
Anderson was creating a new director of operations position at Nebraska. Ledbetter, then 26 years old, was invited to apply.
He eventually landed the role, and a decade passed in a blur. The job had no assigned duties, so he figured out on the fly how he could free coaches to focus on coaching and recruiting. He learned a mountain of NCAA rules and regulations, like whom the team can feed before and after games, how much money can be spent on a hotel and procedure in adjusting for rainouts. Things like coordinating laundry on the road for 40-plus people and setting itineraries for recruiting weekends also fell under his purview.
"Yes, there are blunders all the time," Ledbetter said with a smile. "But how well can you cover them up or how fast can you fix them?"
Anderson and his staff were fired following the 2011 season, but new coach Darin Erstad — who spent that spring as NU's volunteer assistant — retained Ledbetter.
The volunteer position opened on numerous occasions in Ledbetter's years in operations, but the time wasn't right for his family to make the move. His daughter, Laney, underwent emergency brain surgery to break up a blood clot as a 4-month old in 2014 and eventually needed a liver transplant (she's been doing "awesome" for a few years now, he says). His wife, Monica, recently transitioned from an assistant manager at Scheels to a residential lender.
NU's volunteer spot came available again in the offseason when Jeff Tezak left to pursue a degree. Ledbetter, now 37, was ready to swing at the pitch.
"It was time for me to take the chance on it," Ledbetter said. "It was kind of a now-or-never type deal. I felt like I had more to give to the kids than I was able to in the administrative role."
What he gave up was short-term security. The director of ops job this fiscal year would have paid him a base salary of $53,810.
Sign up for Big Red Today news alerts
Get a daily Husker news roundup, recruiting updates and breaking news in your inbox.
Debate continues
In some ways, Ledbetter is an exception. He can afford to take a chance that this de facto unpaid internship could become a career.
But the debate rages across the national landscape about the proposal, which also includes softball. Proponents point to how it would allow third assistants to recruit, thereby spreading out the responsibility in a sport whose athlete-to-coach ratio is already the worst among major NCAA sports at roughly 12 to 1. The lack of recruiting experience is also an obstacle for volunteers working to rise in the coaching ranks.
A recent survey by the American Baseball Coaches Association revealed that 93 percent of Division I coaches support the measure. D1Baseball.com reports that most leagues outside the Big Ten and Big 12 will vote in favor this week and it has a reasonable chance to pass. The new rules would go into effect Aug. 1.
The proposal does not force schools to convert the volunteer to a third paid assistant but simply allows for the option of doing so. Nationally, some A.D.s have said they will vote "no" because they don't want coaches in other programs asking for more assistants. Others say they prefer the resources go to student wellness or grant-in-aid. Still more are dubious about the need of another full-time softball assistant (softball rosters can be as large as 25 players compared to baseball's 35).
Nebraska Athletic Director Bill Moos told The World-Herald in February that he was concerned about all teams following the same rule. If the Huskers choose to keep the status quo but other schools pay a third baseball assistant, a competitive advantage emerges.
The measure needs more discussion, Moos said then. But if it doesn't pass this month, he believes it likely will later on.
"We talk about arms races, and yet we're not controlling our staff numbers and all those types of things," Moos said. "I'm going to guess that'll come up again."
Erstad himself was a volunteer assistant, though he also had more than $49 million in career earnings from his professional playing career to fall back on. In a general sense, the Husker coach notes that the proposal won't create an "extra" coach in terms of daily practices and instruction — the volunteer is already doing that. But the recruiting help would be nice, and it would be good for coaching development in college baseball.
At Nebraska, it would bode well for keeping around a former player known for his booming voice, hitting acumen and propensity for wearing shorts in all weather.
"Led is Led," Erstad said. "He's still fiery and has a huge heart and cares about the kids and the program. It's fun to watch him interact with the guys."
Ledbetter, who works with hitters and catchers, has a list of mentors. Former Nebraska coaches Anderson, Rob Childress and Will Bolt. Former NU teammate Jeff Christy. Dave Bingham, a past Husker assistant now in the San Diego Padres organization, was the slugger's "second dad" during his high school days in Lawrence, Kansas.
Players say Ledbetter mixes an old-school approach with a personable demeanor. Junior outfielder Joe Acker considers him one reason he's gone from a career .185 hitter to a .310 batting average this spring.
"He does such a good job relating to us younger guys just because he has that younger perspective," Acker said. "And just a very fresh mind on hitting. I couldn't speak highly enough about him as a person and as a coach. I respect him a lot, and he's helped me in so many ways other than just baseball."
Photos: Creighton baseball defeats Nebraska
Creighton defeats Nebraska 10-2 during a college baseball game at Haymarket Park in Lincoln, Nebraska, on Tuesday, April 9, 2019.