CHICAGO — They could coax the devil out of Nebraska's quarterback saint with a little trash talk and a lot of hell in those morning practices.
Adrian Martinez is generally unflappable — 225 pounds of California cool. But this spring, his own defense rattled him. Defenders pushed his buttons and gummed up the gears of coach Scott Frost's high-flying offense to such a degree that Martinez overheated.
"Sometimes he'll throw the ball at us after the play," defensive end Khalil Davis said. "We want that. We like it."
Said Martinez: "That did happen one time. That's how it should be."
Martinez was talking about the competitiveness of practice. But Husker fans would nod, too, if he had been talking about a Nebraska defense that routinely harassed its own offense.
That's how it used to be when NU won conference and national titles. The Huskers' option game could bulldoze any foe — except the boys in the black shirts.
Minor cracks started to show in the early 2000s. Since then, they've deepened into fault lines often, particularly since Nebraska joined the Big Ten, a league full of tank-style offensive lines that move inexorably into the Huskers' front seven.
Wisconsin — chief masher of Nebraska — has a motto of "smart, tough and dependable" that has produced seven wins over the Huskers and rushed for 1.42 miles over eight games against a revolving door of defensive coordinators, position coaches and schemes. Nebraska had four coordinators in five seasons.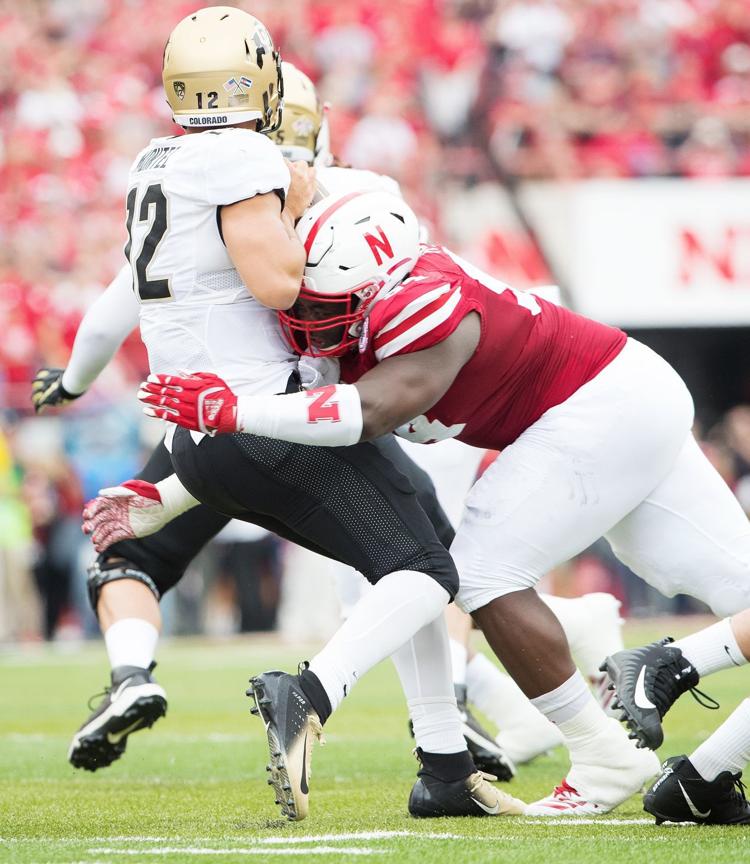 Davis is on his fourth position coach, and a fifth recruited him but never coached him. Even if he looks at it like a "bag of tricks" — each coach imparting something different — Davis and nine other fifth-year seniors have run the gamut.
"The guys who are around on defense have been through a lot," Frost acknowledged at Big Ten media days. But he chased that truth with his belief that the defense is ready for resurgence.
"These guys are more confident than they've ever been, largely because of the changes they've made, too."
Bigger, faster and stronger never hurt anybody, he said later. And NU's defense is, by every account, all three.
But it's more than weight room gains. It's a swagger. Martinez sees it in the guy who talks the most trash, safety Deontai Williams. Linebacker Mohamed Barry, who led NU in tackles and seems a shoo-in for captain, has it, too.
"I love that our offense is so great — and they will continue to be great — but we will be a well-rounded team," Barry said.
"Stop the run," he said. "It's a man's game when you talk about the run game in the Big Ten. These teams in the Big Ten West, they know how to run the ball."
He rattled off Wisconsin's Jonathan Taylor and Illinois' Reggie Corbin. It's a league full of good backs.
"We want to stop the run because if you stop the run, you will win the Big Ten West, definitely," Barry said.
Since the Big Ten split into East and West Divisions in 2014, West champs have all ranked in the league's top five in yards per carry allowed. The average rank is 3.2.
Nebraska hasn't ranked higher than eighth since 2014, bottoming out at last in 2017. That was when then-coordinator Bob Diaco's bend- until-it-breaks defense blew a gasket the last half of the season, allowing 293 rushing yards per game over the final seven contests, six of which were losses.
Players quit under Diaco, but Barry suggested Diaco's two-gap scheme didn't work because, unlike successor Erik Chinander's system, it didn't emphasize playmaking. Diaco's bottom line — point prevention — called for a more cautious, systematic approach to run defense. NU's "stuff rate" — run plays stopped at or before the line of scrimmage — ranked 130th nationally in 2017, according to Football Outsiders.
"It just didn't fit me," Barry said. "As a linebacker, you want to get him at the line or behind the line. And when you spill a block, you want to spill that block and mess up the entire play. You want to destroy folks. It's as simple as that."
Chinander wants his linebackers getting to the line of scrimmage, knifing into the backfield to make tackles for loss. But the 2018 defense's stuff rate — while nearly doubling that of 2017 — still ranked 117th nationally.
There was a reason for that, Barry said.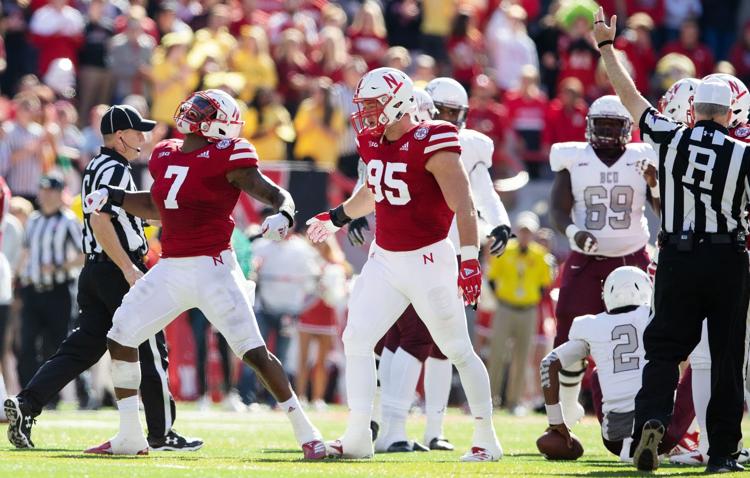 "We didn't even play with a true nose guard last year," he said. Now, Nebraska does: graduate transfer Darrion Daniels.
A broken finger prevented him from finishing his final season at Oklahoma State, and a new NCAA rule allowing student-athletes to retain a redshirt despite playing four games saved Daniels' senior season. He transferred to NU to play with younger brother Damion.
"He's going to be a problem for the Big Ten and other opponents," Davis said.
The 6-foot-4, 340-pound Texan — as wide a mountain as Nebraska has had at the position — made an immediate impact in spring practice. His backup, Damion, is 6-3, 340.
Darrion worked hard, Barry said, and led well. Mostly, he wrecked NU's offensive line and kept those linemen from wrecking Barry.
"Those guards can't just free- release to me," Barry said. "They can't free-release to none of the linebackers. And we had to deal with that last year."
Barry can defeat a block. It's his job. But if he's having to do that 3 yards from the line of scrimmage, he's probably not making it to the line of scrimmage.
He was taking more risks to bolt past those blocks last season. If Daniels can hold up the interior linemen — just a guard and a center — Barry can hunt ball carriers.
"Now we're talking about, 'OK, let's penetrate, let's get in that backfield, let's cause havoc before the running back can start on his track," Barry said. "That's what it's about — TFLs and impactful plays."
Sign up for Big Red Today news alerts
Get a daily Husker news roundup, recruiting updates and breaking news in your inbox.
More stops on early downs lead to more third-and-longs. And while NU's pass rush remains a work in progress, the late-season improvement by the secondary suggests third down will be more of a winning down than it was in 2017 and 2018. Frost has frequently said that position group has made the biggest jump in attitude and performance since his staff arrived.
The tutelage from Travis Fisher — a frank former NFL cornerback — has been key in making over the unit. Fisher will talk about players' mindsets, their off-field habits, even their weight.
Frost wants his coaches staying honest. He hires for it, in a sense, since new defensive line coach Tony Tuioti immediately started telling reporters about the need to increase the number of consecutive repetitions his linemen could play.
"We're in too competitive a business and life's too short to represent something that you're not or be phony," Frost said.
That coaching style has trickled down to the players.
Barry's podium was part confessional, part pulpit as he switched between the sins of the past and future resolutions. His occasional laments for tackles or missed assignments mirror the words of a dozen Husker defenders who have been beaten by the Big Ten since NU joined it.
"We underachieved the last several years, and everyone knows it," Barry said. It's left NU's defense in prove-it mode. He knows that, too.
Yet this Nebraska defense stuffed it back in the face of NU's offense often in the spring. The defenders got the cool kid all riled up. If they can do that to him — to Frost's offense — maybe it's a sign. Maybe the hard road for the Huskers is leading up to light.
"Don't think this is just an offensive squad — I would never want anyone to think that," Barry said. "This is a Blackshirts school. This is a Blackshirts team."
Photos: Nebraska football's 2019 recruiting class
Check out photos of each member of Nebraska football's 2019 recruiting class.