"Year 2 is when it's gonna take off around here. And taking off doesn't mean we're gonna go undefeated, but we'll be a really good team in two years." — Scott Frost, April 2018
"We'll be competing for our side in Year 2. I don't know if we'll win it. Then it just goes up from there." — Frost, July 2018
"We aren't that far away and I know how much better we can get." — Frost, November 2018
"We're ... miles ahead of where we were a year ago. ... I think we'll surprise people with how much better we get and how quickly it happens." — Frost, February 2019
Maybe Scott Frost talked a big game because he'd just come off a miraculous turnaround at UCF — 0-12 to 13-0 in two years. You'd be a little cocky, too.
Maybe he felt the immense pressure to restore Nebraska pride ASAP. He wanted to make his family and friends and former teammates and Tom Osborne feel the joys of winning again. You'd crave that feeling, too.
But as you're trying to figure out how almost everyone could be SO wrong about Nebraska football in 2019, stop blaming the national media who picked NU for the Top 25. Stop blaming the Big Ten media who picked NU to win the West. Stop blaming the local media who gave you 19 stories to read every day in the offseason, almost all of them optimistic. Stop blaming Husker Kool-Aid drinkers who fall into the same trap every offseason, thinking that only their team lifted weights and recruited playmakers.
You know why everyone thought Nebraska had turned the corner in 2019? Because Frost said so!
I'm not rubbing his nose in it. I'm merely pointing out that outsiders got Nebraska wrong because the insiders got Nebraska wrong.
Frost, as it turned out, dramatically overstated his team's prospects. He's the homebuilder who promised he'd be painting your walls in six months and it turns out he's still framing.
Husker fans can still be happy with the house someday. Perhaps even by the time they pack for Dublin. But, man, stop telling your friends that we should've seen these struggles coming and start recognizing that Frost himself set a high bar for Year 2. And we listened to him because of his past success. He carried immense credibility into this job. He knew what good football looked like and he knew how to rebuild a program.
Now the 2018 Peach Bowl feels like a decade ago.
Does it mean Frost is the wrong man for the job? Of course not. He can still fulfill all the Husker hopes he inspired.
But based on what's happened this season, it's fair to question his (and his staff's) evaluation of the program. This was harder than he thought.
Back in February, Frost relayed a story at a luncheon that his trusted strength coach, Zach Duval, had made this statement about Huskers in the weight room: "Old Nebraska is almost back."
Back in July, Frost stated that he wouldn't trade Adrian Martinez for any quarterback in the country.
Some of this stuff is just what coaches say, obviously. Nobody wants a leader who walks around with his head down, muttering, "Gee, I just hope we're competent, but I don't know. We'll have to wait and see."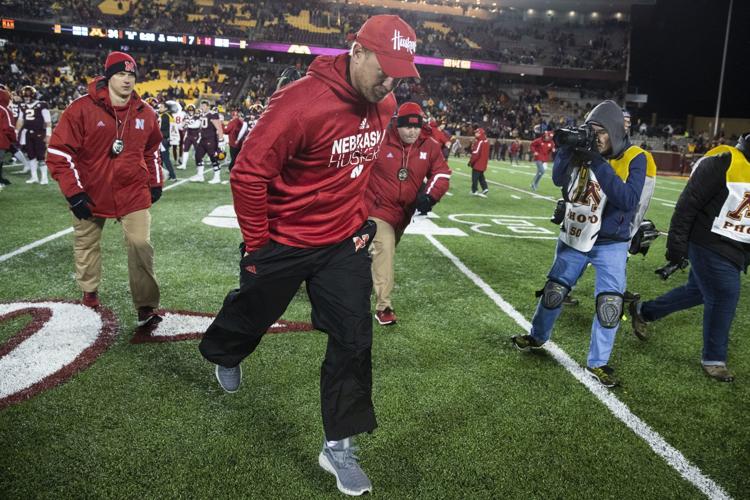 This is football, not world diplomacy. It's OK to puff up your players. It's OK to beat your chest.
But when you're wondering why we had such outsized expectations for the Huskers this fall — I predicted 8-4 — remember the source of optimism.
Then ask yourself this question: If the November 2018 Huskers were playing the October 2019 Huskers, who would win? It's last year's team by double figures, right?
That wasn't supposed to happen. Departing senior Jerald Foster said this after last year's Iowa game: "This is an offense that's going to be top 10, easily, next season."
Instead, the Huskers rank 76th in total yards and 90th in scoring.
Where's the player development? Where's the growth up front? Over and over since joining the Big Ten, Husker coaching staffs have believed they could A) fight to a draw in the trenches and B) expose opponents on the edge. Over and over, we've realized that Nebraska wasn't close in the trenches. And any advantage on the perimeter means nothing without big boys in the middle.
I had no expectations that Nebraska's O-line would be good in 2019. But there was genuine hope that the defensive front seven would be better equipped to handle the weekly Big Ten grind. Based on Ohio State and Minnesota, the Blackshirts aren't ready, either.
Frost has time to fix all of this. And even if he goes 0-5 the rest of the way, his fans will find reasons to get fired up for 2020. But this season does raise concerns.
For two years, Frost's word carried a ton of weight. He knew the path back to national prominence and he knew the timeline. Now there's a little bit of doubt.
You can tell when a coach — in Year 1, especially — knows his team isn't any good. You feel for him. But sympathy turns to skepticism when a coach thinks his team is better than it really is. When his results don't look much different from the coach he replaced and the culture he criticized.
Husker fans can stomach a few setbacks on the road to recovery. They can even endure a wasted season. As long as they can trust that Frost's words are true.
Photos: Nebraska travels to Minnesota