LINCOLN — Fred Hoiberg swatted away the black, nylon field goal net from his head.
"I gotta find a place to live once I get out of this net," Hoiberg said with a smile underneath the north end zone field goal pole. "I haven't taken a breath yet. It's been a whirlwind."
Two weeks in as Nebraska's coach and Hoiberg's still living somewhere between chaos, unfamiliarity and total happiness. The Nebraska basketball coach, who grew up a huge Husker football fan, took in his first spring game on Saturday. After another week on the road recruiting, and less than 24 hours after finalizing his first coaching staff, Hoiberg shook hands and posed for photos on the sideline in a black NU pullover and shades. He laughed and took a Snapchat of Mason Ramsey and watched the Tunnel Walk right next to the gate.
Hoiberg threw passes on the sideline with the four recruits on official visits — Jervay Green, Maurice Calloo and UNLV forwards Joel Ntambwe and Jonathan Tchamwa Tchatchoua.
"(I wanted) to try to see what it felt like if I had gone that route here at Nebraska," Hoiberg said. He was recruited by Tom Osborne out of high school to play quarterback. He chose to play basketball at Iowa State, instead, which led to a 10-year NBA career.
Sign up for Big Red Today news alerts
Get a daily Husker news roundup, recruiting updates and breaking news in your inbox.
But Hoiberg admitted he still puts tomato juice in his beer at tailgates, a trick he learned going to Nebraska games in the past.
"We got a big weekend with some kids here, and there's not a better place to be," Hoiberg said.
On Friday, Nebraska officially introduced former NU coach Doc Sadler, Tim Miles assistant Armon Gates, Matt Abdelmassih and Bobby Lutz to his staff. Hoiberg said he's relieved to finally have that finished. Sadler was the last to join, and he signed his contract on Friday afternoon to seal the staff.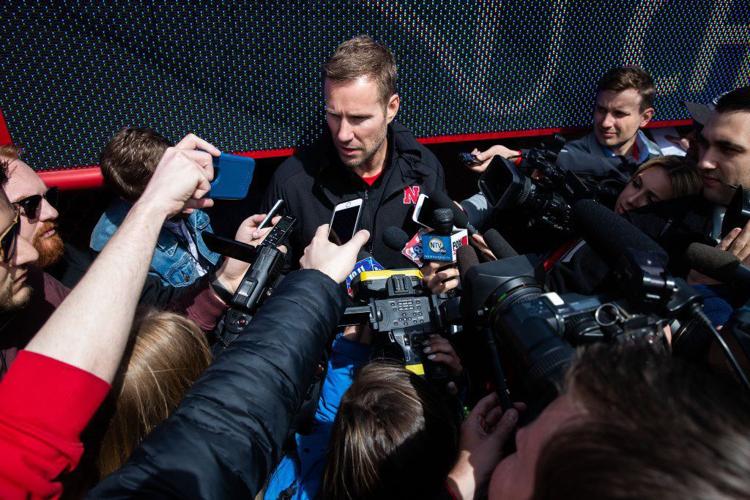 Hoiberg called Abdelmassih "one of the most important hires" he's ever made, and said Sadler is one of the best defensive minds in the country.
"And the great thing about Doc is everyone is more excited to see him now," Hoiberg said. "I'm not sure I've ever seen a guy as popular that's been fired to come back."
Hoiberg said he kept Gates because of his recruiting connections and his relationship with current players. Lutz will be a special assistant for Hoiberg, which will entail scheduling and helping put in place a fast-paced, high-energy offensive system, Hoiberg said. He and Lutz have been watching film this week to figure out a system for next season already.
The entire staff took the four visitors to Pinnacle Bank Arena on Saturday morning.
"Rodeo was in town, didn't smell very good in there," Hoiberg said.
But he and his staff want to show off the support that comes with the school, the support they've all begun to feel just a few weeks on the job.
"We're just trying to show them everything that will be here for them in their experience," Hoiberg said. "I think as important as anything is when you come here and you see 92,000 people at a scrimmage, it's pretty impressive."
The tornado of transition to-do lists will continue to pile up over the next month, even with NU's staff now in place. Hoiberg has four scholarship spots to fill before next season, has yet to hire a director of operations and and he still needs a place to live.
But Saturday was a brief moment to take a breath in the 50-degree afternoon and mix business with pleasure.
"It's been crazy," Hoiberg said. "We're getting there. We're getting there."
Photos: Fred Hoiberg through the years