LINCOLN — Armon Gates generally wears a smile around the basketball offices.
He's typically uplifting and ready with a hug.
On Monday afternoon in a conference room at the Devaney Center, as he talked about the final two weeks of the season, Gates' face couldn't quite hold the smile as he explained his thoughts as the season came to a merciful end.
Gates and his wife prepared for the birth of a son. Her due date was during the NCAA tournament. And while he and his wife looked forward to the birth, it had also become clear that Gates might be forced to spend his first few days as a new father looking for a new job.
"It was ..." Gates said Monday, trailing off. "Extremely stressful."
When Tim Miles was fired, it was assumed his staff would be gone, too. All three assistants were Miles loyalists. And if anyone was going to stay, the safer bet was on Jim Molinari or Michael Lewis. Molinari was a former head coach with a defensive game plan that works in the Big Ten. Lewis is an up-and-coming coach with Big Ten ties at Indiana, strong ties to in-state recruiting and a system that improved NU's offense by more than 100 spots in KenPom over two years.
Gates was the newbie. He had the least coaching experience.
And yet he is the one who survived.
"It's a business, so you have to understand nothing is set in stone for you," Gates said. "If you don't produce, you can be out the door. But if you can produce, you can be loved forever at a place."
During a two-week audition with Hoiberg, Gates proved he could produce. Hoiberg rewarded him with a spot on his bench.
"Been really impressed with Armon," Hoiberg said at NU's spring football game.
Miles reached out to Hoiberg as soon as news broke that Hoiberg would be the new coach. A few days later, Hoiberg called Miles back and the two coaches talked about staff. Gates stuck out to Hoiberg as someone who could relate to the players well and smooth the transition of power.
Gates wanted to stay in Lincoln. And wanted to show he was a team player. So he showed up to Hoiberg's hiring press conference and watched from the back in a red Nebraska tracksuit. That day, he met with Hoiberg about an opening.
Hoiberg asked if he could stick around for a few weeks, as a sort of trial run. Gates agreed.
So the two hit the road together, new head coach and new father trying to solidify a job. They drove to Omaha and met with Creighton Prep signee Akol Arop and sealed that deal. Gates showed Hoiberg the offices and answered questions. Hoiberg, meanwhile, hired Matt Abdelmassih, an ace recruiter and former Iowa State assistant. Hoiberg then tried to hire former Iowa State assistant Charlie Henry. But Henry backed out and went to Alabama. Next Hoiberg went after Bobby Lutz, another former Iowa State assistant. He's now a special assistant.
And while the band got back together, Gates just kept working. He ran workouts for the team. He made calls to recruits.
After persuading Doc Sadler to join from Southern Mississippi, Hoiberg liked the setup. Sadler, the defensive guru. Abdelmassih, the recruiter. Gates, the peacekeeper.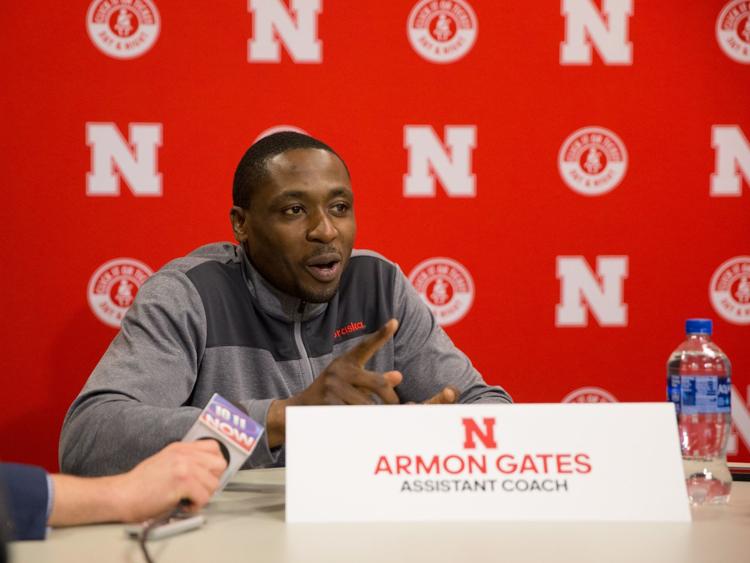 "I do think it's important when you're taking over a new situation to have some type of continuity, and Armon knows the players who are committed here right now," Hoiberg said. "He's been great. I was really impressed watching him in the workouts we have going on with our guys."
Gates is now the Big Ten expert for Hoiberg's staff. The former Northwestern assistant has seven seasons of Big Ten experience, so he'll be tasked with educating the mostly Big 12 and Big East coaches on their new conference. Gates will also be in charge of in-state recruiting.
"Coach Lewis did a great job, so hopefully I can step up to the same standard that he had," Gates said.
A former guard at Kent State, Gates likes the way Hoiberg's offense is set up. He was very aware of his Iowa State teams and said that at Northwestern, he and coach Chris Collins talked often about trying to emulate Hoiberg's teams.
He'll now get to be part of one. And will be surrounded by three people with major college head coaching experience.
"We have two ears and one mouth for a reason, and I'm definitely gonna use my two ears to learn from these guys," Gates said.
Northwestern got its first NCAA tournament win with Gates as an assistant. He's glad for the chance to duplicate that honor at Nebraska. The stress, he said, was worth it.
"It's been a couple sleepless nights here and there," Gates said. "But overall, it's not bad at all."
Photos: Nebraska introduces new basketball coach Fred Hoiberg
Nebraska introduced new basketball coach Fred Hoiberg during a press conference on Tuesday April 2, 2019.