LINCOLN — The final standings are in and roughly half of Nebraska's teams met Athletic Director Bill Moos' base standard of finishing in the top half of the Big Ten this season.
Through standings or a conference championship, the Big Ten "keeps score" in all but three NU sports: bowling, rifle and beach volleyball.
In other sports, the Nebraska men's indoor track team won a conference title. The volleyball, baseball and women's gymnastics teams all finished third. The men's gymnastics team finished in a tie for sixth — that's last — but then went on to finish third at the NCAA championships, which surpasses any league achievement. The men's and women's outdoor track teams both finished fourth. The women's indoor track team, men's golf and women's soccer teams all finished fifth. The women's basketball and wrestling teams finished sixth.
That's 12 of the 21 sports, or 10 of 19 if you prefer to lump outdoor and indoor track together. It's safe to say Nebraska wants a higher batting average, and more league titles, but it speaks to relative success across the athletic department.
Of the nine sports that didn't finish in the league's top half, not one finished last in the 14-team league. Men's cross country, women's swimming and softball finished eighth, football finished in a tie for ninth overall and in fifth for its own Western Division. Men's tennis and women's cross country finished 11th, women's tennis finished 12th, women's golf finished 13th and, in the most stunning finish, men's basketball finished 13th after being picked by the media to finish fourth.
That profound collapse led to Tim Miles' firing. Since then, new coach Fred Hoiberg and what amounts to his general manager, assistant Matt Abdelmassih, have overhauled the program's roster to such a degree that it may be unprecedented. If Isaiah Roby stays in the NBA draft, less than 5% of NU's scoring from last season will return.
Stunning! Allowable, too. The overhaul of the men's basketball and football rosters over 18 months speaks to the need for complete transformations. Fans will stick with Hoiberg and Scott Frost through the changes, too. They've already stuck with so much.
Sign up for Big Red Today news alerts
Get a daily Husker news roundup, recruiting updates and breaking news in your inbox.
If you look at the Learfield Cup, which assigns points to schools for their national finish, Nebraska ranks eighth in the Big Ten and 26th nationally. The Huskers aren't likely to finish 26th — somewhere in the mid-30s seems to be the spot — but they should hold on to eighth in the league, and perhaps even slip into seventh, ahead of Iowa.
According to the latest April standings of the Capital One Cup, the Husker women lead the Big Ten and rank eighth nationally — that's largely on the strength of the Husker volleyball team's performance — with 36 points. The Husker men have one point and are tied for 78th.
Moos has repeatedly said finishing in the top half of the league is a basic goal for any team. Contend for a league title, and contention for national titles will follow.
"The Big Ten is a tough conference, but none of them have anything we don't," Moos said last June. "Maybe a couple facilities we're working on — and I'll give some slack there. We've already made some changes, and I'll be monitoring this close. And I want to make sure our coaches have everything they need, and in my opinion they do need to be competitive and be in a position to compete for championships."
Since those comments, Nebraska has cut the ribbon on a new gymnastics building. Moos is trying to get an on-campus practice facility for golf, as well. The lack of such a facility likely cost the Husker men in their pursuit of champion Norfolk golfer Luke Kluver, who instead chose to attend Kansas.
At any rate, the rebuild of NU's athletic department continues. Since Moos has arrived, he's switched out coaches in football, men's basketball, men's tennis, men's golf, women's gymnastics, rifle and, soon enough, women's golf. He may not be done, either.
Football excellence is the tide that lifts all boats. On that note, Athlon's annual magazine has hit the stands, and NU is preseason No. 17 and the projected Big Ten West champ. Athlon also put seven Big Ten teams in its preseason top 25, including four from the Big Ten East in the top 16.
Baseball attendance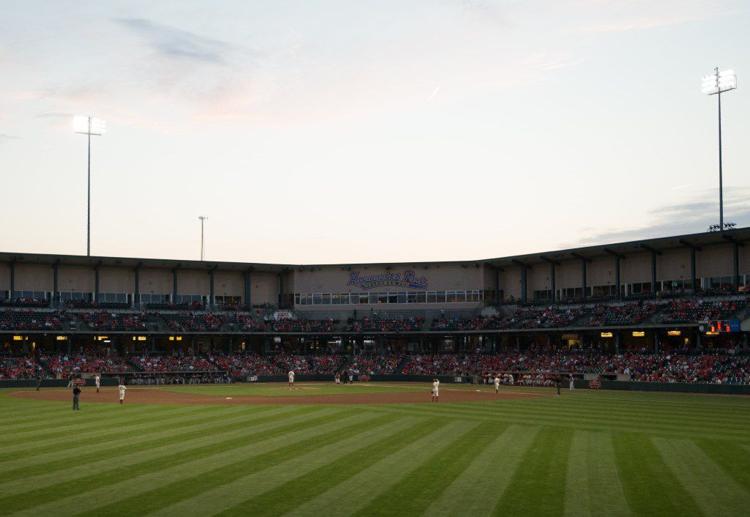 Even with several home games canceled because of bad weather, Nebraska baseball is again likely to finish in the nation's top 10 for average attendance per game. NU ranked ninth nationally — tops in the Big Ten — headed into the Michigan series, which will only help the Huskers' average. The Friday doubleheader, which counts as one attendance figure, drew 6,888 fans. Nebraska's average should finish around 4,675 or so.
That dwarfs the Big Ten's No. 2 team, Indiana, which averages 1,775 fans. Michigan is at 766. Northwestern is at 290 fans per game. It's hard to play a road series in front of a high school crowd.
Nebraska softball, which averaged 734 fans this season, will finish at No. 27. The Huskers finished fifth in the Big Ten. That's an improvement over 2017 and 2018, when NU finished 34th nationally in both seasons. Michigan led the Big Ten. The Wolverines drew more fans per game for softball than baseball.
You know what? In 10 years, that'll be true of more schools. Softball is faster-paced, energetic and home to the best uniforms in college sports — see Ole Miss on Sunday — and its players are not unduly influenced by the still-glacial pace of Major League Baseball.
More Frost lore
There's always time for a Frost anecdote. This one comes from a powerful story in The Athletic in part about Keanon Lowe, a security guard and football coach at Parkrose High School in Portland. Lowe helped prevent a mass shooting by wrestling the teenage gunman and prying the gun from his hands.
Lowe is a former Oregon wide receiver — a pupil of Frost's. And it was Frost's teaching that helped Lowe in that split second before he engaged the gunman.
"Coach Frost told us that if you haven't already made up your mind what you would do in an emergency situation, then you are going to be too slow and you are not going to help the situation," Lowe said to The Athletic.
Frost is, indeed, a man two steps ahead. He speaks with no-to-few notes and he answers reporter questions like he expected them. His media sessions are always faster — though not less substantial — because of it. And his teachings get through. They did with Lowe, who used Frost's lesson to help save lives.
Photos: Nebraska baseball's NCAA tournament history
Nebraska has made the NCAA baseball tournament 14 times since its first appearance in 1979, including three trips to the College World Series.