LINCOLN — Scott Frost the play-caller can't stand games like Iowa's 31-28 win over Nebraska on Black Friday.
Not just because NU lost, but because the Hawkeyes kept Frost from doing the things he loves most — calling plays, watching his offense rack up yards and scoring points.
Perhaps the biggest compliment an offense can receive is an opponent that's willing to do just about anything to avoid letting them have the ball. Iowa did that as it ground out long drives, which left the Huskers trailing by 15 points headed to the fourth quarter.
"You're standing on the sideline for what seems like hours at a time," Frost said. "It isn't, but it seems like hours of time before you get to call the next play."
Nebraska quarterback Adrian Martinez erased that deficit. NU's final offensive plays of the year were a touchdown and a 2-point conversion. A fitting end, even in defeat. Defenses wanted no part of Martinez and that Husker spread, no-huddle, fast-paced attack. Few defenses did.
Frost's system — honed at Oregon, perfected in two years at Central Florida and brought whole cloth to Nebraska — was just about everything it was advertised to be.
Sign up for Big Red Today news alerts
Get a daily Husker news roundup, recruiting updates and breaking news in your inbox.
» It created a 1,000-yard rusher (Devine Ozigbo) and the first 1,000-yard receiver (Stanley Morgan) in school history.
» In 12 games, NU was second in the Big Ten to Ohio State in plays gaining at least 10 yards and plays gaining at least 20 yards. The Huskers had 32 plays of 30 yards or more, the most since 2012, when the Huskers had 33 — in 14 games.
» Nebraska's offense was particularly potent in the run game, where the Huskers had 31 rushes of 20 yards or more after having just 10 last season.
» The Huskers averaged 4.2 more points this season than last and had 53 and 54 points, respectively, in two league games, its highest totals against league foes since joining the Big Ten.
» Perhaps most importantly, Frost's system, along with Troy Walters' coordination and position coach Mario Verduzco's mentoring, allowed Martinez, still 18 years old, to have a successful on-ramp to college football after missing his senior season of high school football.
Martinez's potential was clear enough to see in the Huskers' 2018 spring game, when he ran for 60 yards and threw for 114. Once he won the starting job over Tristan Gebbia in training camp — Gebbia promptly transferred — Martinez's talent was obvious in his first game against Colorado, when he amassed 304 total yards on just 35 plays.
"Smooth with it," left guard Jerald Foster said of Martinez after that game.
The freshman cleared the 300-yard total offense mark seven times in 2018, and his 3,246 yards of total offense was a Husker freshman record. That he kept a cool head about his accomplishments only impressed his teammates more, but his lighter moments — like when he and receivers emerged shirtless to throw in frigid conditions before the Illinois and Michigan State games — were notable, too.
"I don't think he has a roof, a ceiling, especially in this system and with the guys he has around him," outside linebacker Luke Gifford said after the Iowa loss. "I mean, man, it's going to be tough to stop them here in the next couple years."
It's going to be tough to replace Morgan, who leaves NU as the most-accomplished receiver in school history, and Ozigbo, who quietly ran for more than 2,000 yards. The offensive line loses starters Tanner Farmer and Foster. But key, young pieces come back — including Martinez, running back Maurice Washington and left tackle brendendan Jaimes. Most importantly, in Martinez's view, Frost comes back.
NU won't settle for averaging 30 points and 456 yards per game again. And it definitely won't settle for a 37.18 percent third-down conversion rate, which ranked 11th in the league.
"Whenever you have Coach Frost and this offensive staff, I think the sky's the limit," Martinez said. "We've got a lot of guys returning, so it'll be exciting to see what we're capable of next year."
Quarterback
MVP: That's easy — Martinez. He's a better passer than most true freshmen and he's an effective runner who generally avoids big hits and has surprisingly impressive change-of-direction talent. Martinez could be the Big Ten's best quarterback next season — even better, perhaps, than Dwayne Haskins.
Standout game(s): Martinez was nothing short of brilliant in NU's 53-28 rout of Minnesota, when he completed 25 of 29 passes for 276 yards and ran for 125 yards. But Martinez truly outdueled Haskins in the Horseshoe, running for 72 yards and completing 66.7 percent of his passes for 266 yards. He didn't shrink from the stage.
Struggles: Martinez was overwhelmed at Michigan — all of NU's offense was — but the larger concern, going forward, will be the quality of the backups. In limited action, neither Andrew Bunch nor a rusty Noah Vedral had the look of a quarterback who could win a Big Ten game. They'll improve in the offseason.
Key departure: None at this time.
Trending: Up. Martinez was good as a true freshman. With a year to understand all of Frost's offense and become more of a vocal leader, Martinez will become even more efficient as a passer. He'll always be a dangerous runner.
Running back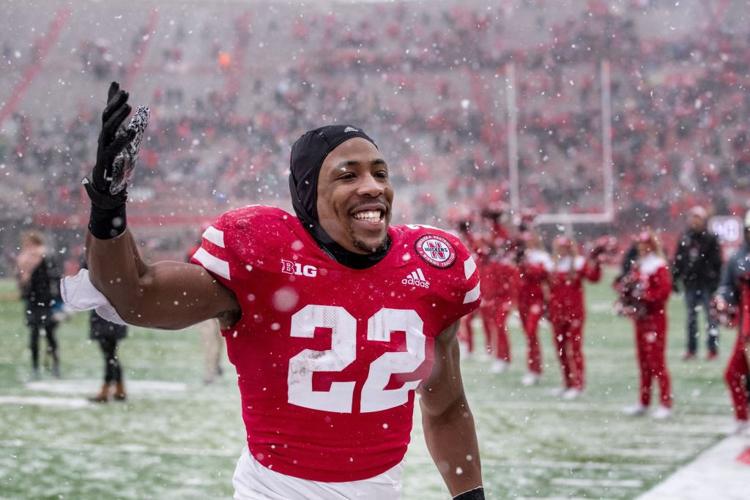 MVP: Ozigbo was second in the Big Ten in touchdown runs (12) and fifth in yards per carry (6.98) as he posted the best season from a Husker running back since 2014. Pretty good for a guy who didn't start the first three games.
Standout game(s): Both Ozigbo and Washington topped 100 rushing yards in the romp over Minnesota. As it related to Washington, he had exciting performances as a receiver in the Wisconsin and Iowa games. NU's backfield got better once Ozigbo and Washington became a 1-2 punch.
Struggles: Nebraska started the wrong guy — Greg Bell — to begin the season, which became clear by the second game, when Bell struggled against Troy and Washington got more carries. Everyone was bad at Michigan, Bell included. At Wisconsin, Ozigbo wasn't involved enough.
Key departure: Ozigbo leaves Nebraska having rushed for 2,196 career yards. That's nothing to sneeze at, especially when considering Ozigbo was a good teammate. Bell quit the team, too, while Tre Bryant retired from the sport.
Trending: Steady. Even as Ozgibo leaves, a ball carrier of equal ability — Garden City (Kan.) Community College star and Georgia Tech transfer Dedrick Mills — comes into the program. Washington will put on 15-20 pounds and improve. And watch out for incoming freshman Rahmir Johnson, who slugged it out in New Jersey prep football. Nebraska is going to get very, very good at running back.
Offensive line
MVP: While each lineman deserves his share of credit for the unit's holistic improvement, sophomore tackle Brenden Jaimes took to his position flip to the left side quite well. Jaimes had rough moments — at Michigan and Iowa — and needs to add a little size, but he's an athletic, above-average Big Ten tackle.
Standout game(s): Nebraska plowed some big holes in the season-opener against Colorado but seemed to hit its peak against Northwestern and Minnesota. The Huskers ran for 231 yards against the Wildcats — the most allowed by Northwestern all season — and gashed the Gophers. Decent game against Ohio State, too.
Struggles: NU's line gave up too many sacks. A few of those were the fault of Martinez, who held on to the ball too long, but some of them were the byproduct of NU's tackles, Jaimes and Matt Farniok, simply getting beat. The Huskers weren't much of a max protect team, as seen by the Michigan game, when NU's line was overwhelmed by overload pressures.
Key departures: Several fifth-year seniors — Foster, Farmer and Cole Conrad — grounded the group in good ways. Bryan Brokop left the team over the summer, while Michael Decker and Jalin Barnett both retired due to injuries. NU has a depth issue along its offensive line at this point.
Trending: Up. So long as Nebraska finds a center — and offensive line coach Greg Austin seems likely to find one — this group could get better and better next season. Jaimes and Farniok are back, so is right guard Boe Wilson, and the recruiting class, headlined by giant Bryce Benhart, appears very strong. Austin is a coach who Nebraska may have to pay to keep.
Wide receivers/Tight ends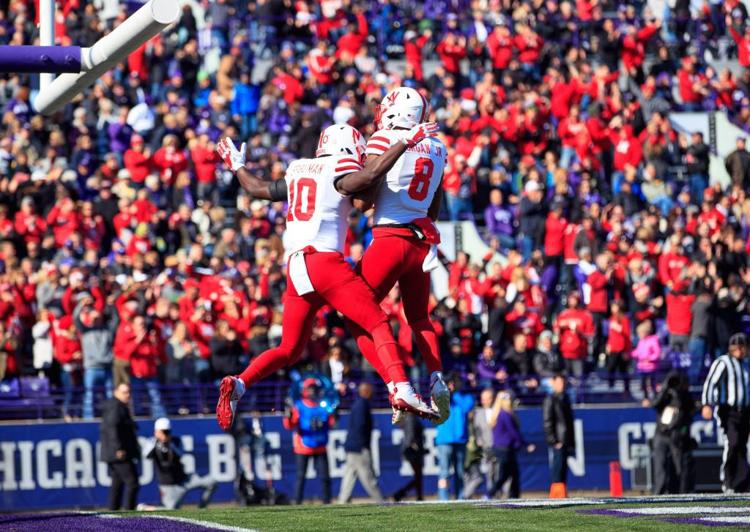 MVP: Captain Morgan. Stan the Man. One of the best receivers in Husker history, Stanley Morgan, finished with a flourish, catching 70 passes for 1,004 yards. Morgan was both a possession guy who gained yards after the catch and a deep threat down the middle when he was lined up in the slot. The best player to come from the Mike Riley era, Morgan's consistency was terrific. Never underrate durability. Morgan missed one game in four years due to injury.
Standout game(s): Nebraska didn't win the game, but the whole wide receiver corps balled out at Wisconsin, when Spielman caught 209 yards worth of passes and Morgan had eight grabs for 93 yards. Tight end Jack Stoll's best games from a receiving standpoint were Northwestern and Iowa, and he blocked well all season.
Struggles: Spielman had two head-scratching plays — a late drop against Colorado and a missed pass/drop at Ohio State — that could have changed the outcome of those games. More holistically, Nebraska had depth issues. Morgan and Spielman enjoyed the lion's share of targets. Some games they barely left the field, if at all. Junior college transfers Mike Williams and Jaron Woodyard underwhelmed, so did Andre Hunt and Jaevon McQuitty. It ultimately fell to walk-on Kade Warner to become NU's No. 3 receiver. Nebraska's backups need to improve fast.
Key departures: Morgan is the big departure. Bryan Reimers had six grabs for 52 yards. During the middle of the season, Tyjon Lindsey quit the team and transferred to Oregon State.
Trending: Steady at receiver, up at tight end. And maybe that's optimistic. Look, Morgan was very good. A real pro, tough guy, caught the ball, never showed up Martinez, all of that. Spielman is, too, but he's one player. He needs help. He needs receivers who understand Frost's offense better than they did this season. At tight end, Nebraska is going to improve. Stoll is solid, while Austin Allen and Kurt Rafdal stand to get better and better. Justin McGriff, who didn't play this year, could be a breakout player in 2019.