LINCOLN — Greg Austin lost the shirt, but not the memories. You don't forget fans throwing fruit.
The Nebraska offensive line coach and former Husker offensive lineman has a story about the Colorado rivalry. In the 2005 game, when NU blitzed CU 30-3 while wearing special "Restore The Order" T-shirts, Austin was mostly focused on making sure his creaky knee held up in the romp. But Folsom Field was its usual rowdy self. Officials cleared two sections of students. Debris streamed onto the field.
"I got hit with an orange," Austin said. At least it wasn't frozen. Or a rock-studded snowball. Or a balloon filled with mystery liquid. And at least Austin's quarterback that day, Zac Taylor, didn't get his knee twisted at the end of a play.
That happened to Adrian Martinez in last year's NU-CU game. The resulting injury kept the quarterback out for the rest of that game and a loss to Troy, and slowed him for a blowout loss at Michigan. The play also turned Nebraska-Colorado back into what it was before the programs dumped the Big 12 and joined the Big Ten and Pac-12, respectively.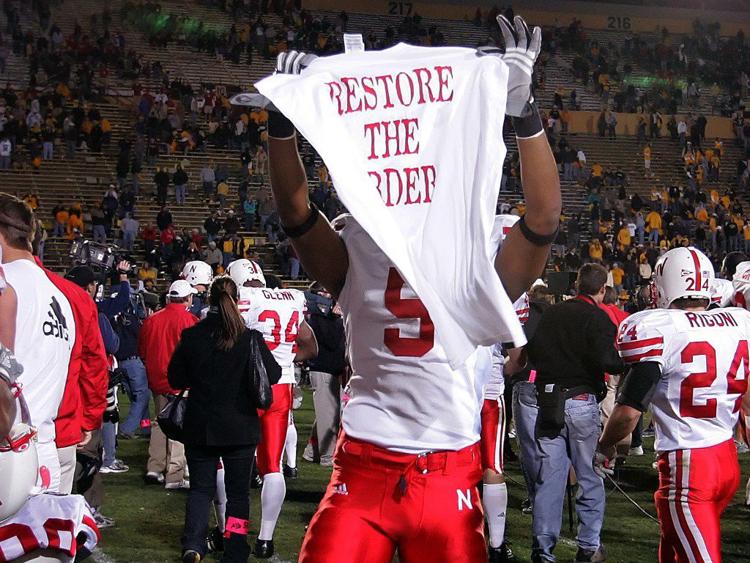 "It's a target on their head," Husker defensive back Cam Taylor-Britt said.
Said outside linebacker JoJo Domann, a Colorado native who turned down the Buffs to play in Lincoln: "Thank God I came here."
Said Austin: "Certainly the rivalry's there, and all the things that come along with the bad blood of this rivalry."
"Besides the rivalry, is there anything you need to get your piss hot?" freshman outside linebacker Garrett Nelson said. "I mean, not really."
Said Taylor-Britt: "Our piss needs to be on fire. We've got to have that mindset."
Nebraska fans are certainly motivated for the trip.
Colorado Athletic Director Rick George said this week the NU game will be the most profitable the Buffaloes have ever had at the gate. The cheapest ticket on the secondary market, according to StubHub.com, was $210 Wednesday. Club seats on the website ran $600 in the middle of the week. A Husker-themed tailgate party before the game will feature Runzas.
NU Athletic Director Bill Moos joked over the summer that there wasn't anything Colorado fans could do to stop the wave of Husker fans. The players believe it, too.
"The Sea of Red is coming to Boulder," inside linebacker Mohamed Barry said.
George made a call for civility from CU fans.
"There is enough negativity out in our country and when Nebraska fans come here, we ought to be respectful."
A Denver Post columnist Wednesday satirized that idea, suggesting Husker fans would need a "hug" from Colorado supporters after losing to CU for a second straight season.
There's certainly some heat after the 2018 thriller, won 33-28 by Colorado thanks to a late touchdown drive engineered by quarterback Steven Montez. Nebraska turnovers led to CU's first two touchdowns and a 14-0 deficit. NU rallied the next two quarters, gashing the Buffaloes' run defense and taking a 28-20 lead in the second half. But the Husker offense fizzled as Montez and star receiver Laviska Shenault hooked up for key completions, including the winning 40-yard touchdown.
Nebraska was flagged for a costly personal foul. Meanwhile, officials missed a fourth-quarter play where Martinez's knee was wrenched by linebacker Jacob Callier. Martinez had to leave the game. A failed last-ditch drive was conducted by backup Andrew Bunch instead.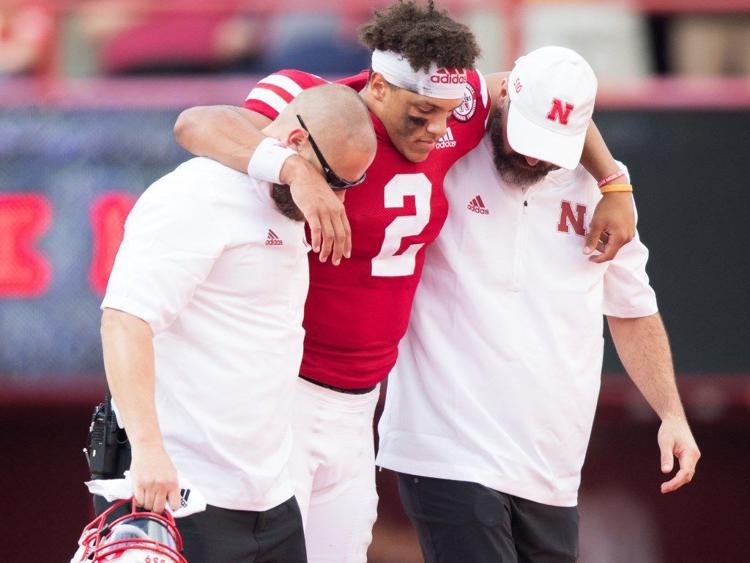 Martinez shrugged off the injury during his Monday media chat. He was too focused on atoning for his struggles in the 35-21 win over South Alabama last Saturday. Barry simmered, but held off from saying too much.
"I love Adrian," Barry said. "That is my quarterback. I'm not really going to comment on that because honestly that doesn't matter for this year. With that being said, we are just ready for them."
For his part, coach Scott Frost didn't want to play up any bad blood. He was a participant in the rivalry during its frothiest times — including a 17-12 Husker win in the pouring rain for the inaugural Big 12 North title — and coached at Folsom Field as part of Oregon's staff.
He called Folsom a "pretty scene" and complimented new coach Mel Tucker and his staff. He brushed off the uglier elements of 2018. New year, new teams.
"But anytime Nebraska plays Colorado, there's a little extra juice on both sides," Frost said.
That's the way Austin remembers it.
He played at Nebraska in the mid-2000s, winning three of four games over the Buffaloes. Whereas most Husker fans may circle Oklahoma as the primary rival — the Sooners have a two-game series against Nebraska starting in 2021 — Austin dined on Thanksgiving wanting to beat the black and gold.
It was Colorado in 2004 that ended Nebraska's long bowl streak. It was the Buffs who played fodder for the biggest win of the Bill Callahan era. Callahan ordered the T-shirts special for the game. Austin found one hanging in his locker.
"You were amped up for this game no matter what the records were," Austin said.
Both teams are 1-0. If CU fans get rowdy, they won't be throwing snowballs.
The bad blood is still around, though. Offensive coordinator Troy Walters has been on both sides of it. He coached at CU from 2013 to 2015 before taking a job with Frost at Central Florida.
"They don't like red there," Walters said of coaching at Colorado. "That's one thing. When I coached there, you couldn't wear anything red."
Walters has told his players to "embrace it all." Drink it up. The atmosphere, the stadium, the stakes, the emotions, the rivalry.
"This is the type of game I dreamed of when I was a player," Walters said. "Doesn't get any bigger, any better."
Sign up for Big Red Today news alerts
Get a daily Husker news roundup, recruiting updates and breaking news in your inbox.
Photos: Nebraska vs. Colorado at Folsom Field through the years
Nebraska returns to Folsom Field this September for the first time since 2009. Relive some of Nebraska's other road trips to Boulder, Colorado, in this photo gallery.