LINCOLN — Ted Jurgens wasn't sure what was wrong.
They were here. They were hardly ever here, maybe once every two or three years as a family. But today, they scored tickets and made it. The day was perfect — warm, sunny — and the Huskers looked good through four quarters.
But something was up with Cam, Ted's youngest, the sports nut who begged his parents every night to play catch on the farm.
The whole game, his first ever in Memorial Stadium, Cam didn't move. Didn't stand when his favorite defensive tackle made a play, didn't cheer when Bo Pelini led the team out of the tunnel and the bleachers shook.
Cam just sat, stone faced, and watched.
The 40-minute drive home down Highway 77 was quiet, save for the postgame show filling the car. Cam got home and went up to his room. Beth, his mother, took his temperature.
Sign up for Big Red Today news alerts
Get a daily Husker news roundup, recruiting updates and breaking news in your inbox.
"That could be why he wasn't that energetic," Beth said. "But, oh, he wasn't going to miss that game."
So, really, you thought Cameron Jurgens was going to miss Game 1 against South Alabama on Saturday because of a lingering foot injury? Then you don't know Cam.
Set aside the fact that the redshirt freshman and starting center has never played a down at center in his life. Or that he dropped weight this summer just to relieve some pain off his foot while walking around campus. Or that two weeks ago, the line seemed set with Will Farniok in the middle, while Jurgens wasn't even practicing. The most optimistic prognostications for his return were Week 3 or 4 of the season. So almost a month from now.
But this is Nebraska folklore happening in real time. It hits all the marks. A lineman from tiny Pickrell, Nebraska, who grew up on a farm with corn, beans and cattle. He carried hay bales across a field in early mornings as a teenager before school. He's a legend in his area code, a magnet in the halls of Beatrice High.
Now, add another story to the list: He's recovered from multiple nasty injuries with uncanny quickness.
But sometimes, the folklore is inexplicable. A high fever couldn't keep the 11-year-old away from a Husker game. Nothing was going to keep the 19-year-old away this Saturday, either.
"There's a grit about him, kind of a quiet grit," offensive line coach Greg Austin said. "(The center) has to be the guy that orchestrates. He's the maestro."
The debut of Jurgens at center is not as highly anticipated as that of Adrian Martinez at quarterback last season. But it represents something significant. When Nebraska's first-team offense runs out on Saturday morning for the first time, eyes will fall on No. 51, not only because of his miraculous recovery, but because his story connects threads from multiple storylines.
The narrative Scott Frost wants to bring into the program is that of restoring the order, and Jurgens represents a restoration. Nebraska has failed to land some high-level in-state recruits in recent years. The Huskers haven't had a reliable offensive line, let alone a center. The team seemingly has lacked toughness and homegrown moxie.
Jurgens answers all those questions — if he's successful. It doesn't help that expectations for Jurgens have already been set.
"This guy can be the second coming of Dave Rimington," Frost told Austin in a practice last year.
And now, all of this will follow the 19-year-old transformed tight end when he runs out with Martinez.
Most teenagers couldn't carry that weight.
"He is a very dedicated athlete," Beth said. "Always has been."
25 years ago Scott Frost won a state title in the shot put, one of the final moments of his spectacular high school career. On Friday, one of his top recruits, Cam Jurgens, bested the mark set by his future coach at the state meet.
Jurgens and his family are soft-spoken. Nebraska humble, Pickrell pleasant. Jurgens himself didn't speak to the media this week. He isn't that loud in practice, either.
Which could be why he flew under the radar for so long. He was a hometown secret until 15. That was around the time the family started running into Jurgens' size-15 shoes in the hallways at home. In late May 2015, as a freshman, Jurgens won state in discus, just beating former Nebraska basketball player Tanner Borchardt. Two weeks after that, Beth drove Cam to Lincoln for a Friday Night Lights camp.
"We were kind of naive. I thought, 'Just go to those camps to learn and get better,' " Beth said.
But Mike Riley had an eye on Jurgens the entire night. As did graduate assistant Tavita Thompson, who coached tight ends.
They cornered Jurgens and told him to come to the big-man camp a few days later.
The offer came after that. He committed a few months later.
"It was like, 'Wow,' " said Beth, who knows something about being a legend. She was Nebraska's college athlete of the year in 1987 at UNK after setting the meet record in the discus at the NAIA national championships in 1986. She beat out Husker QB Steve Taylor and running back Keith Jones for that honor.
She grew up watching Husker football with her parents on the farm. As did her husband, Ted.
The prospect of her son being a Husker excited the family and the towns of Beatrice and Pickrell.
His legend grew as he bulldozed Class B linebackers and dunked over whomever he could on the basketball court in the winters.
When Riley was fired in the fall of 2017, Jurgens briefly considered going to LSU. He even took a visit.
"We didn't just go for a vacation," Beth said.
Fittingly, for someone tabbed to be the next great in-state Husker, it was Frost and Barrett Ruud who went to dinner in Pickrell to persuade Jurgens to stay. Frost — a small-town legend himself in Wood River — told the story of going to Stanford instead of Nebraska in 1993, and regretting it.
Jurgens understood. He kept with his commitment to Nebraska.
Frost recruited Jurgens despite the injury that fall. He broke his ankle on a Friday night in October against Norris, which took away the rest of his senior season. He rehabbed, enrolled at Nebraska early and practiced at tight end for Frost and tight ends coach Sean Beckton. At 6-foot-3 and 270 pounds, his explosiveness was evident, and Austin started fighting with Beckton to move him to the line.
"He called us one night and he said something about, 'Guess what position they're looking at me at now?' " Beth said. "And his dad and I both said defensive line. And he said, 'No, that wouldn't have been surprising. They're looking at center.' And, yeah, I think it shocked all of us."
Including Cam. He wasn't recruited to play on the line. The only time he ever played on the offensive line was in grade school, and only when the weight limit required him to be there. When that limit was up, he moved back to tight end.
At first, he was a little hesitant, Beth said. But Jurgens has always been one to listen to his coaches, Beth said. So he split time in the spring and the fall of 2018. He appeared at tight end in a game last year against Troy.
It was in October, after the Troy game, when Frost made the Rimington comparison at practice. Nebraska had line problems. Maybe he'd help fix it.
A week later, Cam broke his foot. He called his parents to break the news, frustrated.
But yet again, after a winter of rehabbing, Jurgens showed up to spring football, this time bigger and as a full-time center. It was last spring, Austin said, that coaches penciled in Jurgens as the No. 1 guy.
"He's explosive. Powerful. He has a calmness about him," Austin said. "Throughout spring ball we knew with him in the lineup, it changes some things. And that's not a slight on the guys that are competing for that spot. But, certainly, he brings a value to that (position) that other guys don't bring to it."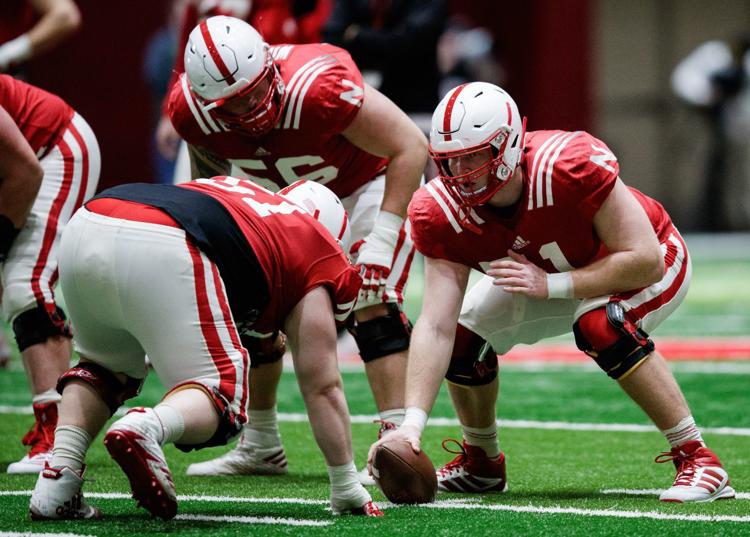 The path for Jurgens seemed paved. Until sometime in the summer, when he suffered an undisclosed injury. No one in the program has confirmed what the injury was or when it happened. Jurgens again called his parents, angry this time. The wait to play might be longer this time.
Jurgens knew the routine. He worked on his upper body in the weight room with strength coach Zach Duval. He went on a weight-loss program to relieve pressure on his foot to help speed his recovery. Austin said he dropped to about 260 pounds. He lived in the training room. As his injury — whatever it was — healed, he put weight back on. He's listed now at 285 pounds.
Nebraska started fall camp with Jurgens sidelined. When media were allowed to watch practice, he was in pads but not in any drills. During the team's "one perfect jumping jack" warmup, while the rest of the team jumped in unison, Jurgens stayed put.
Will Farniok emerged as the No. 1 center. He started scrimmages. The position was his.
When Jurgens started taking reps more than halfway through camp, the offense just looked different. It was faster. Cleaner.
"Once he's on the field," offensive coordinator Troy Walters said, "man, you notice a difference. He's able to move guys, he's really athletic, he comes off the football, he's a nasty offensive lineman. Really sets the tone up front."
And then boom. A week ago, not long after Jurgens was cleared to fully practice, Frost dropped the bomb. Jurgens is the No. 1 center.
Beth was at work — she's a teacher — when her phone started buzzing with texts.
"I thought, 'Well, maybe I better look at Twitter and see what it's all about,' " she said.
Her son called the next night. This call ended with smiles.
Jurgens is already a household name across the state. When you've been talked about and analyzed from afar for so long, when the weight of history and the promise of the future collide with your name in coffee shops and bars for five years, it can get a little tiresome.
Jurgens didn't speak to the media this week. He's done with talk, his mom says.
He's ready to let his play talk for him.
"He'd rather show what he can do on the field than be talked about," Beth said. "I know he's looking forward to getting this started."
Photos: Every Nebraska football season-opening game since the Devaney era
Nebraska is 97-28-5 all time in season-opening games, including 49-8-1 since the start of the Devaney era. Here's how every season opener has gone since 1962.