We're in downtown Chicago. It's the middle of July. It's 466 miles to Omaha. It's 95 degrees outside. The air conditioning in our SUV is out. We're wearing sunglasses.
As The World-Herald team left Big Ten media days and rolled west down I-88 on a sweltering Friday night — windows down, mind you — we decided to find a place to eat and cool off.
Next exit: DeKalb, Illinois.
Home of the Northern Illinois Huskies.
Hey, wasn't that the team that sent shock waves and put the ball in motion around Lincoln two years ago? The very same.
We searched for a sports bar or grill ("Eichorst's Black Friday Grill?") and found one that seemed to be popular called "Fatty's." Perfect. Probably named after a sports writer.
"Fatty's" was right across from NIU, and had air conditioning, hospitality and good food — including the cajun fried potato salad (don't knock it 'til you try it).
The walls were covered with Huskies photos and memorabilia. The one thing it didn't have, as far as I could tell, was framed evidence of one of the great victories in NIU history.
Alas, maybe it was just another game. After all, the Huskies pride themselves in taking on the big boys — and occasionally taking them down. Northern Illinois played in the 2013 Orange Bowl, losing 31-10 to Florida State.
Actually, that 2017 Nebraska game is one that might belong on a wall in a Lincoln restaurant.
Is there such a thing as a great loss for Nebraska football fans? I've never heard of one. There was honor in Tom Osborne going for two against Miami, but that didn't heal the pain from losing the national title. Nebraska won back its pride against Florida State in the 1994 Orange Bowl, but people would have rather had the W.
Husker fans will never celebrate a loss. But the loss to NIU two years ago was most useful. It changed the course of history, and without it you can make the argument that Scott Frost wouldn't be here.
» Start with Shawn Eichorst, the former athletic director. Heading into that Sept. 16 game, Eichorst was on thin ice with the NU administration.
He had approved two moves that put him in the crosshairs of Husker fans. One, volunteering Nebraska to the Big Ten for a televised Friday night game. Then the week of the NIU game, Eichorst came out in support of the Big Ten taking Nebraska out of its traditional Black Friday game.
NU President Hank Bounds was so upset that he strongly suggested Eichorst change his stance on Black Friday. On the Thursday of that week, Eichorst held a press conference after football practice, saying he was back for the Black Friday game.
» Eichorst was aware of his shaky status. After the loss to Northern Illinois, he walked through the postgame press conference area and called over reporters. Eichorst, who very rarely spoke to the media or made public statements, gave a short statement and took questions, trying to calm the panic that was already happening.
That was the last straw for NU's administration, which saw Eichorst's press meeting as a sign of a leader panicking. The next week, Eichorst was fired after three games.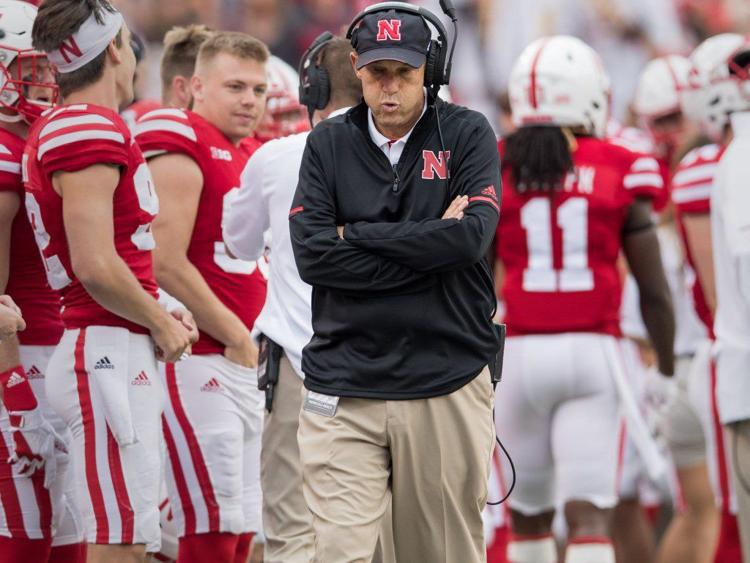 » The search for a new athletic director was on and coach Mike Riley was officially put on notice.
» Washington State A.D. Bill Moos was hired Oct. 15, the day after a blowout loss to Ohio State. Moos said he would evaluate Riley, but in his mind, the search for a new coach had begun.
» The rumors of Frost coming back to Lincoln are ablaze. Meanwhile in Orlando, Florida, Frost is on alert that there could be an opening in Lincoln and has almost two months to think about it.
» On Nov. 25, Riley is fired. A week later, Frost accepts the Nebraska job.
If Nebraska beats NIU on Sept. 16, 2017:
» Eichorst doesn't hold his panic presser and likely holds onto his job.
» Given the state of confusion around Bob Diaco's defense that season, the Huskers probably still finish 5-7 or 6-6. And Eichorst and Riley are fired.
The key here is the timing. Bounds and Chancellor Ronnie Green knew they couldn't let Eichorst hire the next coach. So at some point he would be let go. Maybe after the 56-14 loss to Ohio State.
But would that have been enough time to hire a new A.D., fire Riley and make the next hire in December?
And if that A.D. had not been Moos, would Frost have agreed to come back?
Remember that Frost's state of mind two years ago was fragile — he could have stayed at UCF if things at Nebraska weren't quite right. Could he have come the following year? He might have gotten really comfortable.
What we know is that the loss to Northern Illinois set the process of hiring Frost in motion and put it on the fast track.
A well-timed loss, if ever there was one.
Sign up for Big Red Today news alerts
Get a daily Husker news roundup, recruiting updates and breaking news in your inbox.
Now the always competent, always dangerous Huskies return to a place where they know they can win. And Husker Nation is on edge.
Nebraska blew a 17-0 lead at Colorado, lost in overtime and all eyes are on Frost and his offense. Quarterback Adrian Martinez isn't quite right, the receivers and offensive line are under the scope and folks wonder when the big-time offense is going to arrive.
This second season, filled with greater expectations, feels a little fragile. But it's worth pointing out that, if Nebraska had made one or two plays last week, it leaves Boulder with a victory and a completely different outlook.
Instead, things are a little tense, and these Huskies are not the guys you want to see when the heat's going up.
What Nebraska needs is to make some plays and take a deep breath. Turn some air conditioning onto this season and enjoy the ride.
Photos: Husker fans through the years
Through thick and thin, Husker fans have been there for all of the wins, losses and coaches.