MINNEAPOLIS — P.J. Fleck just shoved his oar right down Nebraska's throat.
People like to laugh at Fleck, the Minnesota football coach, saying he's a huckster and a fake. Well, there was nothing fake about what Fleck's Gophers did to Nebraska on Saturday night.
The Huskers just got Ski-U-Mugged.
Minnesota pushed Nebraska around all night. In the middle, on the perimeter. On both sides of the ball. Until Frost didn't have a paddle to row with.
You know Fleck hears the jokes. And if there's a budding rivalry between Fleck and Frost, consider this. With Minnesota up 28-0 late in the third quarter, Fleck was throwing deep on Nebraska.
If the Huskers were going to let Minnesota stomp all over them, Fleck was going to oblige.
And therein lay the problem for Nebraska and Frost going forward and made this 34-7 surprise clunker an alarming result in more ways than one.
It's one thing for Ohio State to do this. It's quite another for a middle-of-the-pack Big Ten outfit to paint this all over Frost's program.
The surprise wasn't that the Gophers won this game. It was how the heck they did it to Nebraska that should be a major concern in the Husker coaches' meeting room on Sunday.
Yes, the Gophers are 6-0 and playing with more fire and confidence. They have some playmakers and some size. But there's no way they should be that much more physical than Nebraska.
The fact that they did had to shake Frost more than a little and have him wondering: What kind of team does he have going forward?
That's not a hot take. That's a reality for a team with five games left and a lot of work and effort needed to win two more and avoid a third straight year of no bowl game.
One week after a rousing effort and feel-good victory at home over Northwestern, the Huskers couldn't have acted less interested at times to be at TCF Stadium.
What a difference a year makes. Last Oct. 20, Nebraska beat Minnesota 53-28 in Lincoln. It was Frost's first victory at Nebraska.
It featured quarterback Adrian Martinez at his freshman-year best: throwing for 276 yards and three touchdowns and running for 125 yards and one touchdown. Meanwhile, Devine Ozigbo rushed for 152 yards and Maurice Washington ran for 109. Three guys over 100 yards rushing.
In fact, Nebraska outrushed Minnesota 383 yards to 125.
A year later, Minnesota had the edge, 322 to 151.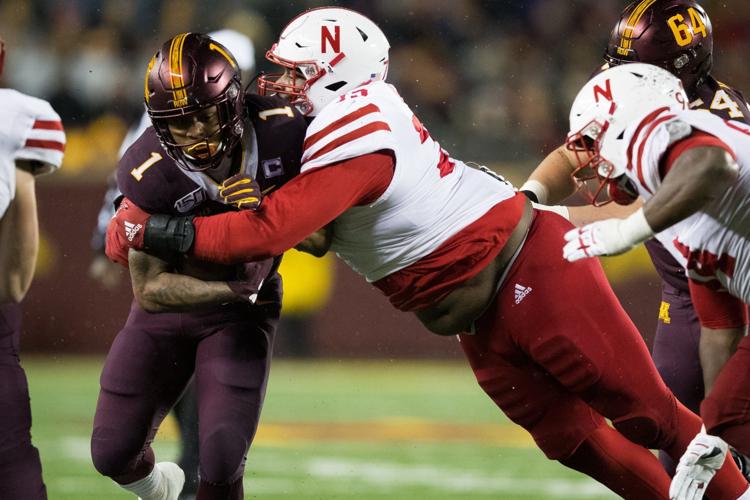 Did Ozigbo mean that much? Did linemen Jerald Foster and Tanner Farmer mean that much to Frost's offense?
This was NU's third loss of the season and it felt so different. The Colorado loss you could pin on some turnovers and a few big plays by Colorado and the field goal thing. Ohio State was Ohio State.
But this thing, even with backup quarterback Noah Vedral and an offense missing Wan'Dale Robinson for most of three quarters, felt inexplicable.
Especially for a coach who said he challenged his team to be ready to play what was thought to be a 50-50 game.
"I thought we had a team that was ready to play," Frost said. "We got pushed around on both sides, made mistakes, weren't physical on the perimeter. We got pushed around a little bit tonight. Whether that's a mindset or what it is, I don't know. But it's disappointing."
Frost brought it up: the mindset. In fact, it came up at halftime, when Frost said in his on-the-field interview that he was getting ready to go in and chew out his team.
When the Huskers came out of halftime to warm up, Frost had them running plays. That's unusual. But it speaks to a coach who was surprised by what his team showed him.
This was definitely not expected on defense. The defensive front is stocked with older guys. Grown men. They got steamrolled by the Buckeyes, but for the most part they've been good.
Then came Saturday night and Frost said they knew what running plays Minnesota was going to use and Minnesota was able to run them over and over.
Look, we've chronicled and picked apart the youth and growing pains of the offensive line. We've talked about strength and conditioning, development, all that. Then Minnesota harassed Vedral with four rushers.
But Frost hinted here that there was something else going on. He said it after he defended his strength coach, Zach Duval, and the work he's done. He said he's seen his players doing the work and added, "When you lift that weight, you shouldn't get pushed around."
The difference: attitude.
Nineteen games into his tenure, Frost and his staff haven't flipped that yet. They haven't flushed out that nasty habit Nebraska teams have had of failing to dig in their heels and stop the snowball from going downhill.
It's not fair to say they haven't made progress. There has been progress made in effort and fight and all that.
But this was a dramatic step backward for that progress. And there will be a young coaching staff, some guys in their fourth year of coaching at this level, trying to figure out why their message isn't being heard.
I don't buy the offensive scheme or system excuse. I get it. But Frost's UCF teams played hard and physically. He once bragged after a loss to Michigan about being the more physical team, and whether you agreed or not, you could tell how much it meant to him.
This is such a tough league to try to develop a tough-guy mentality if it's not there. Big Ten teams, good, bad and ugly, will pound on you every week. If you're not up for it, or you think you need a week off, it doesn't work. It has to be an all-the-time thing.
Frost talked about getting back to basics. But let's be honest, there has been almost two years for doing that. Frost said it's time to play physically and smart, but he said that all of last year, too.
There was a serious disconnect here on Saturday. Now what?
You can't bench players where there's not a lot of depth. You can certainly challenge some and ask who wants to be in the program, but again, this kind of stinker hasn't occurred that often this year.
Frost's worst fear must be that perhaps some players are getting mentally worn out from the grind, from having to play above the holes in the roster and injuries. He can't have anyone checking out, not with five games left.
What the Huskers need is a bye week. And hope to heck that bye isn't goodbye.
Photos: Nebraska travels to Minnesota