Some thoughts on hype, humility and the fragile game:
» Since Saturday, I've heard and read how Nebraska was "overhyped." And that could be very true.
But this I know to be true: Hype is based on predictions, which are based on guesses — hopefully educated guesses. Back in the preseason, we're all guessing.
Nebraska received a lot of love before the season. Big Ten West champs. Adrian Martinez, Heisman candidate. Top 25 ranking. All that.
The Colorado people said NU was a fraudulent Top 25 team, and that's fine. Preseason rankings are educated guesses. Nebraska entered the rankings with a 4-8 resume, but it had more to do with Scott Frost's second season with another team two years ago.
Results — winning big games, making big bowl games — matter more than rankings, and one usually leads to the other. But the latter won't last long without the former.
Which brings us to Nebraska.
The Huskers received a lot of love, but most of it came from the national media, because the national media love them some Scott Frost. The local media and Husker fans were mostly on the 8-4, it-would-be-nice-to-make-a-bowl-game bandwagon.
OK, timeout. I put in a 9-3 prediction, for reasons I wrote about last month. That was based on a better defense and a dangerous offense. Now, I still could end up being right, but everybody right now is making fun of my prediction, so let's assume it might go with the other wrong predictions I have in several boxes in my basement.
Predictions are a goofy game, aimed at having fun. The problem with predictions is that college football can be a crazier game, and it loves to mock the guesses.
For instance, you see Frost's second year at UCF and you see Martinez and you hear about strides in the weight room and in fall camp. It's human nature to predict improvement, progress.
But the game always reminds you that every year is different, every team's chemistry is different. And so you don't see the errant snaps or think that a Frost team could lose a game by getting tight and playing not to lose.
So if Nebraska is overhyped, put it on my tab. I'll take it. And I'll spread it around the national media. Their expense accounts are bigger anyway.
But I'll remind you that there have only been two games and there's an entire season left for more crazy things to happen, chemistry to change and confidence to bloom.
College kids are unpredictable. It's why we love the game. And watch.
» Since Saturday, I've read and heard a lot of theories as to why Nebraska blew a 17-0 lead and ultimately the game at Colorado. Here's mine:
The Huskers have forgotten how to win. And learning how to do that is the hardest thing about turning around a program.
There are several players on the team who won a total of eight games the past two seasons. The last bowl game was three years ago. When was the last time Nebraska truly had a big game? Wisconsin in 2016?
Winning is fragile. We saw it on Saturday at Folsom Field.
Here was a Nebraska team doing a lot of things right in the first half, good for a 17-0 lead. All they had to do was step on CU's throat and put it away in the third quarter. No problem, except nobody on this team knew how to do that.
Combine that with the expectations and all those Nebraska fans there, and you had a Husker team feeling the pressure. Their body language said as much. So did their actions. And the playcalling.
Momentum can change on a dime in that stadium. I've seen it many times. One team stops believing and the other starts.
It helps to have a reference point to stop the avalanche. Nebraska, with Frost as coach, doesn't have one.
That's why I don't buy the talk out of the Buffs' locker room that they won on superior conditioning. CU won thanks largely to a well-timed flea-flicker that duped Nebraska's defense. And then an incredible throw and catch by Colorado to the corner of the end zone. If they don't make that amazing play, they don't win.
That last CU touchdown just before overtime did not do wonders for Nebraska's confidence to win that game. And Frost referenced that in Monday's press conference.
"Defensively, I don't know if we got tired," Frost said. "It might have been a little bit of mentality things.
"Instead of thinking, 'Let's stay on the attack,' we got to be thinking, 'Is this going to happen?' It happened to us once or so last year, and that's a hurdle you need to get over as a team."
That certainly goes against Frost's mantra of "don't worry about making mistakes, play with no fear." When you haven't won, "what's going to go wrong this time?" shows up.
No, Nebraska's personnel and depth isn't there yet. But NU was up 17-0 and in control with that personnel.
This wasn't physical. It was mental. And sometimes, the other guy just makes more plays.
But how do you make the plays to win a game like that? How do you expect to do that? Where does the confidence come from?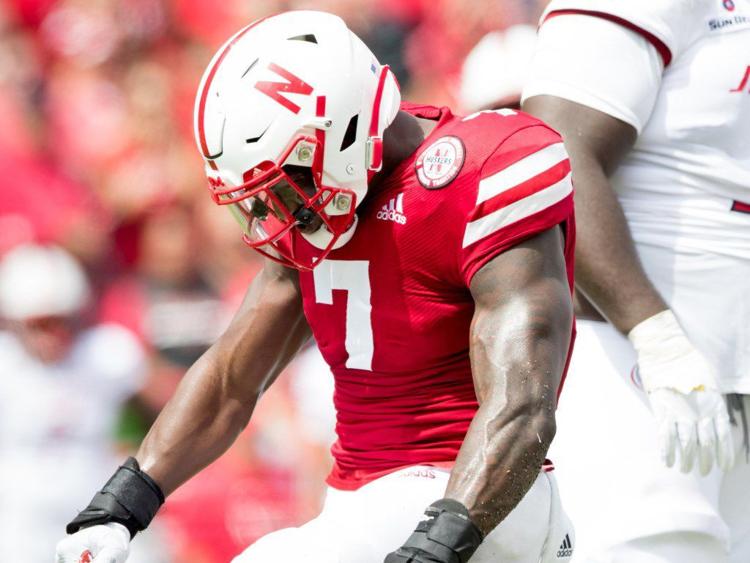 » As someone who is an expert at being humbled, I'm a fan of humility. Also, context.
On Monday, Nebraska senior linebacker Mohamed Barry made a statement that likely will go viral.
Barry said, "There's a lot we have in front of us, our goal is to be in Indianapolis. That was the goal from the set. No one's going to care about Colorado when we're in the Big Ten championship, and that's a fact."
I'm not sure Barry was predicting that Nebraska would make the Big Ten title game, but I'm sure some people will read that as more Husker bravado.
Nebraska has earned that reputation, including the head coach. It certainly spices up the stodgy Big Ten. But you wonder if Barry could have said, "If we're in the Big Ten championship." The timing was interesting, coming off Saturday's game.
Oh, well. No fear, right?
Just think if some of that bravado would carry over to the games as confidence that could finish games. Then some sports writers wouldn't be accused of overhype.
» Last week I mentioned that I'd like to see Nebraska drop the next Colorado home-and-home series and play an SEC team or another former Big Eight rival. But seeing how Saturday ended, I don't think that's possible. There's no canceling the future series now.
» ESPN's "College GameDay" is coming to Iowa State on Saturday for the Cy-Hawk showdown. Who will be the celebrity guest picker, someone with ISU ties?
You know, there might be a former Iowa State basketball coach, a guy who coached in the NBA the last few years.
» One more and I'm outta here: After going with golf and football themes in recent years, the Omaha Creighton Prep Sports Night turns to baseball. George Brett will be the guest for this year's banquet, on Sept. 24. For ticket information, go to CreightonPrep.org/SportsNight
Photos: Nebraska takes on Colorado in Boulder