BOULDER, Colo. — The expected Big Red invasion of Folsom Field for Saturday's Nebraska-Colorado game went off as advertised.
Husker fans packed CU's stadium corner to corner, with red comprising at least half of the sellout crowd. Folsom's capacity is listed at 50,183, but the announced attendance may be higher than that.
If so, Colorado officials will have Nebraska fans to thank.
Their cars, trucks and SUVs filled Interstates 76 and 25 on Friday. Husker faithful then packed into bars Friday night along Boulder's iconic Pearl Street, with intermittent, impromptu "Go Big Red!" chants going strong.
Saturday, Husker tailgates large and small dotted CU's dense campus in and around brick buildings.
Like hundreds of other Nebraska fans, Todd and Amy Snover of Omaha came to eastern Colorado without tickets for the game.
But faith and just the right amount of patience landed them three reasonably priced tickets for the game between former Big Eight and Big 12 conference foes.
Three hours before kickoff the Snovers got one ticket each for them and one of Amy's college sorority sisters. The tickets were in a prime spot, not quite 40 rows up on the west side of the stadium, so the sun is behind them much of the game.
"We found three tickets for $150 per seat," Todd Snover said. "The guy was originally asking for $200 apiece, but with a little negotiating we were able to get them at a little better price."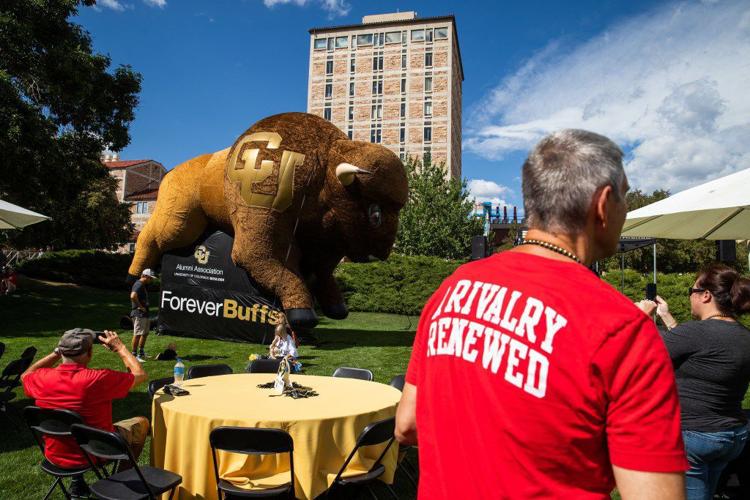 The Snovers, both 48, have been making a Husker road game part of their vacation repertoire throughout their 20-year marriage but had never been to a Nebraska-Colorado game.
Recent trips have included the 2017 Nebraska-Oregon game in Eugene and last year's visit to the Big House in Michigan.
Tickets were at such a premium for Saturday's game that less than 30 minutes after buying theirs, Snover said another Husker fan offered to buy two of their tickets for $200 apiece. Snover said he and his wife politely declined the offer.
The Snovers have been in Colorado since driving from Omaha on Thursday. They did some "brewery hopping" in Fort Collins on Thursday before visiting Estes Park, Rocky Mountain National Park and Boulder's Pearl Street District on Friday.
"This is the first time there was a Nebraska game here in 10 years so we decided it would be a good time to go to Colorado," Snover said. "We've already seen a lot of red today. It's probably about 60/40 Nebraska out on the streets."
Other Huskers fans were still on pins and needles trying to find tickets or waiting for some they were told by friends would be available.
A pair of men in their mid-60s from Lincoln, who didn't wish to be identified, were waiting near the Nebraska will call window for their ticket to arrive, decked out in Husker gear.
"Somebody we're supposed to meet has them, so we're just waiting," one of the men said. "We're just waiting for our friend to get here. But the game doesn't start until 1:30, so I'm not too worried yet."
Saturday's game was the latest in a series of wildly popular western road trips for Husker football fans. Nebraska invaded Washington in 2010, UCLA in 2012 and Oregon in 2017.