LINCOLN — Noah Stafursky attended every Nebraska football game last fall. Sideline pass, recruiting guest.
The York lineman would mingle with other prospects and watch the Huskers in those scarlet uniforms and cream helmets. And the Memorial Stadium crowd would stretch out in front of him.
That struck Stafursky most — the crowd, cheering whether NU was ahead or behind.
Wow, he thought, I have to be a part of this. Stafursky also wanted the challenge of walking on at Nebraska because of the school's history of cherishing line play, developing linemen and embracing an influx of walk-ons to achieve that end.
"Linemen are the unknown men, and they're never the most celebrated people," he said. "But Nebraska has built a legacy on them and was almost ahead of its time. To see that it's built by a lot of walk-ons and how highly supportive Nebraska is, it's different from a lot of different programs."
Sign up for Big Red Today news alerts
Get a daily Husker news roundup, recruiting updates and breaking news in your inbox.
The Huskers also wanted Stafursky, who is part of a growing trend on Nebraska's roster: More linemen on both sides of the ball.
As coach Scott Frost grows the roster back to roughly 150 players, he is taking a special interest in the trenches, where NU has consistently developed walk-ons into starters.
Long is a "great example of what we're looking for," Frost said on signing day, noting that Long was a tight end who grew into a lineman's body thanks to lifting weights.
"A guy in this program goes in strength (and) conditioning and ends up being a great player in the NFL," Frost said. "Not every guy has to be an O- or D-lineman, but I certainly think there's a lot of those running around the Midwest and Nebraska."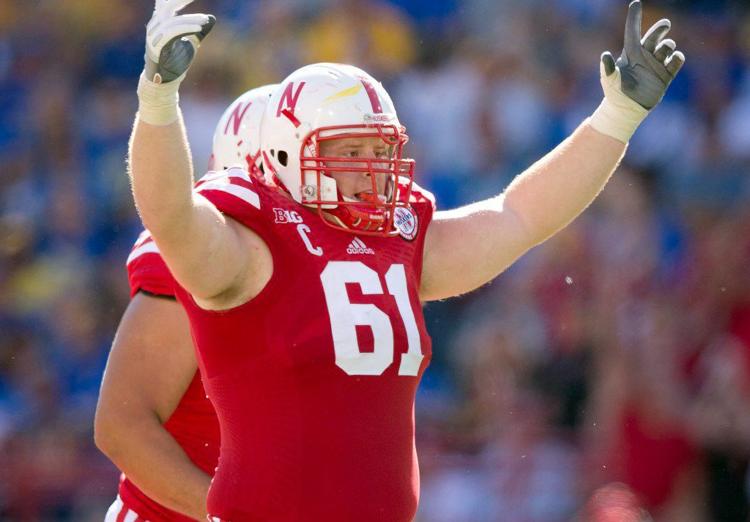 After the number of linemen dipped below 40 in the final two seasons of the Mike Riley era and the first year under Frost — when Frost inherited Riley's roster — NU is back to 45. That's Nebraska's second-highest total in the Big Ten era, behind Riley's first season — when he inherited Bo Pelini's roster.
The 2015 team had 46 linemen — 21 on offense and 25 on defense. Fueled by Maliek Collins and Vincent Valentine declaring for the NFL draft, those numbers plunged to 19 offensive and 20 defensive linemen in 2016.
By 2017, with some linemen reclassified as outside linebackers in a 3-4 defense, the total was down to 37. That included 17 defensive linemen, matching the total of the 2012 Huskers, whose defensive line depth got so thin that a defensive end was playing tackle in Nebraska's 70-31 Big Ten title loss to Wisconsin.
Riley didn't rebuff walk-ons, but the signing classes were getting smaller under his leadership. It got to the point that interim Athletic Director Dave Rimington expressed concern in 2017 while Riley was still coach. At last year's Big Ten media days, Frost said the walk-on program was "killed" under previous coaches.
That's 10 freshman walk-on linemen, three more than NU's sophomore, junior and senior walk-on line classes combined. Even as sophomore walk-on linemen Hunter Miller (at center) and Trent Hixson (at guard) battle for starting jobs this spring, older walk-on linemen are rare — at least for now.
Upperclassmen walk-on defensive linemen are even rarer. There's one — Lincoln Southeast graduate Fyn Anderson. He was the only lineman in the 2015 walk-on class.
In 2016, Riley didn't add any walk-on linemen on signing day, sticking closely to linebackers, receivers and fullbacks.
In 2017, Riley added four, including Hixson and Miller. All of them are still in the program.
Riley took 11, nine and 11 walk-ons, respectively, in his three classes. Frost took 15 in 2018 and 25 in 2019.
That collection of walk-ons put Nebraska's roster at 160. After the attrition of transfers and retirements that happen annually in college football, NU should be in the low 150s by fall camp.
According to rosters on their websites, it's unlikely any other Big Ten West teams will match that figure. Of the three programs that like NU already approximate their 2019 roster, Minnesota is biggest at 122. Northwestern follows at 105 and Illinois is at 99.
To reach the low 150s, Nebraska has utilized more of its auxiliary locker room — inside the Hawks Center across a skywalk from NU's main locker room — and had to work with roster numbers in other Husker sports to make the Title IX count line up between men's and women's athletes.
"We kind of have a clearance to be in the 150s, and probably low 150s," Frost said.
To keep the roster at that size, Nebraska either has to start signing fewer walk-ons or be willing to shed walk-ons at a decent clip to account for new ones coming in.
While Frost expects Nebraska will be "a little more selective" going forward, current walk-ons won't be guaranteed a spot on the roster year after year.
"I'm not going to just let guys be on the team just to be on the team," Frost said. "So, it's going to be competitive — just like your opportunity to be a starter at the university is competitive.
"That will put us in a really good place of where we have the right type of kids. Kids that are on the team for the right reasons and hungry to be here."
That sounds good to Stafursky.
"I didn't want to go somewhere where I was going to be the top dog," he said. "I wanted to go somewhere where I have to fight for my spot and I wanted the toughest competition. Iron sharpens iron, and I wanted it to be the best I could be."
Photos: Nebraska football's 2019 walk-on class
Check out photos of each member of Nebraska football's 2019 walk-on class.