Sacks aren't everything. Neither are tackles for loss. Quarterback hurries help, but they alone don't define the success of a pass rush or disruptive defense.
But Nebraska was mediocre in all three areas last season. It ranked 76th nationally in sacks and 101st in tackles for loss. It averaged 2.8 quarterback hurries per game. According to Football Outsiders, NU had a sack-to-dropback rate of 4.7 percent, which ranked 112th nationally. In stuff rate — the percentage of carries stopped at or before the line of scrimmage — NU ranked 117th.
So the front seven — which loses Luke Gifford, the team leader in sacks and TFLs — needed more playmakers coming into the 2019 recruiting cycle.
A series of close recruiting misses down the stretch will make that a need again in the 2020 cycle, by adding either defensive ends or outside linebackers.
With Dallas South Oak Cliff outside linebacker Steven Parker selecting Kansas over Nebraska on Monday, the Huskers may have run out of pass-rushing options before signing day. A series of decisions in the past 45 days — both by prospects and presumably by NU coaches — has pushed recruits elsewhere:
Sign up for Big Red Today news alerts
Get a daily Husker news roundup, recruiting updates and breaking news in your inbox.
» Mesa (Ariz.) Community College defensive end Soni Fonua — who didn't look like a great fit for NU's defense — chose LSU on Sunday. How badly did NU want him? Hard to say.
» Pittsburg (Kan.) outside linebacker Dylan Jordan picked TCU over the Huskers last week. Jordan admitted he had some previous off-the-field issues, but his on-field ceiling is high.
» Chantilly (Va.) Westfield outside linebacker Eugene Asante — younger brother of former Husker Larry Asante — never made it for an official visit. He may, however, be a better fit for a 4-3 outside linebacker.
» Birmingham (Ala.) Huffman defensive end Michael Lockhart never visited either and now appears headed to Georgia Tech.
» Atlanta-area outside linebacker Cornelius Evans at least reportedly considered a visit, but he committed to Georgia Tech.
» The Huskers missed on a quintet of junior college pass rushers in the early signing period — Amare Barno (Virginia Tech), Kuony Deng (Cal), Datona Jackson (UCLA), Nick Figueroa (USC) and Dru Mathis (Oregon). NU may have backed off Barno. Figueroa is more of a strongside defensive end.
» Lakeland (Fla.) defensive end Lloyd Summerall received the red-carpet in-home visit by multiple Husker coaches, but he chose Florida.
Thus, Nebraska may finish one short of its goal at pass rusher/outside linebacker/weakside defensive end. NU has two signees — Garrett Nelson and Jamin Graham — as outside linebackers, though Graham looks like he could grow into end. And once Myles Farmer makes it to campus and coaches see his frame, they may choose to add a few more pounds and play him at outside 'backer instead of safety, which projects to be a loaded position for years to come.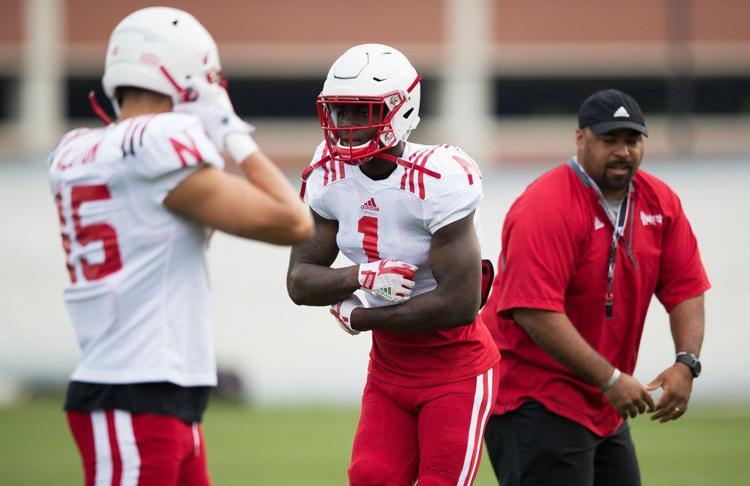 Still, Nebraska clearly wanted — and maybe needed — one more pass rusher, so it'll be a priority in 2020.
And because the Huskers didn't add any juco transfers, the light is green for two Huskers to step up — Caleb Tannor and Breon Dixon.
Dixon, a transfer from Ole Miss, was the talk of last spring. Tannor, who played plenty of snaps and finished with one sack as a freshman, figures to be the talk of this one. The outside 'backer spot opposite senior Tyrin Ferguson is wide open, and Tannor will have a chance to seize it.
Who else is there? Quayshon Alexander and Pernell Jefferson have played fewer snaps than Tannor. David Alston is coming off a redshirt season. Alex Davis will be a senior who has 1.5 sacks in 38 games.
Chances are more likely Nebraska gets production from its defensive line — notably Ben Stille (five sacks), Khalil Davis (three) and Carlos Davis (one), who had to play a good chunk of the season at nose tackle. He should be relieved of that duty — or at least the frequency of it — by Oklahoma State grad transfer Darrion Daniels and his younger brother, Damion, both of whom should play nose.
Presuming NU gets senior surges out of the Davis Twins and the elder Daniels — plus growth from players like Tannor and Dixon — Nebraska's pass rush should be decent in 2019.
But the Huskers will still be on the hunt for that transformative guy in 2020.
Photos: Nebraska football's 2019 recruiting class
Check out photos of each member of Nebraska football's 2019 recruiting class.