LINCOLN — World-Herald staff writer Evan Bland takes a look at Nebraska's effort on both sides of the ball during the Huskers' loss to Ohio State.
Tracking the offense
Whatever it was, it went out the window quickly with an interception, a three-and-out and a 14-0 hole midway through the first quarter. Coach Scott Frost created a little stadium buzz by calling a couple of throwback fullback run plays with Dedrick Mills. Quarterback Adrian Martinez engineered an old-school option keeper, too. But that drive also ended in a turnover, and NU played catch-up the entire night.
Nebraska found the end zone late in the third quarter against Ohio State's backups by returning to its regular diet of swing passes and up-tempo, run-pass options. Martinez stayed in the entire game as the unit continued to work through the kinks.
You have to squint for the silver lining, but Mills showed some explosion as a runner — particularly on a couple of trap plays in the first quarter. He didn't fumble, either. His overall numbers Saturday weren't spectacular, 11 carries for 67 yards, but the junior college transfer continues to evolve in the offense and is settling in for an impact second half of the season.
Let's call an audible and credit special teams. The third unit didn't hurt Nebraska — after seeing five kicks blocked through four games, it was clean Saturday. The kicker situation wasn't a problem because the Huskers didn't need one. And Wan'Dale Robinson called for several fair catches at the goal line, which helped NU's field position. Isaac Armstrong was steady (average kick of 35.2 yards) in five punts.
This was ugly. Martinez had more interceptions (three) than completions (two) at halftime. No wide receiver or tight end caught a pass until late in the third quarter. Seven of NU's 10 drives resulted in a turnover or three-and-out. Ohio State's defense is elite — end Chase Young is a future NFL star — but where were the chunk plays that mark this offense? This was a step back for one of the youngest units in college football.
Tracking the defense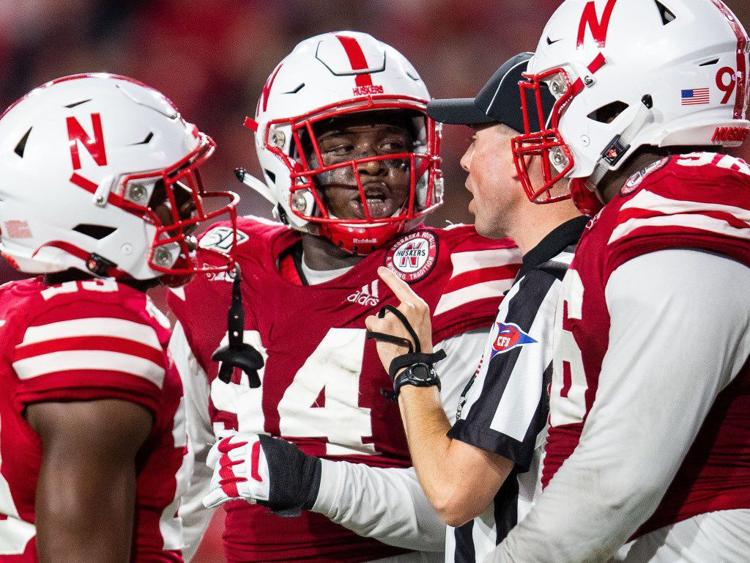 Scheme doesn't matter much when J.K. Dobbins runs at will, Justin Fields operates the offense like a third-year veteran and Ohio State has speed and size everywhere. An experienced, massive offensive line paved the way to a rushing edge of 230-66 at halftime, and the Buckeyes flashed everything — strength, speed, smarts — that happens when high-end talent coalesces with elite coaching and development. NU wasn't fooled as much as overpowered.
It got bad enough that what was left of the sellout Memorial Stadium crowd cheered when Nebraska finally forced a punt late in the game. But Ohio State continued to pound the Blackshirts into submission, running 24 times for 138 yards (5.8 average) after halftime.
How about ... Khalil Davis? The senior lineman tracked down the elusive Fields for an 8-yard sack in the third quarter to force a field goal two plays after finding the QB for a 2-yard loss. The overall stats aren't gaudy (he finished with five total tackles) but that sequence alone was better than any other Blackshirt managed against the OSU attack.
The numbers may not show it, but the secondary competed. Dicaprio Bootle was beaten on a pair of perfectly executed throws for touchdowns on an 18-yard fade route in the second quarter and 6-yard fade in the third. Cam Taylor-Britt made a great play on a deep ball in the opening quarter but was flagged for pass interference. Lamar Jackson had a pair of breakups. The Buckeyes were just better.
The biggest win in college football this year might be Fields getting his transfer waiver approved. Nebraska had no answer for the former five-star prospect or an offensive line that NU linebacker Mohamed Barry called the best he's seen. Maybe there's solace in the fact that the Huskers weren't outschemed. But the sobering reality is they have more recruiting classes and years of strength training to stack together before they can hope to stop a top-caliber offense like they saw Saturday.
Sign up for Big Red Today news alerts
Get a daily Husker news roundup, recruiting updates and breaking news in your inbox.
Photos: Nebraska hosts Ohio State