LINCOLN — The memorable moment from last week's football practices came as a horde of reporters, armed with phones and a few cameras, converged on the southeast corner of Hawks Center on Wednesday to take photos of a guy in a jersey and shorts.
Jahkeem Green drew a crowd. The new Husker defensive end — fresh from completing his academic requirements at Highland Community College — was the 27th and last scholarship player to join the program from the 2019 recruiting class.
It's the most ambitious, complete class any Husker coaching staff has put together since the famous 2005 Bill Callahan recruiting class, which for all its imperfections, still helped produce two divisional champions, two Big 12 players of the year and a Heisman Trophy finalist whose name is on Nebraska's weight room. These are not small things.
That 2005 bunch also signed with NU after a losing season. Rivals ranked it No. 5 in the nation. The Huskers' 2019 class ranked No. 15.
It's too early to tell whether a generational player like Ndamukong Suh is in it. Green, the most talented defensive line recruit in the 2019 class, is a junior, not a raw freshman. But after watching the newcomers and listening to coaches talk about them, we will briefly interrupt the appropriate focus on Nebraska's 2019 football season to suggest the Huskers buy a new pair of shades.
The future is bright — and those newcomers have a significant chance to inform the present, too.
Sign up for Big Red Today news alerts
Get a daily Husker news roundup, recruiting updates and breaking news in your inbox.
"There's several guys who are going to be household names in Nebraska someday," coach Scott Frost said Friday of his 2019 class.
You're already making your own top 10 list, right? You could do a lot worse than just taking the 10 guys Rivals deems four-star prospects, frankly. Green is one of them. So is running back Dedrick Mills, another junior college transfer who has tried to run over half of the defense in three weeks of camp. Those two alone are immediate impact players and were recruited and signed as such.
Others — like at least four of the six offensive linemen who signed, perhaps all of them — are more likely down-the-road prospects who need to gain weight, eat right and, in the case of young defensive linemen, learn from the veterans in the room. Freshman end Ty Robinson is a load, for example, but so are Green, seniors Carlos and Khalil Davis and junior Ben Stille. If Robinson beats out any of those four in this camp, look out — he's special.
What Frost likes most, perhaps, is the culture fit of the class.
The 2018 class, put together in a few months after Frost's hiring, lost five players within a calendar year. Two others failed to qualify academically. A class of 25 effectively was down to 18 by this summer. Mike Riley's final class, in 2017, has 10 players remaining two years later.
"I think we had time, as coaches, to identify not just the type of players we wanted but the type of kids we wanted," Frost said. "A bunch of these new freshmen on campus have been what we thought and, in a lot of cases, even more than what we've thought."
Here's some newcomers who may play the earliest — or have impressed the most — based on coach comments and glimpses from reporters at practice:
Quarterback Luke McCaffrey: Scored "out of sight" on a 722-question playbook test, position coach Mario Verduzco said, and has done well in his opportunities with the No. 1 unit. Frost said McCaffrey — who comes from one of football's best-known families — is faster than he anticipated and throws the ball "really well."
"He's got that knack to make a play, when things break down, with his feet or with his arm," Frost said.
McCaffrey has the best player on the team ahead of him. Nebraska has four games to be creative this season while preserving his redshirt and also getting work for Noah Vedral, who could be the week-to-week No. 2 guy.
Cornerback Quinton Newsome: Recruited as a safety, Newsome moved to corner after position coach Travis Fisher thought the 6-foot-2, 180-pounder could handle the rigors of the spot.
"Quinton's a dog," Fisher said. "He's showing up each and every day; he's making a play some kind of way, whether it's in the run game, pass game. He's learning so much."
Mills: Relentless. You only wish the 5-11, 220-pound back had a tear-away jersey.
"We've got to have a towel with him at all times because he works his rear off," running backs coach Ryan Held said.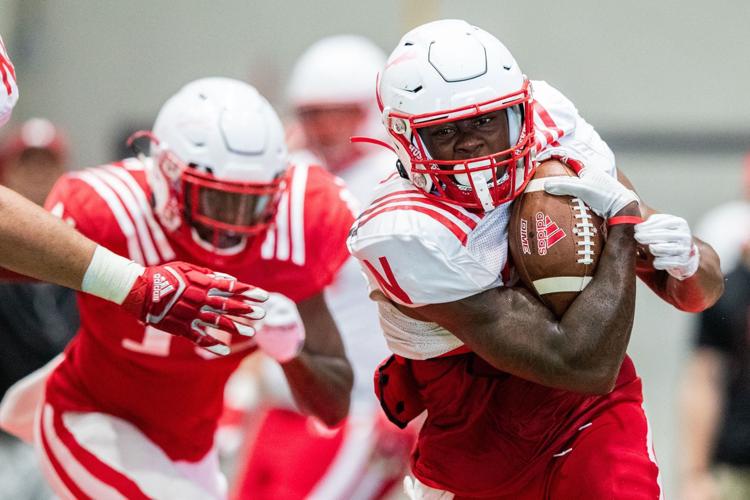 Outside linebacker Garrett Nelson: The early enrollee and Scottsbluff graduate has prototypical size (6-3, 260) and atypical hunger for a freshman. In-camp injuries have given Nelson more of a chance to work with top units this summer.
"Such a physical kid by nature, and I think it really plays into his strengths," position coach Jovan Dewitt said. "Does he make mistakes? For sure. I just don't see him flat-out getting beat quite a bit."
Inside linebacker Luke Reimer: The rare freshman walk-on who's made a move. Reimer was held out of recent practices, so he may be banged up.
"He's wrong a lot, but dang it, he finds the football," defensive coordinator Erik Chinander said. "He embodies the desire to excel and no fear of failure. Whether he's right or wrong on a call, he's going to go make a tackle, and he's done some really nice things."
All four freshmen wide receivers: That's Wan'Dale Robinson, Darien Chase, Demariyon Houston and Jamie Nance. Robinson, who was held out for a few practices last week, has received most of the attention, in part because he's played running back and receiver. But offensive coordinator and position coach Troy Walters hasn't ruled out any of the four, as NU plans on playing seven, eight or nine receivers this season.
Running back Rahmir Johnson: Worth watching, especially if Robinson is slowed a bit. Johnson has straight-line, big-play speed — he's faster than any of NU's backs — and Held likes what he sees of Johnson's attitude.
"Smile on his face, tough, East Coast kid; he's got a chance," Held said.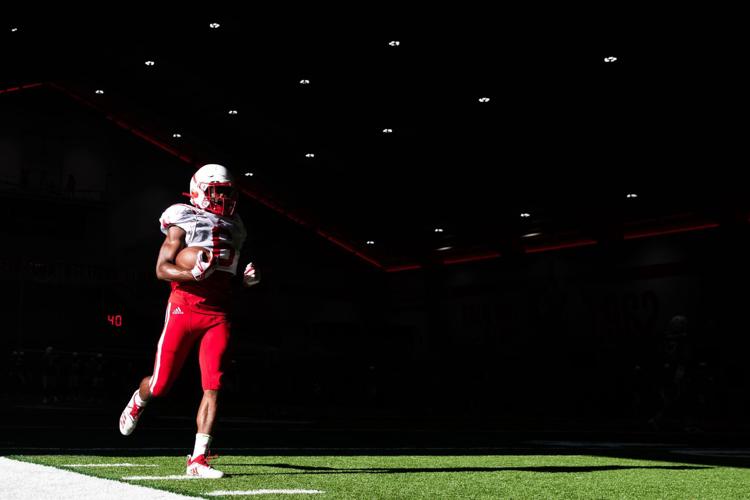 Offensive tackle Bryce Benhart: With a season-ending injury to Christian Gaylord and Nebraska's general lack of experienced tackles, the 6-9, 305-pound lineman could be a twisted ankle away from seeing the field.
Green: Frost hadn't adjusted a scrimmage for one guy before Friday, when Nebraska went live for "90 percent" of the workout but switched to a "thud" period because Green didn't have leg pads on.
"We got him reps, and he's obviously a talented kid," Frost said. "He's got some work to do to get in the type of condition the other guys are in, but just today, you can see some flashes of what he can do."
When a coach changes a scrimmage, he's expecting something.
I see you
Tony Butler, Carlos Davis, Khalil Davis, Wyatt Mazour, DaiShon Neal and Terrell Newby: All graduated this weekend with their degrees. In an era where the national media tends to diminish the value of a college education for these athletes, it's still an extraordinary achievement. Kudos to Newby especially for returning to finish.
Quarterback Adrian Martinez: He's really throwing a pretty ball in practice. Accurate, yes, but there's an "oh, that's nice" quality in some of the drills.
Wide receiver JD Spielman: He's still got it, that unique ability to escape defenders with quick feet and creative routes around them.
Running back Maurice Washington: Washington's connectivity to the action as it happens — his vision and instincts and reaction to defenders — is rare.
Right tackle Matt Farniok: Strong and a little nasty, the older Farniok will pave some holes on the right side of the line this season. He's put on muscle since last season, and his feet look lighter.
Inside linebacker Will Honas: His injury last year was underrated in terms of impact. If NU can rotate through healthy, fresh inside linebackers throughout the season — coupled with two healthy, fresh nose tackles — you'll see far fewer gash runs. NU allowed 24 of them over 20 yards last season.
Five stats
1,086: Rushing yards by Ahman Green in 1995, which remains the top total for any Husker freshman. Calvin Jones — 900 — came close, and Jones set the school record for yards per carry (minimum 100 carries) in 1991 at 8.33 yards.
69: Catches needed by Spielman to break the career receptions record held by Stanley Morgan. If Spielman got all those in 2019, he'd come close to breaking the single-season record for catches currently held by running back Marlon Lucky, who had 75 in 2007 thanks to check-down artist Sam Keller.
3,890: Nebraska's single-season total offense record set by Martinez — that's Taylor Martinez — in 2012. Adrian Martinez's freshman season of 3,246 yards — in 10½ games vs. 14 for Taylor Martinez — sits fifth all time on the NU charts. If Martinez tops 4,000, it's likely he'll be close to the single-season record for passing yards — 3,568 set by Joe Ganz in 2008. That's harder to do than it seems. Since Nebraska joined the league, four Big Ten quarterbacks have surpassed 3,568, and only Ohio State's Dwayne Haskins (4,831) did it by a significant margin. In that same span, 11 Big 12 quarterbacks have thrown for more than 4,000 yards in a season.
155: Frost's name doesn't show up a ton in Nebraska's record book, but he once threw 155 straight passes without an interception in 1996 and 1997. As often as NU throws it now, it's actually possible Martinez could approach that record with four or five clean games. Frost went nine games without a pick.
77: Here's the scariest stat in the record book if you're a Husker offense guy. Alex Henery punted the ball 77 times in 2009. That's the most for an NU season, and it is unlikely any Frost-led team would approach that number short of playing 14 or 15 games. Nebraska had 57 last season.
Facebook feedback
Before the season, I asked Husker fans for their takes on a key question for the season. This week, I asked for the freshmen about whom they're most excited for the short-term and the long-term. Wan'Dale Robinson received the most votes by far.
Shane David: "The easy answer is Wan'Dale. I haven't seen Husker nation place such high expectations on one kid since probably last year. It's a sickness no doubt about it. The first step to recovery is admission. This is my confession."
Roger Goeser: "For this year it's Wandale (sic) Robinson. I think he will explode onto the scene. Potential conference offensive freshman of the year in Frost's offense. For the long term it's Ty Robinson. Future dominator."
Daniel Nies: "Everyone who says anyone other than Wandale (sic) is trying to be cute and over thinking this thing. Yes, we don't want to get too hyped, but he was the most exciting player in this class for a reason and the most likely to see immediate playing time."
Brian Parsons: "Nick Henrich. As per usual, the in-state kids don't generate the same excitement as the shiny stars from far away. But this kid is a natural, instinctive LB that will play a lot this year if his shoulder heals. Long-term he may be racking up 100-plus tackles per season and restoring the identity of the Blackshirts."
Brandon Skocz: "Ty Robinson. With the group of Seniors on the line, when a true freshmen is going to get playing time, you better open your eyes wide. Huge recruiting win. Solid anchor for the defensive line for the next three years."
Larry Casper: "Quinton Newsome might be a big time Cornerback. Never can have enough in the secondary."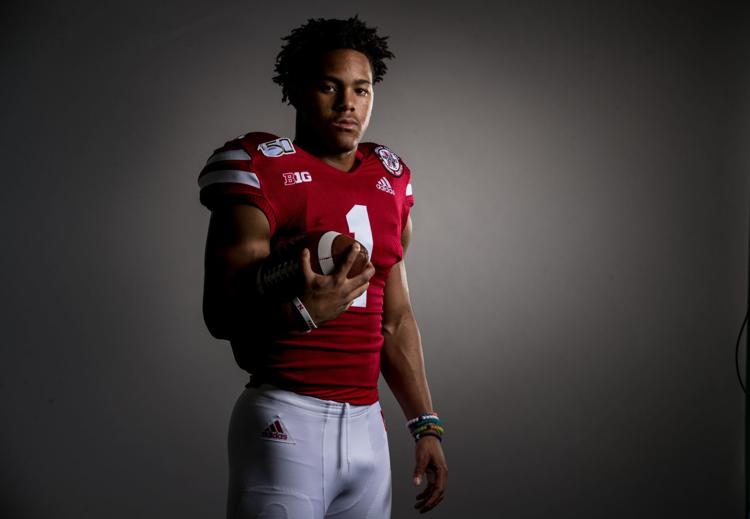 Opponent Watch
Northern Illinois held a situational scrimmage Saturday in which returning starting quarterback Marcus Childers had a good day, coach Thomas Hammock said. The team as a whole, he told NIU's in-house reporter, is coming together.
"I like where our defense is at. I like where our offense is," Hammock said. "We're physical on both sides of the ball. We're going to try to be physical up front. On offense we want to take our shots when they present themselves, and we want to make big plays on defense."
One of NIU's top receivers is former Nebraska commit Spencer Tears, who has 83 catches for 950 yards and eight touchdowns the past two seasons.
The BTN crew of Gerry DiNardo, Howard Griffith and Dave Revsine will be in Lincoln on Monday. Last week, they headed to Wisconsin, among other stops, and declared the team better — at least in preseason — than last season, when the Badgers were ranked in the preseason top 10 but flopped to an 8-5 record.
"Today's an indication they're going to be able to bounce back," DiNardo said. "It was an impressive practice, and they're a good-looking team."
We'll see. Wisconsin won many, many games in recent years on reputation and superior physicality. Purdue, Minnesota, Northwestern — those teams won't lie down and play speed bump for the Badgers any longer.
Forecast
There should be some leftover scholarships available to walk-ons, and we'll see if Frost hands out any of them.
Photos: Nebraska football practice Wednesday Aug 14