IN THE HALLWAY UNDERNEATH TCF BANK STADIUM — Nebraska Athletic Director Bill Moos walked by with a small entourage.
"You guys look pretty glum," Moos quipped to reporters.
Yes, well, deadline was bearing down for most of us. And the story — Nebraska bending, then breaking against a stronger, tougher, more motivated Big Ten opponent — had basically been written.
We wrote this story out of Minnesota in 2013 and 2017, too. The names change. The clichés, too, a little bit. And even if it's supposed to be different under Scott Frost — even if, one day, it is — it feels the same right now.
But the 30 minutes spent in that familiar hallway — which feeds into NU's locker room and serves as a kind of expressway through the bowels of the arena — produced one line from tight end Austin Allen that shouldn't be ignored in the 12 days before the strugglin' Huskers play Indiana.
"We've been together since Aug. 2," Allen said. "We've had fall camp and seven straight weeks. I think we just need to get away from each other for a bit.
"We get so locked up in this. If you get to relax sometimes (that helps). I think that's what we're going to do. We're going to relax."
You could read Allen's "relax" comment and wonder what after a 34-7 loss to Minnesota could possibly be relaxing. Travel to a few sentences before, though, when Allen said NU players need to "get away from each other a bit."
The grind of this season — the hype, the expectations, the injuries on offense, the struggles on offense, the constant attention from the media, the perpetual gamesmanship regarding injuries, the seeming need to compare the program to where it was last season and where it will be one day — seems to be wearing.
"We need to find that want again," cornerback DiCaprio Bootle said. Remember, Bootle has been around since 2016. He knows what it feels like when a team is searching for its want.
Any follower of Husker football knows what it looks like, too. You saw it Saturday night.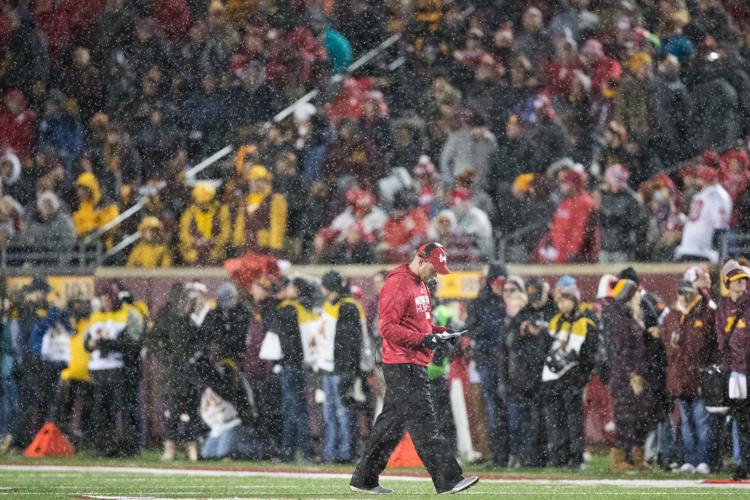 Nebraska played the night on its heels, be it offensive guard Trent Hixson being run over by Minnesota defensive tackle Sam Renner on a third quarter third-down pass or safety Marquel Dismuke giving little resistance to Minnesota running back Mohamed Ibrahim on the Gophers' final touchdown. Minnesota leaned forward, Nebraska leaned back.
Frost saw it in the first half, tried to cut it off at the pass with a fiery halftime speech and later with what sounded like a frank postgame chat.
"I don't like coaching a team that's not the most physical team, and we weren't," Frost said.
That's absolutely true on offense, where Nebraska lacks health, vocal leadership and some essential chemistry. Do you know who's the go-to running back?
NU doesn't. It leans on its quarterbacks more than it does Dedrick Mills or Maurice Washington.
Who's the No. 3 receiver? Heck, with Wan'Dale Robinson hurt, who's the No. 2 receiver?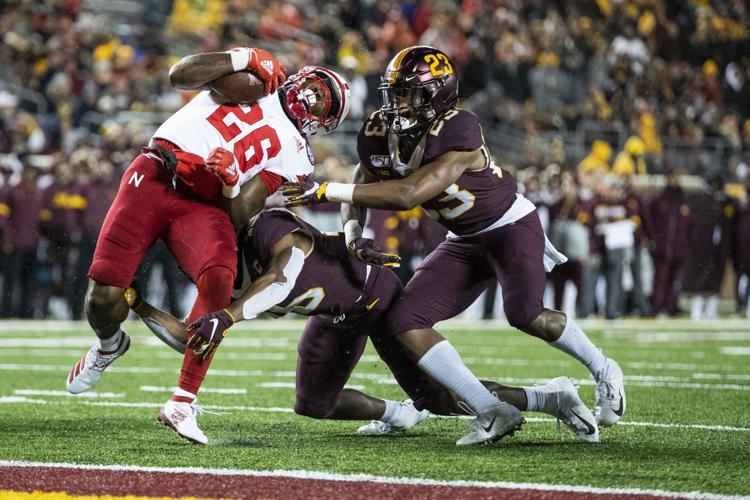 Kade Warner and Jaron Woodyard were back to the mix Saturday night. Mike Williams played a little. Darien Chase was out there for a few snaps; he's two games from burning his redshirt. The entire position is up for grabs, and Nebraska's perimeter blocking — not to mention the passing game — is suffering.
That side of the ball needs fire and an identity. Frost said as much. A few runs Nebraska can hang its hat on? Heck yes.
Nebraska's defense, meanwhile, has a problem.
Colorado first exposed it with some second-half running plays. Ohio State exposed further. Then Northwestern's running backs got even more decisive. Minnesota's backs and offensive line, armed with truth on tape, forced Nebraska to defend zone and stretch running plays all night.
The Huskers couldn't do it. Linemen were shoved backward and sideways — they were often on skates. NU's linebackers, seeing it, would overcompensate only to see Minnesota's back Rodney Smith cut back into open space, squaring his shoulders and plowing through tacklers who remained at an off-kilter angle.
"We felt if we could get them running sideways, their 'backers wouldn't fit right, then we (would) be able to run well," Minnesota coach P.J. Fleck said. "We did that. Then our backs broke tackles. Even when they did it right, our backs broke tackles and made some plays."
Nebraska struggled to align right, especially on third down. Twists and games — like Carlos Davis looping around Ben Stille or middle linebacker blitzes — were not successful. A few times, Nebraska's linebackers had to be crossed up in their assignments; why would two inside linebackers run to the same place?
It's here where Minnesota's massive offensive line helps.
Nebraska's linebackers and safeties struggled to see where the run might pop, and the Husker defensive line? It couldn't break through Minnesota's line very often. Darrion Daniels, Carlos Davis and Khalil Davis are usually good for one tackle for loss each per game. Saturday, they had none.
Nebraska's defense will see this play over and over again for the rest of the season. It's less a commentary on NU's interior line than its outside linebackers, who get turned and kicked out and driven away with alarming consistency, and its middle linebackers, who combined for 25 tackles but often did so several yards downfield. If you can't stop stretch, you aren't seeing much else.
Perhaps Nebraska's offense could spend two weeks running it in practice. It's fascinating that the Husker run game is decent statistically — 189 yards per game, 4.3 yards per carry — but can look so inconsistent.
NU needs some kind of spark. Quarterback Adrian Martinez returning. A player stepping into a midseason leadership role. Maybe just time away from each other. The fact that a player said it is notable enough.
Perhaps NU can discard where it used to be or where it will be and just dial into now, at 4-3, looking for a few good runs and a lot more want. Right now, it's pretty glum.
Sign up for Big Red Today news alerts
Get a daily Husker news roundup, recruiting updates and breaking news in your inbox.
I see you
Warner: Nebraska missed him, as his quick three catches for 38 yards — albeit after NU trailed by a bundle — revealed. It's here where we say, yes, Nebraska's been bitten a lot by the injury bug on offense. A bye week will be a major help on that front.
Punter Isaac Armstrong: Put three punts inside the 20. That's kind of what he's there to do.
Quarterback Noah Vedral: Frost said Vedral — 135 yards passing, 49 rushing — played with guts and that's true. He's not Martinez and he's not going to throw Nebraska to a bunch of victories. But Martinez wouldn't have won that game Saturday night. Tom Brady may not have.
Cornerback Lamar Jackson: Neither of Minnesota's twin 45-yard passes were on him. Two more pass breakups, three tackles.
Outside linebacker Garrett Nelson: With 1½ tackles for loss, Nelson may have played himself into some more snaps. Nebraska is getting little from its outside linebackers not named JoJo Domann (who didn't have a good game).
Minnesota running backs Rodney Smith, Shannon Brooks and Mohamed Ibrahim: They were studs. Smith, especially, is a crafty, tough runner. He's run through NU's defense too many times to count.
Minnesota receiver Tyler Johnson: Wearing a hoodie under his pads, smoking Nebraska defensive backs and linebackers for 109 yards on five catches. He's great — headed for the NFL. The Huskers need a couple of him.
Minnesota defensive linemen Sam Renner and Carter Coughlin: They gave NU's offensive line heartburn on a number of passing plays. Nebraska struggled to block either one. Coughlin, I expected. Renner, unrated out of high school as a tight end, I did not.
Minnesota linebacker Kamal Martin: He had 15 tackles, which is impressive. Even more impressive: Martin has rebounded from being benched by Fleck at the beginning of the season. He also missed last year's bowl game.
Five stats
75-41: The third-quarter score against the Huskers this season. That's 10.7-5.9 per game, and if you're inclined to think that third-quarter scores reflect halftime adjustments, well, that's something. NU is also being outscored by a tiny margin — 42-38 — in the first quarter.
19: Sacks allowed by Nebraska. That's a 2.71-per-game clip. Only Illinois is allowing more per game in the Big Ten. NU's sack rate already was 104th nationally before Saturday night's game. Now that it's at 9.3% — 19 sacks in 204 dropbacks — I'd expect the ranking to plummet further. The Huskers' sack rate sat at 6.3% last season. Nebraska has already allowed more sacks this season than it did in 2013, 2015 and 2016, and it is on track to allow more per game than any other Husker team in the Big Ten era.
718: Rushing yards allowed in the first half. No Power Five team has allowed more, though NU has played one more game than most of those squads. You drill down some, you'll also find the second and third quarters are the big issues, as NU has allowed 400 rushing yards in the second quarter and 366 in the third. The Huskers are outrushed in both of those quarters before surging in the fourth, some of which was garbage time offense against Ohio State and Minnesota.
4: Of the past five seasons, Nebraska has lost its starting quarterback to injury for at least one game. The lone exception — and it was a strange one — was 2017, when Tanner Lee left the Minnesota loss with a concussion and recovered with lightning speed to play at Penn State. In 2015, Tommy Armstrong missed the Purdue game. In 2016, he missed the Maryland and Tennessee games. In 2018, Martinez missed the Troy game. This year, Martinez sat out Minnesota. NU's record in those games is 1-4. Nebraska lost its starting quarterback to injury — for at least one game — in 2007, 2010 and 2013, as well.
2: Takeaways in Big Ten play. Only Indiana has that few, and the Hoosiers have played one fewer game. NU's defense hasn't been nearly as grabby and aggressive since the calendar flipped to the league competition.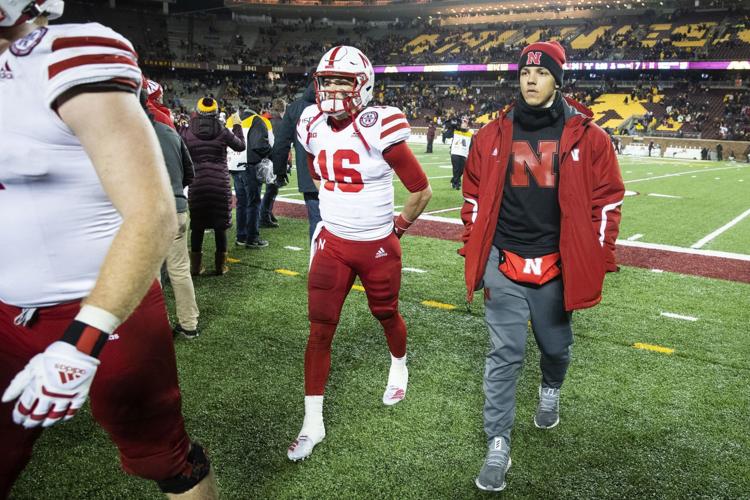 Facebook Feedback
Fred Farrell: "Last year the sum was greater than the parts, even though we were 4-8. We showed growth and improvement every week. This year, the sum is lesser than the parts."
Daniel Hope: "The offensive line is way behind where it needs to be at this point in the season. When Wandale went down it was not a good situation. We need people to step up and play above themselves to make this team much better."
Kim Fandry: "I heard for two years now that this is a fast offense, but so far this year, Vederal is the only quarterback who has run it fast."
Jason Hennies: "Frost is the right guy. It's just baffling what is happening in all three phases."
Patrick Collins: "So bizarre that this type of performance has happened game after game with every coach since Solich. Why are these teams unable to dominate physically? The S&C of Duval isn't apparent on the field yet. There was no toughness on either Husker line of scrimmage."
Christopher Collura: "For a coach who never hesitated to bad mouth the previous staff, his team sure looked a lot like the 4-8 Mike Riley squad that also got whipped by a mediocre Gopher team in Minneapolis two years ago. Minnesota blasted Nebraska for two reasons — toughness and desire."
Michelle Gibbs: "Frost said he loves this team's attitude? Indiana and Purdue will be close games. A bowl game might not happen again."
Opponent watch
Indiana routed Rutgers 35-0, which given Rutgers' absolute disinterest in playing football after the firing of coach Chris Ash, is hardly a surprise. Michael Penix, assuming he's healthy in two weeks — that's no lock, since he gets hurt often — will be one of the best quarterbacks NU has faced this season. He's thrown for 1,091 yards in four games, completing 69.5% of his passes. Should the Hoosiers beat Maryland in College Park next week, they'd come to Lincoln playing for a bowl berth.
Purdue got off the canvas in a 40-14 rout of Maryland as Purdue quarterback Jack Plummer threw for 420 yards and three touchdowns. Plummer looked sharp, albeit against Maryland. Purdue coach Jeff Brohm can develop quarterbacks. Plummer played well against Minnesota, too.
Forecast
A little waiting — and a lot of grumbling. 
Photos: Nebraska travels to Minnesota