LINCOLN — Nebraska's spring game can be a springboard. That's about the best thing it can be.
The two-hour scrum Saturday may prompt more questions than answers, and the afternoon is usually more of a showcase for scout-teamers than first-teamers. Injured starters play it safe and proven players — think quarterback Adrian Martinez — usually put in a few series before putting on the ballcap. Seasoned units tend to overpower inexperienced ones.
But there is usually a guy or two who takes a strong spring camp, spins it forward into a productive summer and finds himself a key cog in the wheel by fall.
Martinez was that guy last year. Luke Gifford made a jump in spring 2017 and turned it into two seasons of strong play. So did JD Spielman.
Oh, Nebraska would love to find another receiver to pair with Spielman. Though the fortunes of Husker football in 2019 won't rise and fall with the receivers — NU finished 4-8 two years in a row with Spielman and Stanley Morgan doing their stuff — it's one of the positions to watch closely in Saturday's game. Teams that throw the ball 34 times per game — as the Huskers did last season — need good pass-catchers.
Morgan's graduation left a big hole. Perhaps the only true "hole" on offense, where NU coaches have no intention of taking a step back from last year's 30 points per game and 6.31 yards per play. The spring game will be an opportunity for many young guys to show off their progress, especially if Spielman — a known quantity — sits out or plays sparingly.
"Stanley was a big part of offense," redshirt freshman receiver Andre Hunt said. "I think everybody knows that. A big talker, a big leader. We don't have that in the room anymore."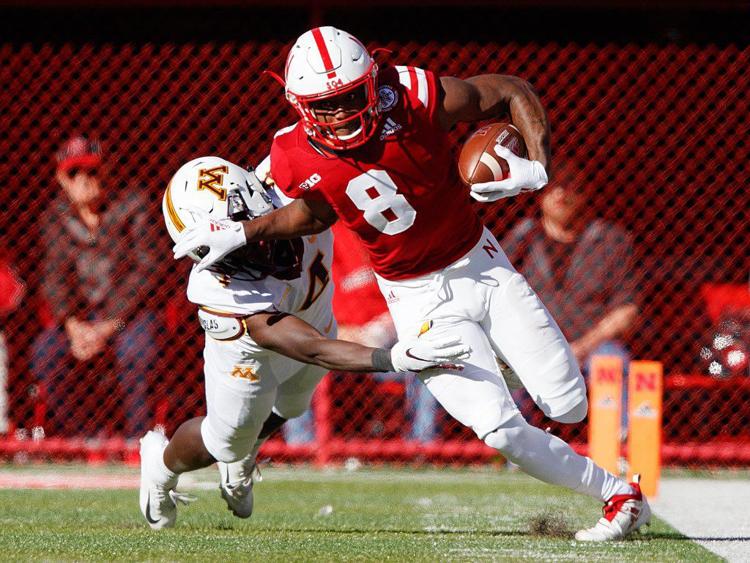 Hunt said receivers have been quieter on the field as a result.
"That's good actually," Hunt said. "Not to get a big head, you know what I'm saying? Everybody don't think we have a chance as a wide receiver group. But we've got a big chance. Stay quiet."
The 6-foot, 190-pound Hunt could be the receiver most worth watching alongside Wan'Dale Robinson, a slot/running back hybrid who, if he plays, could get as many carries as he does targets.
Hunt has excellent top-end speed — he finds another gear 15 to 20 yards downfield — and coaches have praised his route running. Those two things should put him in contention to play outside with Jaron Woodyard and Mike Williams, two junior college receivers who didn't make the impact hoped for last season, or even at slot receiver. Sophomore Jaevon McQuitty and true freshman Jamie Nance, who enrolled early, should get some chances, too.
If coach Scott Frost and offensive coordinator Troy Walters could get two or three receivers to emerge, they can better protect Spielman from double teams and let Robinson go to work with that stutter-step, stop-and-go magic he has in his game.
Hunt may have the best long-term shot at it. He has big hands — not quite as big as McQuitty's perhaps, but big — and a sturdy upper body. He's also brought a better work ethic, Walters said, to spring camp.
"His role has changed," Walters said. "Last year, he went from a 5 or 6 to a No. 1, No. 2, No. 3, working with the 1s."
A six-catch game from Hunt on Saturday — or any of the receivers not named Spielman — would be a springboard into the summer. Since Nebraska's running back situation lacks clarity — Maurice Washington is set to appear in a California court Wednesday — any boost the receivers can offer to Martinez, Frost and Walters, the better.
Sign up for Big Red Today news alerts
Get a daily Husker news roundup, recruiting updates and breaking news in your inbox.
Husker baseball on good run
Nebraska baseball's run differential, after a sweep of Purdue, is up to plus-63 for the season, which includes a tough nonconference schedule. Should NU's pace hold, it's on its way to a run differential season of more than plus-100, the second under coach Darin Erstad, whose first team in 2012 had plus-113 run differential. Since then:
NU made NCAA regionals in 2014, 2016 and 2017.
Huskers likely finish higher in Director's Cup
After the April 4 update of the Learfield/IMG Director's Cup, Nebraska is 50th overall and 12th in the Big Ten. Those standings don't include the eventual points that will be scored by the Husker women's gymnastics, men's gymnastics and bowling teams; it also doesn't include final points in men's and women's basketball, where Nebraska won't score. The Huskers still seem headed for a higher finish than last year's 44th, which was NU's lowest finish ever in Cup.
Athletic Director Bill Moos has a bonus structure that kicks in once NU finishes 30th or better in the Cup. A bowling national title — the Huskers are seeded third going into this weekend's NCAA Championships — would help. NU has reached the national title match — what the bowlers call "the TV show" — five of the last six years. The title match is televised on ESPNU at 5:30 p.m., just about when Saturday's spring game is ending.
What's Mike Riley's next stop?
Mike Riley returned a text Wednesday as he was packing up his office.
"I didn't have to pack today, but I figured, why not?" Riley said. It had been an odd week for Nebraska's former coach. He's had his share of odd weeks in the past four years.
This time, it was a whole league, the Alliance of American Football, folding in the middle of its season because chairman Tom Dundon pulled his investment from the league. Riley was coach of the San Antonio Commanders, who were drawing good crowds — upwards of 30,000 — to games, Riley said.
The team was practicing Tuesday afternoon when Riley was approached on the field by General Manager Daryl Johnston. The AAF was kaput.
Right then and there, Riley stopped practice, gathered the team together and told them the news. Nobody threw helmets or went off on a rant, Riley said. But there were a lot of tears of frustration. Gratitude, too.
"It was a great moment, and an awful moment," Riley said. Few people would see both sides of that scene.
The AAF was solid enough that the NFL signed players out of the league. Three from the Commanders signed NFL contracts. The league also whet Riley's appetite for head coaching again. Where will he get such a gig?
That's hard to say. I still think whatever forces nudged him out of Oregon State's job in 2014 ultimately served neither Riley nor Oregon State. As it turns out, Nebraska landed on its feet because of Frost's return. The optimism around Nebraska athletics, at this moment, is as strong as it's been in years.
Riley still saw Husker fans often in San Antonio. A few in red came to his radio show once. They wanted a picture with him. He obliged. That's Riley.
Photos: Every Nebraska football spring game since 2000
Check out photos from every Nebraska football spring game since 2000.