LINCOLN — Tanner Lee held out his right hand and nodded toward his middle finger. Near the top of his fingernail is a sizable knob. Looks like the remnants of a big, bad bug bite, but it's actually the result of surgery. On another finger, Lee has a thin, two-inch scar that runs over the knuckle. That's the finger he caught in an SMU defender's helmet in the final game of his Tulane football career.
"Ugly-lookin' hand," Lee joked.
A quarterback throws a football with his whole body, in a sense. The arm is key, of course, but so is foot placement and where the torso is pointed. So are a quarterback's eyes — are they downfield, at the target, or swimming around looking for defensive linemen? In a game where passing accuracy is crucial, every little thing counts, but the hand — the thing that actually grips a football and can give it a sweet spin — might be as important as any of them. A bad hand makes good quarterbacking hard to achieve.
And in Lee's final season at Tulane — the last data point we have for Nebraska's new starting quarterback — he played four games, nearly half his season, with at least one finger tied behind his back, if you will.
"It hurt like hell," Lee said. "Then it'd just go numb. I'd try to forget about it."
Lee's numbers from that season, and from his 2014 campaign, are included in our annual statistical look at Big Ten quarterbacks. I started this endeavor a few years ago, before the 2014 season, to chart where NU quarterback Tommy Armstrong compared against his peers. This will be the first season since 2012 in which Armstrong didn't take the majority of snaps for the Huskers.
That duty now falls to Lee, whose numbers at Tulane would not place him among the top statistical quarterbacks in the Big Ten. Lee's stats with the Green Wave, especially in 2015, come with major asterisks that suggest you disregard them. I'll get to those in a minute. First: How did Big Ten quarterbacks perform last season? How did Armstrong perform in comparison?
Some Husker fans grew fatigued of him, but Armstrong actually stacked up well despite playing the Iowa game with a fully torn hamstring that stripped him of any real effectiveness. Armstrong averaged 6.61 yards per play — rushing and passing — and a decent 6.38 yards per play in Big Ten games. The latter figure was Armstrong's best performance in league games across all four seasons.
And remember: He had fewer turnovers.
Armstrong was at his best at Northwestern and against Minnesota — two games Nebraska might have lost without him. He averaged 9 yards per play against the Wildcats and 7.72 against the Gophers.
Backup Ryker Fyfe, who played two whole games and parts of others, didn't fare as well as another Husker fifth-year walk-on senior, Ron Kellogg III, did in 2013. Kellogg averaged 5.78 yards per play back then. Fyfe averaged 4.41 yards per play. Kellogg had some NFL players at his disposal — Ameer Abdullah, Kenny Bell and Quincy Enunwa — but also just performed better.
Though Armstrong was slightly worse in Big Ten games, most quarterbacks tend to be. One of the few who improved was Penn State's Trace McSorley, who, in hindsight, may have been the Big Ten's best quarterback last season. He averaged 7.56 yards per play in Big Ten games. That's close to the 2014 performances of Ohio State's J.T. Barrett (7.75) and Michigan State's Connor Cook (7.61) when those two offenses were humming. Barrett's performances have declined since 2014, and in 2016, Barrett averaged just 5.76 yards per play in Big Ten games. Armstrong was better in some ways, although, in fairness to Barrett, the Buckeyes played Michigan and Penn State, while the Huskers didn't.
Iowa's C.J. Beathard, picked in the NFL draft by the 49ers, struggled mightily. He didn't always get a lot of help from his offensive line — which somehow won the Joe Moore award for "most outstanding" line play — and Iowa's receiving corps were so depleted that Beathard lacked consistently good targets. Nevertheless, averaging fewer than 5 yards per play speaks to a poor season, especially after he averaged 6.59 yards per play in 2015. Beathard's season was a disappointment; arguably as bad as James Vandenberg's performance during the Hawkeyes' 4-8 campaign in 2012.
Those were the first and last seasons, incidentally, for Iowa offensive coordinator Greg Davis.
Lee's numbers at Tulane look quite a bit like Beathard's final year at Iowa. Worse, even. Though I expect Lee to outperform those numbers significantly at Nebraska, it's fair to show them and examine what happened.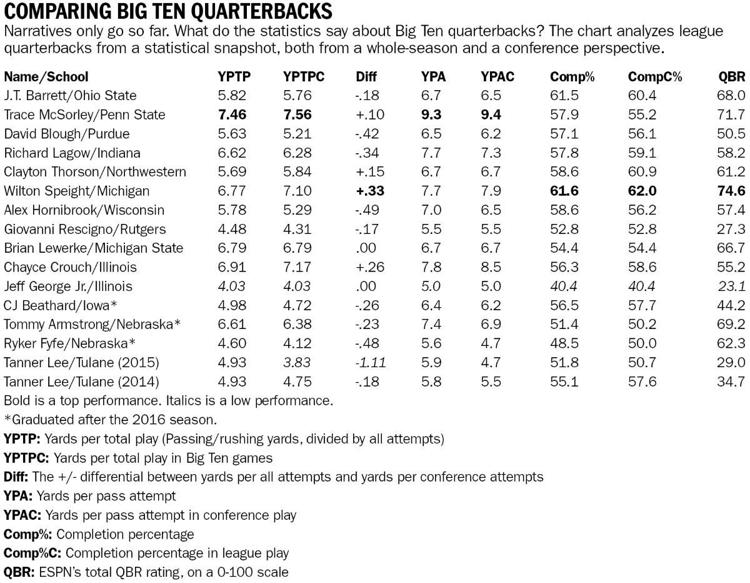 At Tulane, Lee's head coach was Curtis Johnson, who was before — and is now again — the New Orleans Saints' receivers coach. The playbook Lee had at Tulane? It was the Saints' playbook.
"Word for word," Lee said. "It was really cool. It was thick. It was a lot. We had to turn it down a little bit for what was needed for college football, but it was, in every way — the terminology, everything — what the Saints used."
That offense — pro-style with some West Coast flavor built in — needs the right players to be properly explosive. The Saints, for many years, had those players — quarterback Drew Brees, fleet wideouts, versatile backs — and so the Saints have long scored their share of points in the Superdome.
At Tulane, it'd be fair to say, Lee didn't have a lot of those experienced weapons around him.
Receiver Ryan Grant — now in the NFL — played his senior year in 2013, while Lee redshirted. In 2014, Lee's redshirt freshman season, five of the top seven pass-catchers were freshmen. Two of the top three ball carriers? Also freshmen. The top two tight ends? Freshmen.
Nebraska's 2017 skill players are inexperienced but not that green. And NU's freshmen — think JD Spielman and Tyjon Lindsey — have more talent than Tulane's did.
The Green Wave's 2014 team finished 3-9. The offense, essentially hitting the reset button with youth, averaged 16 points per game.
The 2015 season, Lee's third in the program, started with more promise. In Lee's first four games — two of which were wins — he completed 55.2 percent of his passes and averaged 7.02 yards per pass attempt. That was progress.
Then Tulane traveled to Temple — the Temple team that beat Penn State and put a scare into Notre Dame. Somewhere in the first quarter, Lee sustained a concussion, even though he kept playing.
"It was a hit, a hit, a hit," said Johnson, Lee's head coach, in a Tulane press conference a few days later.
Johnson said he couldn't understand some of the decisions Lee was making. Once the doctors took Lee out of the game, Johnson better understood.
"Tanner's such a competitor he wanted to be in the game and wanted to win," Johnson said.
Lee said he sustained a few concussions at Tulane, but the Green Wave doctors were proactive in diagnosing them.
"I got hit a lot," Lee said. "The doctors there are some of the best, and they watched me super-close."
Lee missed Tulane's 42-7 loss to Houston while recovering from that concussion. He returned to play against Navy. That's when he broke the middle finger. He finished that game, then sat out Tulane's 41-13 loss to Memphis while resting the finger.
In the two midseason games Lee missed, Green Wave quarterbacks completed 42.1 percent of their passes for 4.92 yards per attempt. Pretty rough.
Lee then came back and played three more games: A 7-3 loss to Bob Diaco-led Connecticut, a 34-31 win over Army and a 49-21 loss to SMU. Lee, playing with a splint, wasn't the same quarterback. And that was before he broke the second finger.
The UConn game was particularly rough. Tulane averaged 1.36 yards per carry, which meant Lee had to throw 40 times in heavy rain. He completed 13 passes. His lone interception turned into a pick six, accounting for UConn's only points.
"We had a miscommunication in a route and they got a pick six," Johnson said after the game.
On Nola.com's website there's basically a perfect picture to sum up Lee's time at Tulane. He's getting sacked — blindsided — so hard that the rain is bouncing off his helmet even as it falls hard in the rest of the photo. Tulane fired Johnson after the season and hired Willie Fritz, a coach who ran such a different spread option offense that he had zero need for a passer like Lee.
"There are a lot of ways to lose games, and we seemed to find them," Lee said of Tulane's struggles. "We were snakebit a lot, I feel like. Were we outmatched? It was a long list of things. I don't want say anything bad about people there. It was a huge learning experience, week in, week out. I'm a lot better because of it. Playing through that kind of adversity is tough and it thickens your skin. It toughened me up — mentally and all that."
Lee said he's a much better quarterback now than he was in 2015. Ideally, he'd mirror the 2016 numbers of Michigan quarterback Wilton Speight, who produced solid numbers for the Wolverines: 6.77 yards per play, 7.10 in Big Ten games. Speight was very good in wins over Penn State and Wisconsin, and not so good at season's end, when he lost his last three starts against Iowa, Ohio State and Florida State, but the overall picture is a worthy goal. Speight — 6-foot-6, 240 pounds — is similar in some ways to Lee, who is 6-4, 220.
Another Big Ten quarterback, Wisconsin's Alex Hornibrook, will be an interesting measurement, too. Hornibrook doesn't have Lee's arm talent. But he has some canny moments, and he has touch, too. Hornibrook also has Wisconsin's offensive line.
A quarterback has to use every part of his body to throw a pass well. He has to have the time to throw it, too. Unlike Armstrong, Lee's not a runner. He's a pocket passer who can roll out and occasionally scramble, but read option isn't for him. So he's going to need good protection from his offensive line. That line has to open some holes for running backs, too. And it wouldn't hurt if NU finds a true No. 3 receiver behind Stanley Morgan and De'Mornay Pierson-El.
Can the guys around Lee deliver? That may be the biggest question. It takes a village to make a good pro-style offense. Lee's just the mayor of it.
Will Tanner Lee make an All-Big Ten team in his first season as the Huskers' quarterback?
Nebraska quarterback Tanner Lee spent Memorial Day weekend with George Whitfield, a private quarterbacks coach and ESPN analyst, who called Lee "one of the purest passers I've been around." Do you think Lee will make an all-conference team this season?
Photos: Every season-opening starting Husker quarterback since 2000
Now that Tanner Lee is in line to be the Huskers' starting quarterback next season, look back at photos and statistics from all the passers that started the opening game of the season since 2000.