LINCOLN — Nebraska won the toss and wanted the ball. Of course it did.
In the Scott Frost era of Husker football, drawing first blood is a key part of the victory formula. Score first, score fast, score often.
The first offensive drive of Frost's second year at NU went according to plan. Nine plays, 81 yards, three well-thrown Adrian Martinez passes for 14, 17 and 42 yards and a power football finish from junior college running back Dedrick Mills, recruited to score red zone touchdowns. Mills did, from 1 yard out, for a 7-0 Husker lead over South Alabama. The game wasn't three minutes old.
The Huskers' next drive resulted in a three-and-out. Next drive: Turnover on downs. Next drive: Four plays and a punt.
While Nebraska's defense played lights out, producing two touchdowns, the offense sputtered with bad snaps, turnovers and a punchless running game. Frost openly wondered whether he and his coaches had put too much in the season-opening game plan.
"We have a lot of veterans on offense, and you wouldn't think it would affect them," Frost said after the 35-21 win. "We actually went into the game with fewer plays than we went into a bunch of games the second half of last year with."
It was the first alarm bell that Nebraska's offense, which averaged 36.6 points and 472 yards during its final six games of 2018, wasn't quite right in 2019. As the 4-3 Huskers finish their bye week, the offense is trying to build itself again into the juggernaut it was last October. The juggernaut Frost needs it to be if his formula, so successful at Oregon and Central Florida, is to work on the cold plains of the Big Ten.
If the Huskers' fast-paced, no-huddle offense doesn't burst for points, their defense — stout at times this season and vastly improved over last year — may wear down and eventually relent.
Just like it did at Minnesota.
NU's per-game numbers on offense — 25.6 points and 399 yards — tell part of the story. They rank 10th and eighth, respectively, in the Big Ten. The efficiency numbers tell more of the story.
Nebraska needs close to 15.7 yards to score a point. That ranks 85th nationally, according TeamRankings.com. In other words, NU gains 107 yards before it scores a touchdown. Last year, it took the Huskers 111.3 yards before they scored a touchdown — a 15.9-yard clip — but that Nebraska team also gained more yards.
Nevertheless, the 15.7 and 15.9 are the highest of not only NU's time in the Big Ten, but the last decade. The 2009 offense — thanks in part to a terrific defense — was more efficient. It only needed 12.8 yards to score a point. The 2014 offense with Tommy Armstrong, Ameer Abdullah and Kenny Bell needed just 11.8 yards to score a point. That ranked seventh nationally. NU was 46th in 2016, 57th in 2016, 81st in 2017, 97th in 2018 and 85th so far this season.
Frost's first two seasons at Nebraska bear no resemblance to his three years as Oregon's offensive coordinator and his two years as Central Florida's coach. In each season, the Ducks and Golden Knights ranked in the nation's top 25 in fewest yards per point. Prefer points per play?
Frost was terrific there, too. Fifth at Oregon in 2013, third in 2014, seventh in 2015, first in 2017 at UCF. The 2017 Knights scored .638 points for each play they ran. Seventy plays, 45 points.
Last year at NU, it was .380 points per play. That ranked 66th. But in those final six games, when Frost and players agreed his culture had firmly taken hold, the Husker offense averaged .517 points per play. That would have ranked in the nation's top 15 last season. It'd rank 17th — just behind, ahem, Minnesota — this season.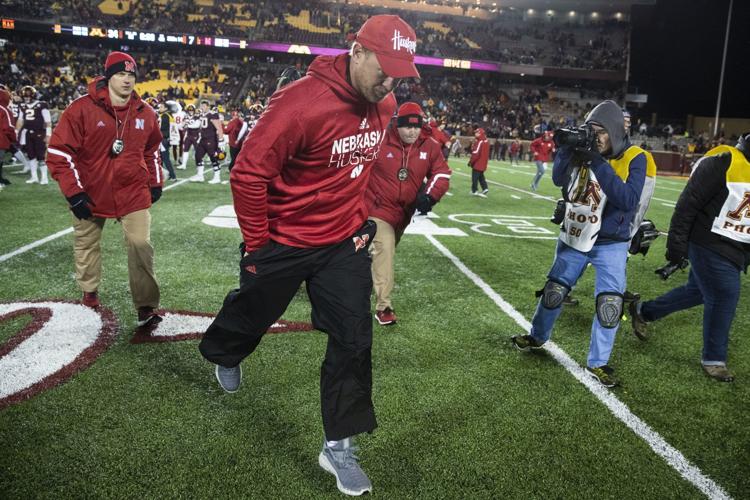 Instead, NU ranks 80th at .349 points per play. That's better than Michigan State, Iowa and California, for example, but all three of those programs build their identities with defense. All three prefer to possess the ball, grind clock and limit the exposure faced by their defense.
Nebraska flips that style. The offense scores, the defense tries to create turnovers so the offense can score some more, and the defense accepts, at times, it will allow points when the offense scores as fast as it does. Central Florida allowed more than 20 points in nine of its 2017 games. It won them all. Nebraska gave up 28 to Minnesota and 35 to Illinois last year. But it scored 53 and 54 points, respectively, in those games.
"If I didn't believe what he believed, I'd either fall in line or go somewhere else," defensive coordinator Erik Chinander said last season of Frost. "But, fortunately, we're aligned perfectly."
Nebraska faced more than 74 plays per game last season. This year, it's 72.8. Because its bye week came later than most, NU's defense has faced more plays than any other Power Five conference team heading into the weekend of games. Because of corners Lamar Jackson and Dicaprio Bootle's strong performances, few defenses have absorbed more run plays than the Huskers — 42 per game.
The Husker defense that arrived at Minnesota had, in the previous two weeks, faced a combined 94 running plays. And yet it physically held up. Frost confirmed this days after the game, after first believing NU's line had been "pushed around." It had not; Nebraska's linebackers and safeties struggled to fit their gaps and then tackle Minnesota's running backs. But it was also a defense that, for all its bad fits, allowed just 14 first-half points to the Gophers.
The Husker offense posted a goose egg.
Martinez's undisclosed lower body injury which kept him out of the game was one reason why, but Frost repeatedly said backup Noah Vedral played well. NU's first three drives reached Minnesota territory. None resulted in points, for reasons familiar to a season full of struggles.
"You can't shoot yourself in the foot," Vedral said. "You've got to make things count, especially in their territory."
» The first drive took 12 plays to go 46 yards. The longest play? An 11-yard run by Wan'Dale Robinson. The drive died at Minnesota's 29 with a failed fourth-down play. Nebraska lacks a healthy kicker able to make a 46-yard field goal into the wind.
» The second drive had the explosive play — a 51-yard pass from Vedral to JD Spielman to reach the Minnesota 26 — but Nebraska allowed back-to-back sacks.
"Wish I'd had us in a different play on first down there," Frost said.
» The third drive stung the most, as Frost called the perfect play — a combination of routes that included a swing pass to Robinson, who scampered 32 yards down to the Gopher 4. A block in the back penalty by Kanawai Noa reeled the play back in. NU later punted.
"We don't generate enough big plays to make mistakes and not be able to sustain drives," Frost said Tuesday. "We need to keep doing what we need to do so we can generate more plays and, in the meantime, we've got to limit mistakes so that we don't stop drives ourselves."
In 92 non-garbage time drives, Nebraska has scored 25 times. That's a 27.1% scoring rate. In Big Ten play that has dipped to 21.6%. One in five. Because NU's drives last roughly an average of two minutes, six seconds — NU's time of possession ranks 13th in the Big Ten — the Huskers' defense has faced 99 drives. No defense, headed into the weekend of games, had faced more this season.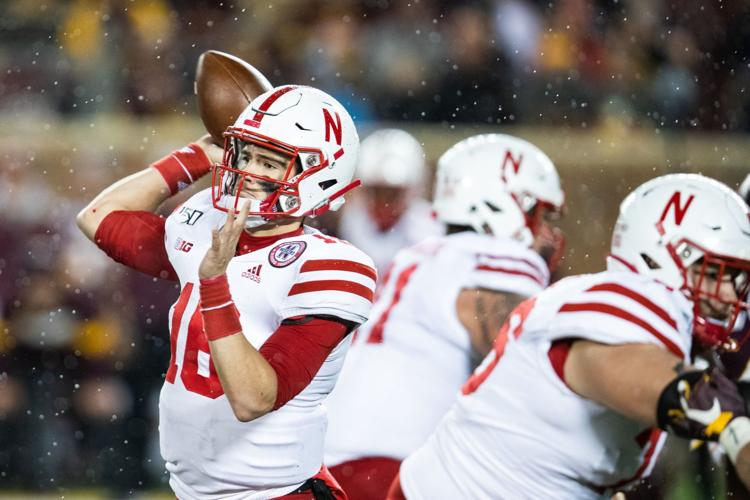 The Frost formula only flourishes when Nebraska's offense scores first, fast and often. It hasn't for various reasons:
» The overall vibe is off and the leadership is developing. While Frost referred to his offense as full of "veterans" after the South Alabama game, the offense does not have a senior captain and, indeed, only one senior starter: Graduate transfer receiver Kanawai Noa. Martinez, one captain, is a true sophomore, and perhaps the youngest captain ever.
"We're still coming with chemistry," Frost said. "We're still playing a lot of young guys, a lot of guys who haven't started a lot, particularly on the offensive line, and getting that all dialed in together is an important improvement we need to make. Obviously, we're still young in a couple other places, too."
» Health. Martinez missed a game, Spielman's missed part of one, Washington has been dinged up and suspended for the halves of two games. Robinson, the offensive MVP for the first half of 2019, left with an ankle injury against Minnesota that may keep him out for future games.
» No clear No. 1 running back. Nebraska had one emerge last season in Devine Ozigbo, who could be thunder to Washington's lightning. This season, Washington, Mills and Robinson have all cycled through at back, without one emerging as the top guy. Mills carried the ball twice in the first half at Minnesota.
» An overall lack of reliable weapons at receiver to create big plays. Frost's offense is rooted in gobbling big chunks of yards at once, as opposed to Iowa, which is content to gobble up the clock while moving the ball incrementally. Frost was frank after the Minnesota game in not seeing enough of them.
"We had a few big plays but we don't have enough weapons right now to count on those plays scoring," Frost said. "That means you have to sustain drives and be more reliable and make fewer mistakes."
Sign up for Big Red Today news alerts
Get a daily Husker news roundup, recruiting updates and breaking news in your inbox.
» Few bread-and-butter runs. Frost said NU would spend the bye week focused on runs that don't involve the quarterback and can be replicated for success.
"Power is a normal thing we run all the time, and we've got to be successful with it," Mills said. "First, it's coming off the ball up front on the line."
» A line still gelling halfway through the season. Nebraska had three returning starters coming into 2019, but redshirt freshman Cameron Jurgens has struggled with consistent shotgun snaps while sophomore left guard Trent Hixson was replaced halfway through the Minnesota game due to protection issues.
They add up to a high-octane engine that can't shift into fifth gear for lack of fuel. Nebraska's offense spent a good chunk of the first seven games caught between potential and capability, between what Frost has seen work in every other season, including the last half of 2018, and what this group can do without a drive blowing on it.
It left Frost praising a less explosive, more plodding offense. The one that couldn't keep up with NU last season, which is also the one that wore down a tired Husker defense this year — Minnesota.
"They were running three or four run schemes," Frost said. "We knew what they were going to be, coming in. They ran them, and they worked. When those things happened, you've got to bring more people up into the box to get the run stopped, and then all the other stuff works off it. And I give them credit for that.
"We need to be more like that on offense."