Brenden Stai spent two years toiling on the scout team at Nebraska before becoming an All-America guard as a senior on the Huskers' 1994 national championship team and an eight-year NFL player.
There's no scout team duty for a second-year lineman on this year's Nebraska team, no serving as practice fodder for the starting defense looking to get ready for the next opponent.
Instead, Cameron Jurgens is spending his redshirt freshman year starting at center — after playing tight end at Beatrice and when he arrived at Nebraska.
Stai said it was "fascinating" to watch Jurgens improve from his first game at center to his second, when he had just one off-target snap in last week's loss to Colorado.
"I think he's a tremendous talent. Very explosive," Stai said after Thursday's Omaha World-Herald & Hy-Vee Big Red Today Breakfast. "Again, for his age, mentally he's the kind of kid you want at the center position. Certainly he has a long way to go. But the potential for him is just limitless."
Stai, director of development for the Husker athletic department, was the second guest speaker of the season at the breakfast that drew about 300 to Anthony's Steakhouse on Thursday.
Stai, who spent his football career protecting quarterbacks, deflected an arrow from an audience member aimed at the Huskers' current QB.
The fan opined that sophomore Adrian Martinez doesn't sense pressure well enough when he's looking to pass. Stai responded that Martinez could use more help from the line.
The linemen, like the quarterback, have to be on the lookout before the snap for disguised blitzes, Stai said. On a couple of hits that produced turnovers against Colorado, he said a lineman could have stepped to the outside and gotten a hand on the pass rusher, giving Martinez the extra half-second he needed.
"I don't think Adrian struggles with it," Stai said. "We've got an extremely talented young man playing quarterback for us."
Stai sees talent on the line, too, but also youth. His 1994 line, nicknamed "the Pipeline," featured four fifth-year seniors and a fourth-year junior. This year's line features three juniors, a sophomore and Jurgens.
"Without everybody working together, you're not going to be working as a well-oiled machine — as you're seeing with some of the young guys right now," he said. "They'll look good and then they won't."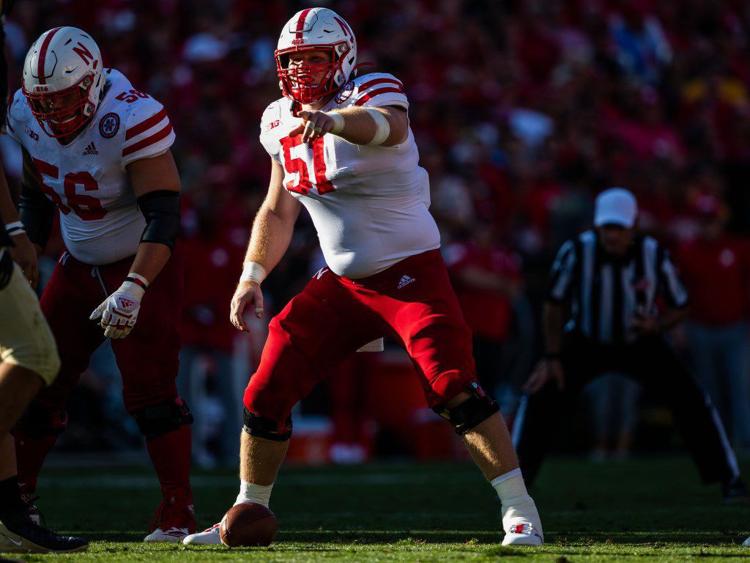 And that includes Jurgens. Communication with the players around you is critical for any offensive lineman, and Stai said the synchronization could improve between Jurgens and left guard Trent Hixson, a sophomore from Omaha Skutt.
Stai said after the breakfast that line coach Greg Austin "might try to juggle things around" on the line for the Huskers, who host Northern Illinois at 7 p.m. Saturday on FS1. And that might mean playing time for true freshman Bryce Benhart.
Coaches would prefer not to play true freshmen on the offensive line — junior left tackle Brenden Jaimes was the first Husker to start there in the modern era.
Benhart, at 6-foot-9 and 295 pounds, is bigger than Jaimes was as a freshman in 2017. Benhart was a state champion wrestler in Lakeville, Minnesota, and played in the All-American Bowl.
In "a perfect world," Stai said, junior right tackle Matt Farniok might be playing guard. But Benhart is his top backup at right tackle.
"It's very difficult to come in and play as a freshman — the mental, the physical part of it," Stai said. "But I think he's well-equipped. For as tall as he is, he moves like he's 6-4, 6-5. He's got great feet, great power. He's perfect for that tackle position."
Stai said he was surprised the Huskers "didn't roll over Colorado" more than they did in building a 17-0 lead. He said he thought they could have had Martinez keep the ball more often on read plays.
The Buffs were "slow readers," he said, and the ends in their 3-4 defense wouldn't have been able to catch Martinez.
Stai said the entire team needs to learn how to win, including the coaches. Scott Frost led UCF to a 13-0 record in 2017, but last week's loss dropped his road record at NU to 0-6.
"Winning is a habit, and so is losing," Stai said. "When you're on the road, it's difficult.
"When you're up on an opponent, you have to understand how not to let off the gas, how to come out in the third quarter not being complacent. And never, ever underestimating your opponent."
It would be unwise for the Husker line to underestimate Northern Illinois, he said. NIU defenders "move constantly" before the snap, then attack at angles.
"You've got to be able to block movement," Stai said. "So it's important that your technique is sound. It's not a game of blowing guys off the football. It's a game of creating seams, creating gaps for those running backs to hit."
Sign up for Big Red Today news alerts
Get a daily Husker news roundup, recruiting updates and breaking news in your inbox.
Photos: Huskers in the College Football Hall of Fame
A collection of pictures of all 18 former Husker players inducted into the National Football Foundation College Hall of Fame.