BOULDER, Colo. — The first half was a dominant display by Nebraska on both sides of the ball.
The second half was an increasingly ridiculous track meet between two former Big-12 foes, and two fan bases splitting a stadium of 50,000, watching rivals trade blows all the way through overtime.
It ended in a 34-31 win for Colorado.
In front of about 25,000 Husker fans, Nebraska went up 17-0 in the first half. But Colorado responded, and tied it up at 24 with 8:30 left in the fourth quarter.
A tough touchdown run from Adrian Martinez on fourth down put NU up 31-24. Colorado had the ball with less than three minutes remaining, and similar to last year's game in Lincoln, CU quarterback Steven Montez threw a perfect ball late in the fourth, this time to Tony Brown. The game tied up at 31.
Nebraska got the ball with about 40 seconds left. Rather than kneel, coach Scott Frost attempted to score. Adrian Martinez tried to chuck one downfield but it was picked off and the game went to overtime.
Nebraska held Colorado to a field goal in the first overtime. But on NU's possession, a 48-yard field goal try by punter Isaac Armstrong went wide right, and Nebraska fell 34-31.
Martinez finished the day 16 for 26 for 290 yards and two passing touchdowns. He added 66 rushing yards and two touchdowns. Maurice Washington caught four passes for 118 yards, including a 75-yard burner for a score. He added 77 yards on the ground.
Montez was 28 for 41 for 375 yards and two touchdowns. He also threw a pick to NU's Lamar Jackson.
Nebraska is now 1-1 on the year. Colorado is 2-0.
Nebraska opened up a 17-0 lead at halftime, scoring on a 65-yard touchdown pass from Martinez to JD Spielman and a touchdown run from Martinez.
Nebraska dominated Colorado up front, allowing just 20 rushing yards on 19 carries. The Blackshirts sacked Montez three times in the first 30 minutes, and recorded six tackles for loss.
NU had the game in hand. Then let it slip away.
Martinez nearly gave up his second fumble of the day on NU's first drive of the second half, but hopped on an errant pass that could've been a Colorado scoop and score.
CU took over and did nothing. But Nebraska's offense went stagnant, with just 23 yards on the first 12 plays, which opened the door to Colorado.
Montez hit KD Nixon on a quick out and Jackson and Marquel Dismuke ran into each other, giving Nixon open space for a 21-yard gain. That sparked a hurry-up drive for CU, ending in an 11-yard touchdown run from Jaren Mangham. He bounced off two NU tackles on the way to the end zone, closing the gap to 17-7.
Nebraska could not respond, with a third-and-16 pass bouncing off Spielman's chest. Armstrong pinned Colorado down at its 4.
And on the very first play of the drive, CU pulled out the flea-flicker, confounding the NU defense. Montez found Nixon for 96 yards and a score, sending the east side of Folsom Field into a frenzy and closing the gap to 17-14.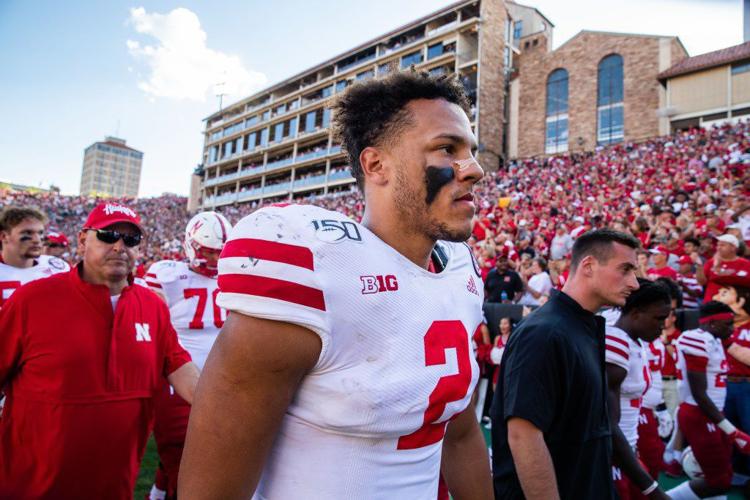 And on the very next play, Martinez threw a swing pass to Washington, who blew down the sideline 75 yards for a touchdown to regain the 10-point lead, sending the west side into a dance party.
Montez immediately responded with a 57-yard bomb to Jaylon Jackson to put CU at the 7. Mangham finished off the drive with a score to make it 24-21.
Martinez dropped back on the next drive, and fumbled after getting hit, which Colorado recovered in the red zone. James Stefanou made a 20-yard field goal to tie it up.
A 40-yard sprint from Washington put Nebraska right back in the red zone with a little less than seven minutes to play. Martinez dove forward on third down, but couldn't get the first. From the 6-yard-line, on fourth down, Frost elected to go for it instead of taking the 25-yard field goal.
Martinez bullied his way into the end zone for his second rushing touchdown on the day, giving NU a 31-24 lead with 5:49 left.
Laviska Shenault returned the ensuing kick to the Nebraska 40, but Cam Taylor-Britt popped the ball out, which was recovered by Luke Reimer, and NU took the ball over again.
They couldn't move the ball, but milked about 90 seconds from the clock. Colorado took back over with 3:53 left.
In a little more than three minutes, Montez made the throw to tie it at 31.
Colorado then made the field goal in overtime. Nebraska didn't.
Photos: Nebraska takes on Colorado in Boulder