LINCOLN — The good news, Nebraska coach Scott Frost said after Friday's scrimmage, is the offensive line is "for sure" ahead of where it was last season.
The tough news Frost delivered: The line, already inexperienced, took a hit to the depth chart when backup tackle Christian Gaylord suffered a knee injury that will cause him to miss the season.
"He's been our only potential season-ending guy," Frost said. "You never want that to happen. I feel for Christian."
Gaylord, a fifth-year player, had appeared in 33 games during his Husker career — mostly on special teams — but had significant experience in practice at both left and right tackle. He was likely the No. 3 offensive tackle on the team.
In his absence, the Huskers will rely on entirely inexperienced tackles to back up returning starters Brenden Jaimes and Matt Farniok.
Sophomore Broc Bando, a 6-foot-5, 310-pound Lincoln native who played prep ball at IMG Academy in Florida, is backing up Jaimes. Nebraska offensive line coach Greg Austin praised Bando's progress in camp.
"A guy like Broc, he knows what he's doing, and he's confident in what he's doing, and it shows through his play," Austin said Wednesday. "I'm not surprised. It's more of a confirmation. You can't judge a book by its cover. You have to open the book, dig in it, hone in on who the person is, connect with a guy and then from there, find out what makes him tick, find out what pisses him off so he can be pissed off out on the field, and then find a way to coach him. That's how it happened with Broc."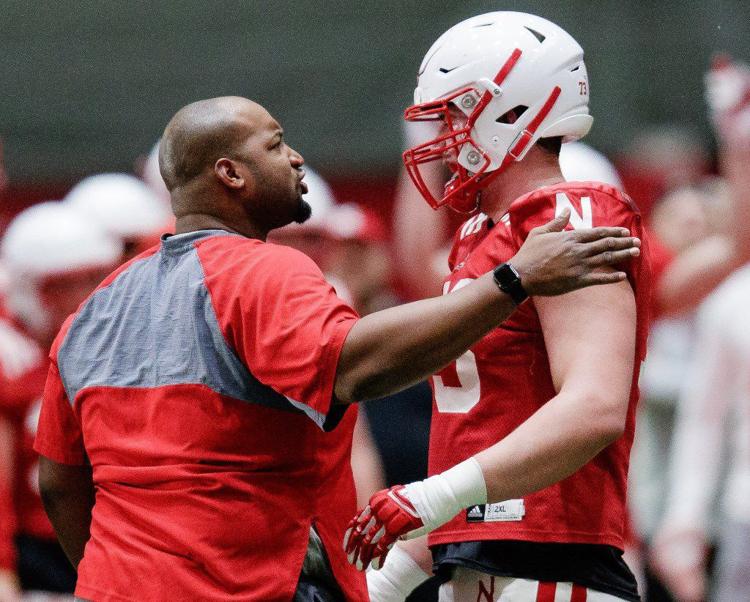 Beyond Bando, it could be four true freshmen: Bryce Benhart, Brant Banks, Jimmy Fritzsche and Matthew Anderson. Fritzsche (6-7, 275) and Anderson (6-6, 255) are almost certain redshirt candidates because they have to put more weight on their frames. The 6-7, 300-pound Banks enrolled early and switched from defensive end after spring practices. Benhart (6-9, 305) appears physically ready to contribute this season.
Austin said young offensive linemen have to learn fundamentals like good balance because "there's a lot of things you can get away with in high school."
"You can't just have your eyes anywhere. You have to have your hands tight. You can't just widen your hands out and engulf guys as an offensive lineman," Austin said. "All those things get exposed once you get to college, and you're dealing with guys who have been trained on those two, three, four, five years."
Benhart is doing a "pretty good job" in fundamentals, Austin said. So is true freshman Ethan Piper, who is competing at center.
Nebraska will likely have first-time starters at two interior offensive line spots, as well.
Walk-on Trent Hixson from Omaha Skutt has worked at No. 1 left guard throughout camp, holding off scholarship junior John Raridon. At center Will Farniok — younger brother of Matt — seized control of the job while Cameron Jurgens recovers from an undisclosed injury. Jurgens suited up for practice but did not take significant repetitions during two workouts the media were allowed to watch.
"They're managing those spots right now," Austin said of Hixson and Farniok. "Managing. Managing. That's the right word for it right now. ... They're working hard to keep their spots while they're fighting for their spots."
Frost said Friday he has been pleased with the work of Matt Farniok and Jaimes, plus left guard Boe Wilson. Earlier in the week, defensive coordinator Erik Chinander said NU's top offensive line — which helped the offense score touchdowns on the first three possessions of a Sunday scrimmage — came off the ball as well as he'd seen.
Photos: Nebraska football practice Wednesday Aug 14