LINCOLN — Dedrick Mills didn't have a great first few games.
But the junior has bumped his yards per carry from around 2.2 to 4.8, thanks to 93 yards in the last two games.
"Like coaches say after every game, I'm starting to get a good feel for it, the whole offense," Mills said. "Now it's just looking for more, just getting the ball and doing what I'm supposed to do now."
Mills isn't totally pleased with his production. Or the offense's in general.
Things just aren't clicking, still, he said.
"That's just what I see, that not everything is clicking at the moment," Mills said. "I mean at practice, yeah, it feels like it clicks but it comes to certain points when it doesn't feel like it clicks. So that's what we're focused on more, the details this week."
Mills has no issue running in the cold, as he might have to this Saturday at Minnesota. He played in cold — and snow — plenty in Kansas at his junior college.
And be it Adrian Martinez or Noah Vedral, he's comfortable with whoever is taking snaps against the Gophers.
"All our quarterbacks work on the same things every single day, but I feel like they all I know exactly what they're doing," Mills said. "They all talk like they know what they're doing so I'm confident in all of them."
Corner Braxton Clark has become a staple of Nebraska's special teams — showing up on kick return most games. He's now slipped himself into a few games at corner, too.
On Monday, DiCaprio Bootle said he's trusted Clark more as the season's gone on if he needs to come in, should Bootle slip to the slot.
Clark — who had a pick against Northern Illinois — knows he isn't going to beat out Bootle or Lamar Jackson to be a starter. But this year is about learning from those two, and making an impact when he does get in.
"When the opportunity comes, take advantage of it," Clark said. 
Clark said his redshirt freshman year wasn't that frustrating because he knew he had to get better. He never played on scout team, he said, and was always taking backup reps.
He's learned how to approach the game better this year from watching Jackson and Bootle, he said. And when it is his time to take over a position, he'll be ready.
"I like to cover, I like to make plays on the ball and that's what it's all about at the end of the day, turnovers," Clark said.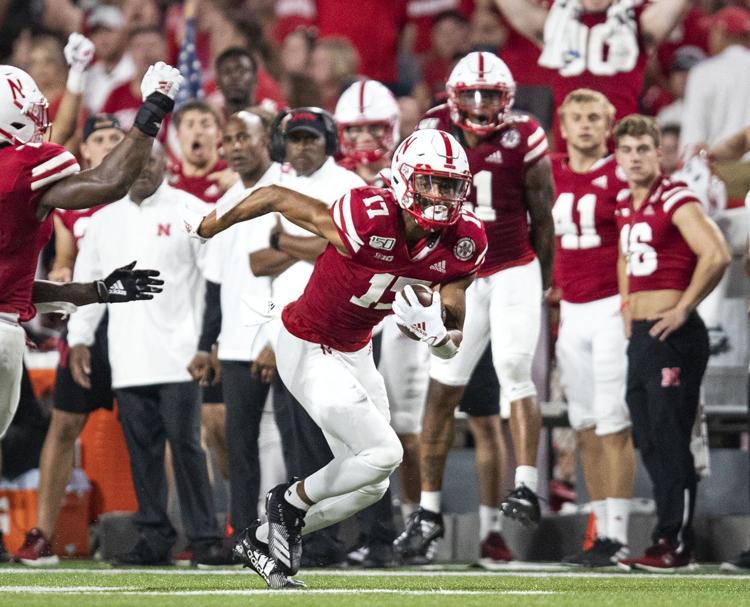 Darrion Daniels knows quite a bit more about his fellow defensive linemen now than he did last week.
Unlike Nebraska's first five games — when the line generally rotated the same six players — circumstances changed Saturday against Northwestern. He learned what it was like to play with his roommate, redshirt freshman Casey Rogers, who got his first taste of the Big Ten trenches. He saw a glimpse of Khalil Davis the coach while the senior end roamed the sidelines serving a one-game suspension. He even observed how junior end Ben Stille held up despite playing 70 snaps, a number that was easily a career high.
With Davis, Daniels said the 6-foot-2, 315-pounder who began the game as NU's sack leader was a good motivator Saturday and passed along thoughts and advice throughout.
"I know he called me and out and was like, 'Hey Darrion, make sure you keep tight hands because you're getting a little too wide and they're giving you a test,'" Daniels said. "So he was another set of eyes on us that was helping us out."
Daniels said the line's challenge against Minnesota is tougher given its extra-large tight ends. Jake Paulson (6-5, 270) and Ko Kieft (6-4, 255) are like having two additional offensive linemen on the field at the same time, he said. Minnesota ranks 106th nationally as it averages 3.49 yards per rush.
Decisions on redshirts are fluid, Nebraska coach Scott Frost said. And that hasn't changed at the midpoint of the season.
All sorts of circumstances can affect how coaches decide whether to play a Husker on a given week, Frost said Monday. Maybe there's a need on special teams. Maybe there's an injury. A specific matchup might look especially good.
Some Nebraska players will certainly keep their redshirts this year, Frost said. One will be true freshman QB Luke McCaffrey, who made his career debut Saturday. Another is frosh running back Rahmir Johnson, who has appeared in two games after getting in against Northwestern.
"We're going to try our best to keep him around here for four more years after this," Frost said of Johnson. "You never know what's going to happen with injuries and other things with the teams. We might end up having to play him. He's an example of a guy kind of on the cusp, but if we can help it, make sure he doesn't use this season without getting too many reps."
Frost said coaches hadn't yet floated the possibility of redshirting true sophomore kicker Barret Pickering, who has yet to play this season with an undisclosed injury.
"We have just been having our fingers crossed that he'd be back sooner rather than later," Frost said. "I guess if we get a few more games into the season, we might start having that discussion. Right now, we just want him to be healthy."
» Nebraska and Minnesota are playing for the 60th time overall. Since joining the Big Ten, Nebraska holds a 5-3 edge in the games, and only two — a 28-24 Minnesota win in 2014 and a 24-17 Nebraska win in 2016 — have been decided by single digits.
» Scott Frost's father, Larry, had one of the best games of his Nebraska football career at Minnesota in 1969. Larry Frost caught two touchdown passes — of 38 and 43 yards, both from quarterback Jerry Tagge — in the Huskers' 42-14 win at the now-demolished Memorial Stadium — known as "The Brick House" — on Minnesota's campus.
"There was actually a picture in my grandpa's office — his shop at the dairy farm just between here and Malcolm — of five still frames of dad's touchdowns against Minnesota, so I've been seeing that since I've been able to walk because I've seen it at the farm," Scott Frost said Monday.
NU averaged 196.4 yards passing that season, one of the prolific passing offenses in Husker history until the 2005 arrival of Zac Taylor.
Photos: Husker football walk-ons who've played during 2019 season
Nebraska leans heavily on its walk-on program, and many have seen the field during the 2019 season. Here's a collection of all those who've appeared in at least one game this season, listed alphabetically by last name.