LINCOLN — Country music is safe. Faster is better. And not everyone will be happy.
Sean Beckton Jr. has found these to be immutable facts during practices under Scott Frost. Who would know better than the unofficial team DJ?
His official title as a paid performance intern includes a job description as eclectic as his Spotify playlists. The son of tight ends coach Sean Beckton is among the first to arrive daily, setting up weights around 6 a.m. He was the model for the alternate uniforms the program unveiled last month.
And during most weekday mornings, Beckton Jr. helps the Huskers play with rhythm.
"If they're not really hyped up, I gotta find another song to get them ready for practice," Beckton Jr. said. "I feel how they're feeling."
There are certain routines players and coaches count on during fall and spring workouts. "Lil Wayne Wednesday" is heavier on rap, while "Fast Friday" features more up-tempo music. Beckton Jr.'s ever-evolving "Frost Mix" is a compilation of country songs in honor of the coach's preferred genre.
Mondays and Tuesdays are open. Beckton Jr. sticks to the practice script and makes some educated choices. He knows, for example, when coaches want a few minutes of silence to be heard better. If the team is running a "Nebraska drill," — with live-action blocking — it might be a good time for some hard rock.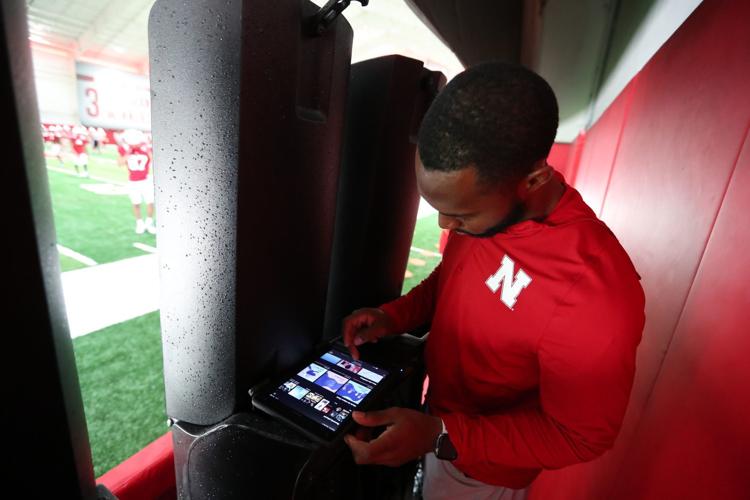 The 27-year-old considers classic rock and 1990s hip-hop to be his wheelhouse, and where he receives the most compliments for his depth of knowledge. But he takes requests for anything within reason. And just as players and coaches can have bad practices, he's endured a few flops as well.
"Sometimes they're like, 'Man, your music was bad today,' after workouts to mess with me," Beckton Jr. said. "Then I have to ramp it up."
This isn't the endgame for the native Floridian who aspires to be a strength and conditioning coach in college football. But it's been a great career kickoff.
When Frost was recruiting his UCF staff to join him in Nebraska in December 2017, strength coach Zach Duval reached out to the younger Beckton through his father to explore the possibility of an internship. Beckton Sr. said it was the kind of gesture that helped him and his wife, Zorana, decide to leave home and head north.
Father and son flew up the same winter day, arriving in minus-1 degree weather and staying in the same hotel for 25 days. Beckton Jr. never went back — his mother and later his fiance brought his belongings.
He now lives a 15-minute drive away from his parents. His sister, Zaria, is a sophomore at Nebraska.
Beckton Sr. has insisted on boundaries at work going back to their days together at UCF from 2010-14. When parent shifted from coaching defensive backs to receivers, child moved from wideout to the secondary. Beckton Jr., a 5-foot-10, 185-pound walk-on, went on to carve a role on special teams and eventually earned a scholarship.
The family spends most of its Sundays together, attending church and sharing a meal — pasta dishes and baked chicken are staples. But the Becktons don't cross paths much in the Nebraska facilities, and when they do there's just an exchange of fist bumps in passing. What the coach has observed is a young man coming out of his shell and finding confidence. He's still athletic enough to demonstrate drills and do box jumps with current Huskers.
Plus, Beckton Sr. laughed, his son is flashing a set of musical skills he never had.
"I can't sing, I can't rap, I can't dance," Beckton Sr. said. "I can play five different sports, but I can't do those things."
Now Beckton Jr.'s two-year internship is nearing an end. He figures he'll eventually pass on the DJ gig to someone else, just as it was tasked to him.
He had some previous experience in athletic training, coaching at a Florida high school and working with players at a fitness company owned by former UCF and NFL receiver Brandon Marshall. But his time at Nebraska has been "invaluable," learning firsthand from Duval and the strength staff about everything from weightlifting strategy to finding a competitive edge in sleep. He'd love to catch on full time in Lincoln but, as recruiting junkies know, Beckton Sr. has extensive ties in football throughout the Southeast. Beckton Jr. figures to have plenty of options to continue his coaching career.
For now, the guy many Huskers nicknamed "Lil Beck" or "LB" is doing his part to help Nebraska play fast. And he's still taking suggestions.
"When I was playing, I didn't really get any reasons why we're doing this and this and that," Beckton Jr. said. "Just getting different sides of it is pretty cool."
Sign up for World-Herald news alerts
Be the first to know when news happens. Get the latest breaking headlines sent straight to your inbox.