LINCOLN — He has so many dunks on his Hudl highlight page that one video is simply labeled "four dunks." Another video includes him among five "epic dunks."
Jamin Graham's best dunk — the showstopper that underlines just how athletic the 6-foot-4, 230-pounder can be — came during a highlight of his double-double game against Southside (Ala.) High.
Graham grabs the ball at the opponent's foul line, freight trains through traffic and thunders home a two-handed dunk that brings the crowd to its feet.
He scored 16 points and grabbed 10 rebounds that night. Later that season, Graham said, his team made the "elite eight" of its class. The Etowah High star was twice all-county in hoops and averaged a double-double his senior season.
Graham, who arrived on campus Saturday, is often forgotten among the Husker defenders who signed in the 2019 class.
He hasn't done a bevy of interviews. He wasn't a dramatic signing day announcement. The Gadsden, Alabama, area, where he grew up, lacks the recruiting sizzle of an Atlanta or Miami locale. He doesn't have a sub-11 100-meter time, though that's hardly required as an outside linebacker.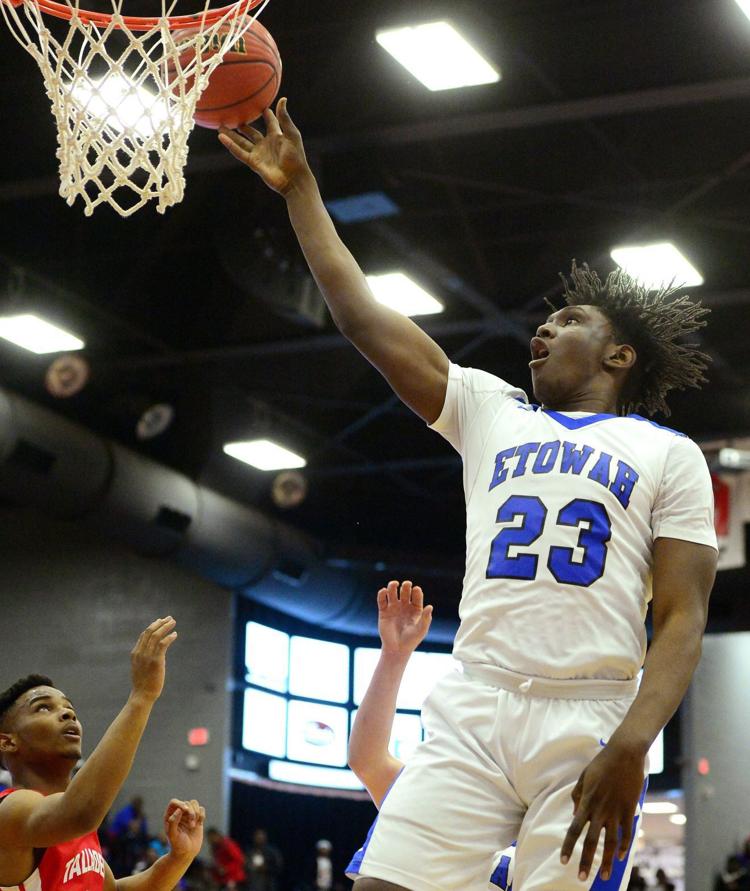 He's still a bona fide two-sport standout. So much so that Graham considered a college basketball career for much of his youth. He shifted his collegiate goals to football before his senior season, and the scholarship offers started rolling in.
Here's why: Graham posted 85 tackles, 37 tackles for loss and 13½ sacks as a senior. He was first-team all-state in Alabama's Class 5A, which features school sizes equivalent to Nebraska's Class B.
Graham said Mississippi and Virginia were high on his list, as were Southern Mississippi and Central Florida.
Nebraska? He didn't know much about the Huskers, who haven't won a conference title in his lifetime.
Graham grew up a fan of Auburn, which won a national title in 2010 and played for another in 2013. And in his area, SEC schools dominate most of the headlines.
When NU offered, he started his research. And he realized Scott Frost — who led UCF to a victory over Auburn in the 2018 Peach Bowl — had taken the Nebraska job. That persuaded him to take a visit to Lincoln.
Frost and outside linebackers coach Jovan Dewitt clinched his commitment.
"It was just the relationship I built with them in a short time," Graham said. "I knew they were going to make me better."
Sign up for Big Red Today news alerts
Get a daily Husker news roundup, recruiting updates and breaking news in your inbox.
Graham signed in December and started his final basketball season. Dewitt got a throat cancer diagnosis in January. Graham said he called Dewitt throughout the winter and spring to check on him.
He reviewed film from his senior season, too, looking for ways to improve.
"I can get stronger," Graham said. "My footwork can get a lot better, too."
He's slated to play an on-the-line-of-scrimmage outside linebacker at NU. Alex Davis and Caleb Tannor now play at that spot, which asks for strength against the run and a strong pass rush on passing downs. Graham's good in those areas.
He's still working on how to cover tight ends and backs, which is an occasional assignment of that position. Graham said he attended a camp run by NFL cornerback Dre Kirkpatrick — a Gadsden native — to polish his coverage skills.
Graham will be roommates with new running back Dedrick Mills, who's also from the South. Of the top 30 prospects in Alabama for 2019, Graham is the only one headed to the Big Ten. He gets the question from friends often: Doesn't it get cold up there?
Yes, it does. Graham knows it will. He'll be far from home, away from family.
But he's invested in Nebraska. He wants a degree — and a future in football.
"It's strictly business," Graham said. "It's to help me grow and better myself."
Photos: Nebraska football and basketball recruits attend Husker spring game
The Red-White spring game was a major recruiting event for both the football and basketball programs. Check out some photos of the top prospects as they hung out on the sidelines before kickoff.