LINCOLN — Lamar Jackson sips a strawberry Gatorade and watches the cars roll by from his fourth-floor balcony, the steamy September sun setting over the Lincoln skyline.
It's less than 24 hours after Nebraska's season-opening win over South Alabama, and Jackson's first portion of free time in weeks. He's ready to celebrate.
The apartment is pristine. A lavender candle burns in the kitchen. "Wild 'N Out" plays on mute in the small living room, the TV hanging above a bookshelf housing two items: a Perfect Pushup workout tool and a multicolored baby key ring, with blue, yellow and pink plastic keys.
This Lamar Jackson — the one who cleans the apartment, who yearns for the buzzer sound from the lobby — isn't the Lamar Jackson he thought he'd be at 21.
Four years ago, he didn't want a degree. He showed up to campus — all 6-foot-3, 215 pounds of him — and figured he'd be a millionaire by 2019.
But over the past three years, he's been broken, beaten, bulldozed and bruised. Embarrassed on national TV, threatened online, called out by coaches in press conferences. Locked away in dorm rooms with no one to talk to — his mind circling the drain — wiping away the tears. Thrust into hospital rooms to hold hands. Abandoned on the sideline by teammates. Forced to cut his hair short because clumps were falling out from stress.
The Lamar Jackson you see now — the one with two forced turnovers in two games, the one slated to graduate early — is not just the result of a coaching or culture change.
What you see is what he's reassembled after picking up the pieces of himself scattered after a series of public destructions.
"He allowed his ego to leave," Nebraska defensive backs coach Travis Fisher said.
Jackson sits atop Lincoln, foot tapping. He feels closer than ever to becoming the star he once thought he was. And now, he has a good reason to actually prove it. And, for once, that reason isn't himself.
Jackson checks the time on his phone.
A smile creeps across his face.
Catherine Horton knew it wasn't a good idea. But her 5-year-old son wanted to see Daddy. And wouldn't stop asking.
She couldn't take it anymore. So she loaded into the car and drove east.
Little Lamar Jackson watched Eldorado National Forest crawl by from the back seat. Lake Tahoe glistened in the sun. They pulled into the Carson City Correctional Facility after two hours and checked in through security.
This was nothing Horton wanted her son to see. She resisted the days when Lamar's father would roll up to the house, music pulsing, gold rims spinning. Where'd Lamar think his dad was getting that money? But she dreaded this more.
Lamar Jackson Sr. entered in a navy jumpsuit. The guard took off the handcuffs and the makeshift family spoke for a bit at a table. Soon after, Horton marched her son out of the prison.
"This is not good. This is not cool," she told Lamar, buckling him in. "You don't wanna go to prison. You don't wanna have to go see someone in jail behind bars."
Lamar nodded. She slammed the door and turned the key.
On the 130-mile drive back, Horton, 22, wondered how she could keep her child from that life. With baby No. 2 on the way, she'd soon only have so much time to keep an eye on Lamar. She'd dropped out of school just before junior prom to become a mother. Her cosmetology business was still getting off the ground.
Getting him tired was the key. A tired boy stays out of trouble.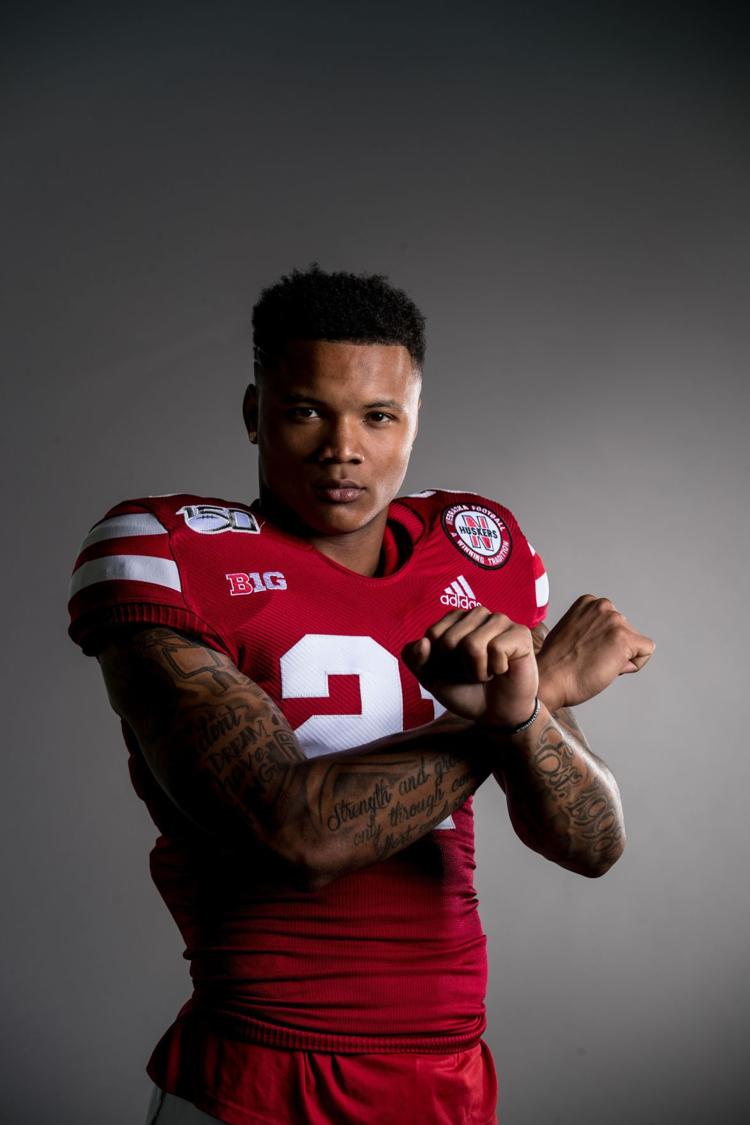 She pitched an idea to her son. Football. The 5-year-old wasn't too enthused. He didn't have much of a choice.
On a hot day in northern California, Horton shoved Lamar onto the field. First drill: a light jog, helmet raised above his head.
"Mommy," he said, crying. "Get your money back."
Lamar finished the practice, but moped around the house after.
Horton didn't mind. He fell asleep easily that night.
Franklin High coach Mike Johnson pulled Lamar to the side one morning before practice and asked if he'd consider playing a little bit of cornerback.
"I play quarterback," Jackson said. "I ain't play nothing else."
Johnson insisted. Maybe colleges would be into him if he played corner. Especially at his height.
Jackson walked away, disgusted. Didn't he know what he had? Almost 1,500 passing yards as a sophomore with 500 yards rushing and 20 total touchdowns. The quarterback gets all the love. Cornerbacks are out on an island. You mess up, everyone can see it. Everyone can point. Quarterbacks get the glory.
"I'm not even hearing it. I'm not even trying to listen to my coach. I'm just like, 'Nah, I just feel like you really trying me. Like, what, I'm not good enough?'" Jackson said.
He wasn't worried about a scholarship, anyway. No one from Franklin High School got offers from Division I schools. Jackson didn't even want to play football in college. He was just here because his friends were.
The corners began drills that afternoon and Johnson pushed Jackson in. He was smooth. A natural. Johnson persuaded him to try it out in the first game his junior year.
He finished with two picks, one that ended in the end zone.
The following Monday, Boise State offered a scholarship.
"I got the offer and then that's when people started taking interest in me. That's when my coaches, that's when my advisers, my teachers, that's when everybody started telling me, like, waking me up because they knew what I had," Jackson said.
After a full season, Jackson put together a tape and put it on Hudl. Colorado followed up after the season with an offer. Then UCLA called in February. Then Michigan. Then Arizona State and San Jose State, USC, Arizona, Notre Dame, Oklahoma.
At 6-3 and 205 pounds, Jackson made coaches salivate. And in the span of 12 months, 25 offers flowed in. The nobody from Sacramento jumped from zero to four stars on Rivals and 247Sports. He went to recruiting camps across the country. Recruiters threw out words like Heisman and all-pro over the phone, showed up in the city, knocking on his door late at night to say hi. They promised a starting role at a Power Five school on day one, promised three years and an NFL contract. The mailbox nearly broke from the stacks of recruiting letters.
"It felt like I made it already," Jackson said. "That f---- with your head."
After a late offer and late visit to Lincoln, Jackson announced in a commitment video made by Bleacher Report that he'd be headed to Nebraska. But not before inking a tattoo to proclaim how he now felt about himself.
It reads vertically down his right leg.
Jackson showed up as a true freshman with hair like Odell Beckham Jr.'s and told everyone who would listen he'd be outta here in three years.
He took No. 1 for his jersey number. Because that's what he really was.
"A lot of people didn't like his attitude," teammate Dicaprio Bootle said. "Didn't like the type of person he was."
The corners at the time, Chris Jones and Josh Kalu — both now in the NFL — were told Jackson was coming to take their jobs. So in initial practices, they tried to embarrass him. As did the receivers. No one took Jackson under their wing.
Which was fine. He didn't need them. He didn't need anybody.
The problem was, he couldn't back up his talk.
In early practices, Jackson had no chance covering Jordan Westerkamp. Couldn't keep up with Stanley Morgan. Fell down covering junior De'Mornay Pierson-El.
Jackson would try to shrug it off, telling himself everyone gets lucky. But after practice, when he took off his pads, he walked home alone and locked himself in his dorm room.
"What do you do? You think. You cry. You sit there. You stomach it. By yourself," Jackson said. "I'm sitting in my dorm room just crying. Like, they told me I was gonna be the man. They told me I was gonna start. I'm out here getting beat. Left and right. Getting pushed on my ass. I'm hurting. But I'm legendary? I thought I was legendary. So it's f------ me up."
But when Jackson left that dorm room, the facade was back on. He was the man. The hair bright, sunglasses on, earrings in. Everything was fine. He told no one of his struggles. He found playing time in all 13 games and finished the year with his first start against Tennessee in the Music City Bowl, recording eight tackles.
When Kalu moved to safety and Jones was injured in 2017, Nebraska had no choice but to start Jackson.
Game 2 was on the road at Oregon.
The Ducks took a 21-7 lead, but Nebraska closed the gap to 21-14 in the second. On second-and-8 from the 29, Jackson lined up across from Johnny Johnson on the far boundary. Johnson blew by. Oregon quarterback Justin Herbert recognized it immediately.
Jackson tried to speed up, but couldn't. Johnson dived at the 20 and corralled the pass for a 51-yard gain. The sound of 70,000 blew through Jackson as he stood up.
"That flushed me," Jackson said. "Snatched my soul. Had me out there like an ant."
He didn't belong. He was a fraud.
"Bruh could've taken me deep every single play after that. He could've caught every ball and gone 10 for 10 if he wanted to," Jackson said. "Luckily, they didn't."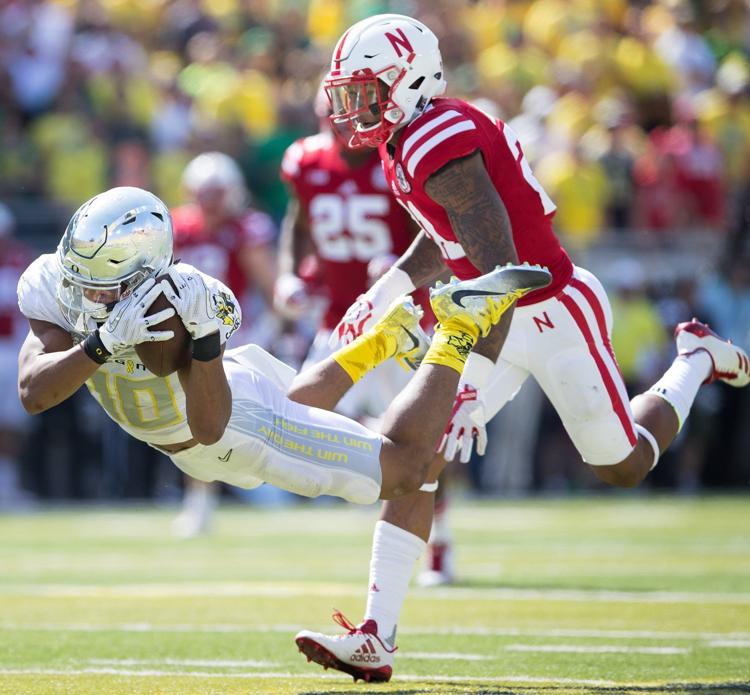 Jackson's brain wouldn't turn off on the field. He convinced himself that bomb would be on ESPN later. Everyone he knew would see it. Out on an island, as a corner, you can't hide. And Jackson couldn't on the sideline, either. Cornerbacks coach Donte Williams found Jackson after a series late in the game and grabbed his helmet.
"Come talk to me again when you wanna play football!" he screamed.
Back in Lincoln, Jackson rushed home and locked the door to his bedroom.
He thought about his mom. She was there that day. He embarrassed her that day. Jackson wiped his tears, then repeated to himself until his mind slowed hours later, until a merciful sleep washed over him.
Never again. Never again. Never again.
Lamar Jackson wandered over to his paradise and smiled at the Purdue bench.
"What's up?" Jackson yelled over the hum of the crowd.
A Purdue assistant nodded back.
Jackson pointed to Rondale Moore, the soon-to-be freshman of the year in the Big Ten, lining up on the other side of the 50.
"Tell him to get open. He ain't been open all day over here," Jackson said, laughing, his gold teeth flickering in the afternoon sun.
The cure to that Oregon game? Ultra-confidence. Jackson spent the next 12 months building himself back up. He worked on his game, he got in the gym. Travis Fisher was the new defensive backs coach now with head coach Scott Frost. Fisher wanted the guys to be themselves.
So Jackson created a persona.
"Without confidence out there, you're dead," Jackson said. "That's why I gotta talk. That's why I gotta be kinda crazy, that's why I gotta wear my gold teeth. That's all for me. That's all for me to know that I'm really like that."
So he started talking smack. Usually to receivers. Sometimes just to himself. It led to his first career pick against Troy. It was working.
On this day, at 0-3 at home against Purdue, Jackson found an intriguing new game. A few Purdue coaches wanted to have a chat.
"Burn this dude," they yelled to Moore in front of Jackson early in the second quarter.
"So y'all really like that over here, huh?" Jackson yelled back after an incomplete pass.
On third-and-10, Jackson lined up across from Isaac Zico. David Blough took the snap. Jackson cut off Zico and locked him up. Safety Marquel Dismuke jumped a route and picked off the pass. Memorial Stadium shook.
"WHAT'S UP!?" Jackson yelled to the sideline as Dismuke made his way across the 50.
A flag flew in the air. Jackson didn't notice. Didn't care.
The refs convened near midfield. Jackson kept his eyes on the Purdue bench, laughing now, dancing, licking his lips. On the headsets, Nebraska coaches screamed.
Jackson heard his number on the echo from the referee. Purdue's offense was lining back up. He turned to the sideline, confused. Fisher was waving him off.
Frost walked toward midfield as Jackson approached. The coach didn't say a word. Just stared through Jackson, headset in his hands, lower lip pursed.
Fisher pointed to the bench.
Jackson's head warmed. He threw up his hands and made his way to the metal heaters, the eyes of 90,000 following him.
He kept his helmet on. It hid the tears of frustration beginning to cut down his face.
"I'm sitting there like, 'What did I do?' And I'm asking myself, like, 'Was it that bad, bruh? Like was it that bad? I got a penalty. People get penalties every other play.' So now it's more than a penalty to me," Jackson said. "Now it's like, 'OK, he's been waiting for this. He don't even want me to be on this field. He was waiting for the first opportunity to take me off this field.'"
Jackson ran through the coaches who'd recruited him. Surely they needed a corner. But he'd have to redshirt, and that's one more year he isn't out of college. He was supposed to be in the NFL by now, anyway.
And on top of that, there was this girl who'd been sending him ultrasound pictures saying it's his baby. He can't leave with that going on. But he's not ready to be a father. A father? Football was his father, he thought. Without a dad, that's where he learned discipline. What's he know about being a dad?
Jackson left the sideline only after everyone else did, hardly aware the game was over. He sat in bed that night, scrolling on his phone, his mind spinning.
Sept. 29 rolled into Sept. 30.
He decided he wanted to leave. The way Frost looked at him? That told him enough. They didn't want him here.
But the potential baby and the risk of redshirting were weighing heavy.
Jackson showed up to Erik Chinander's office the next morning. He was jittery. He couldn't sit still. His legs bounced as he talked.
"What's the problem?" Chinander said.
"You tell me what's the problem," Jackson said.
And then Jackson went off, his words building speed as his mind sprinted.
"Whoa, whoa, whoa," Chinander said. "Nobody wants to talk to that Lamar. That isn't Lamar. Calm down. Take a breath."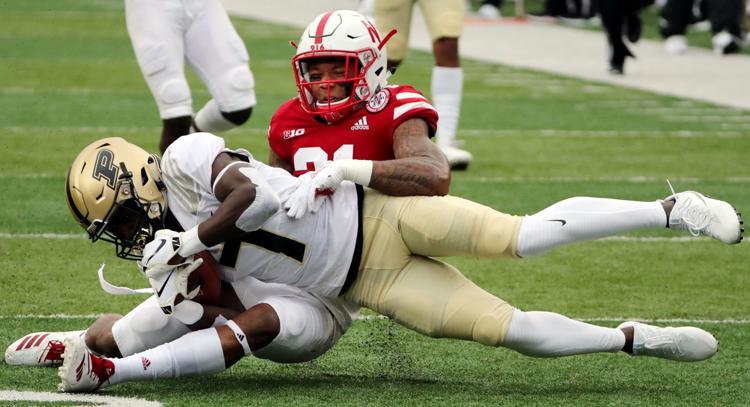 Chinander explained the benching. It was Fisher's call. Nothing else was working. Jackson was out of control. He didn't listen. It wasn't about the penalty. It's about playing winning football. That negated pick took away a scoring opportunity. Team football wasn't what Jackson was playing.
Jackson nodded. He wasn't convinced yet. Team football, whatever. But a season-long benching after four games for a penalty still seemed unfair.
"All right, now," Chinander said, as the conversation wound down. "Now go have a good week of practice and get your spot back."
"That's all I need to hear," he said.
The apartment door squeaks and Jackson turns, mid-sentence, to see Legacy, his 5-month-old, and Legacy's mom, Kaitlin.
Jackson opens the sliding-glass door from the balcony and reaches for his son.
"C'mere, big man," he says.
Legacy lives with Kaitlin down the street. Lamar receives daily photos and FaceTime calls. That doesn't compare to the feel of a 5-month-old sitting on Lamar's bicep.
After that meeting with Chinander, the change for Lamar was gradual. He tried to ignore talking from the sideline first. Then tried to become a better teammate. The change was slow, then accelerated after the birth of Legacy in late March.
He came out 9 pounds and 10 ounces, the same size as Lamar, with the same big, almond brown eyes.
In the hospital, after an emergency C-section, Jackson held his son. The world seemed to fall away and reorganize.
"I've got my own son looking up to me, so let's get it done, let's get the degree done, let's get the season done, let's get to the next level," Jackson said.
He used to hate morning workouts. Now he's in the weight room before everyone, working out on his own. He's coachable now, Fisher said. He listens. Just this week, on Tuesday, the scout team needed someone to fill in for punt coverage practice. Jackson threw on his helmet and ran in.
"That's being a grown man," Fisher told Jackson after practice.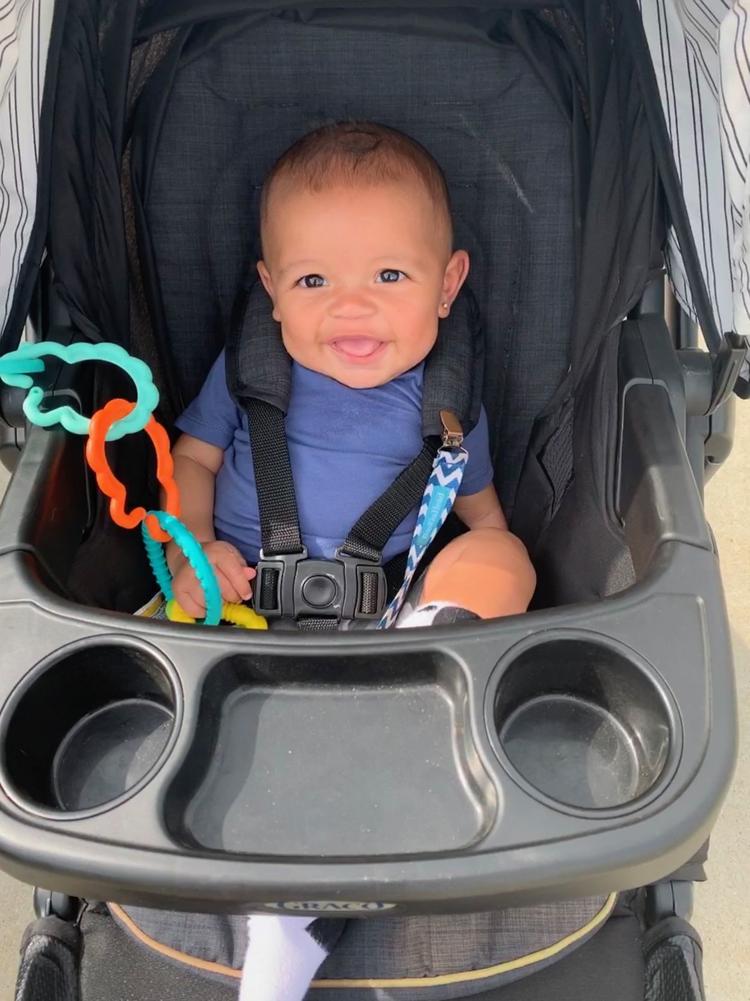 "More about his business. He understands what he has to do just to be able to provide for his son. And that says a lot about a person," Bootle said.
The defensive backs are trying to earn the Best Uncle award with Legacy.
The plan for Jackson is the NFL. There is no Plan B. He likes his chances. NFL scouts have already been at both Nebraska games to see him.
After Week 1, Jackson watched his strip sack dozens of times before bed. Scouts have told him he can cover, he just needs to tackle. Now he has that on film.
In Week 2, he read Steven Montez's eyes and snatched a pick against Colorado. He ran off the field to the sideline, and high-fived a horde of fans behind the bench.
"Every week I need to change the game. And that's how I should be. I'm addicted to it," he said.
The league's always been the dream. But the money he could make there, that could give Legacy the life Jackson never had, he says. He wants to provide for his son. Be around.
"I'm gonna be that dad I wish I had," Jackson said. "I'm trying to make sure his first word will be Daddy. I just want to make sure he knows who I am. Just like, damn, I'm working to get you the world, son. I'm working to give you the life I wish I had. And you gonna be born into money, hopefully. You're gonna have what you want. You're gonna be able to call Dad for whatever you need."
This Lamar Jackson is still a work in progress, but it's the best version so far. Almost the star he thought he was all those years ago.
"As a mother, I'm just watching him get his wings," Horton said. "And now he's starting to take off."
Jackson kisses Legacy on the cheek three times and walks around the kitchen with him. The boy coos and looks up at his dad.
Jackson, for once, is silent.
Father and son's brown eyes lock, looking into each other's future.
Photos: Nebraska's Blackshirts for the 2019 season