I would've preferred Anthony Scaramucci.
Monday morning, bright and early, the Washington Redskins — proud, glorious, iconic victors of our nation's capital — fired Jay Gruden as head coach. And hired as interim head coach ... drumroll, please ...
What, Houston Nutt wasn't available? How 'bout Al Saunders or Dave Wannstedt?
Husker fans might get a chuckle out of this news. But you have to understand, the Redskins are my team. The franchise of my childhood! Gary Clark and Art Monk! Dexter Manley and Darrell Green! Joe Gibbs and the Hogs!
At a formative age I cheered the burgundy and gold to two Super Bowl wins ('88 and '92). I'm a lifer, man.
What's my reward for loyalty?
Nearly three decades of abject football poverty. Dan Snyder rules with the corruption and deceit of a Central American dictator, squeezing every dollar out of his constituents while spitting in their faces.
Do you realize the Redskins haven't won 11 games in a season since 1991?!? Not even the Lions and Browns can say that.
For every moment of hope, this deteriorating fan base has endured 100 embarrassments. And that was just the Spurrier era! In 2012, RG3 carried the Redskins to a division title and a 14-0 lead in the wild-card game before his knee turned into a wet noodle. Good thing Snyder traded three first-rounders for him.
A year ago, the Redskins were in first place at 6-3 when their $90 million quarterback, Alex Smith, snapped his leg in half. Who's going to throw 6-yard out routes to the tight end now? Mark Sanchez, come on down!
The Redskins haven't won a playoff game in 14 years. And the more Snyder and team President Bruce Allen run the franchise into the ground, the more arrogance they dispense. And now, after an 0-5 start, when things couldn't possibly look any worse, they hire the man who exuded smug condescension the last time he led a team.
Callahan may be the NFL's best offensive line coach. He might even be a capable NFL head coach when the ghost of Jon Gruden isn't peering over his shoulder, like it did in 2003.
But, man, it's going to bring back some memories when I see his first Redskins press conference. I was there every step of the way from 2004-07.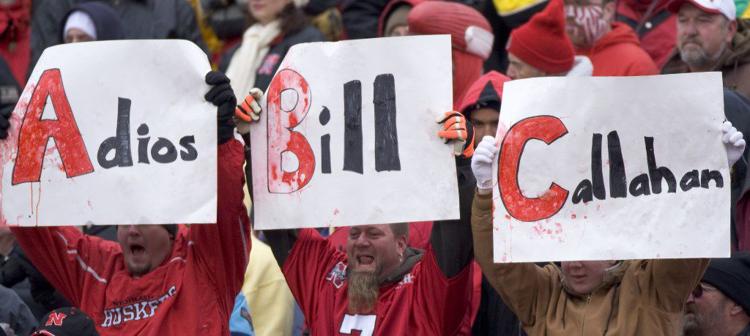 Callahan, by all accounts, was a genius in front of a marker board. A top-notch recruiter, too. He just couldn't coach college kids or communicate with a rabid fan base. (Perhaps the most fascinating dissection of Callahan's strengths and weaknesses came via Harrison Beck in a "Where I Come From" podcast. Check it out if you haven't.)
The last time I saw Callahan in person, Tom Osborne had just fired him. He was rolling toward me down a long, one-lane driveway outside the Hawks Complex. I had a notion to stand in front of Callahan's SUV and demand an interview but figured it wasn't worth my life.
He never appeared in public in Nebraska again.
I can't imagine Callahan, now 63 years old, will embarrass the Redskins any more than Snyder's previous coaches. He'll likely hold the job for three months, then return to an O-line gig somewhere — perhaps for Zac Taylor's Bengals.
At this point, there's no use rooting against Callahan. I can only embrace the absurdity and feel the memories come flowing back. In my book, there's only one thing left for my team to do:
Hire Steve Pederson as GM.
Photos: Nebraska football coaching history