LINCOLN — Anthony Becht didn't know much about Adrian Martinez until a few weeks ago.
But the ESPN analyst who will join play-by-play broadcaster Beth Mowins to call the South Alabama-Nebraska game Saturday has been doing his best to change that. Watching interviews to get a sense of the Husker quarterback's personality. Breaking down game film. Noting situational tendencies.
One detail the 12-year NFL tight end noticed was Martinez's throwing motion, which he likened to a baseball catcher for its three-quarters arm slot. He saw "issues" on video for passes beyond 10 yards when the QB needed to drop balls into spots over linebackers or hit windows between a safety and cornerback.
These are elements Nebraska doesn't necessarily need to win games, Becht said. But they can elevate Martinez from a good quarterback to future NFL draft pick.
"He's had some nice deep balls that have fallen into position," Becht told The World-Herald. "But those next-level throws are the ones that I want to see this year where he's gotten better. ... From a passing standpoint, if that part happens, that's where I see all the hype could actually happen."
Becht will call his first game in Lincoln since Northwestern beat the Huskers 30-28 in 2015. But he doesn't need to do any prep work when comes to a pair of Nebraska coaches, who happen to be former teammates.
Coach Scott Frost and Becht played together with the New York Jets in 2000 — Becht's rookie season and Frost's final one with the franchise. They once went on vacation together with a mutual friend. Becht recalled Frost reading lots of "stoic" books around the facility with topics including history and Greek mythology.
Becht also got a sense of how well Frost carried himself. The converted college quarterback impressed everyone in the organization with how well he took to playing defensive back with no previous experience.
"Even though he might not have been the greatest tackler at the time and the greatest cover guy, he was totally confident," Becht said. "And I think you had to be that way, honestly, to play in the league."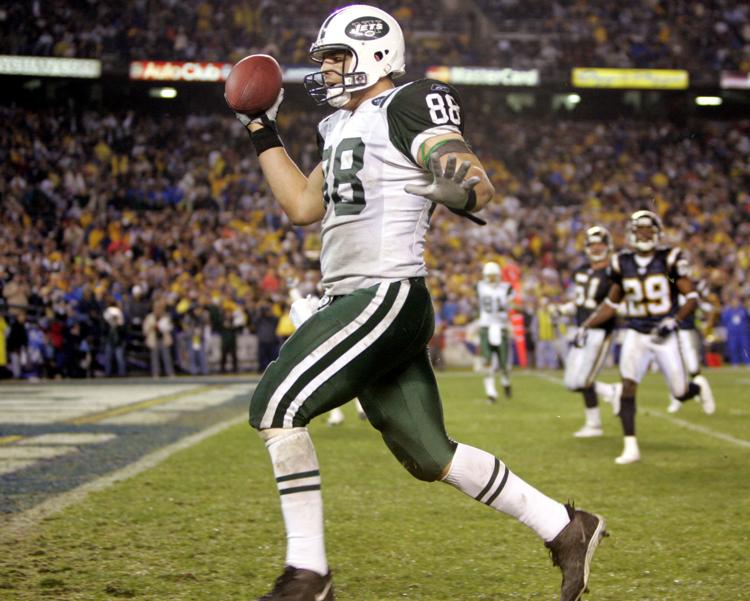 The tight end later spent three years (2005-07) in Tampa Bay with NU inside linebackers coach Barrett Ruud. Becht still laughs about some of the quirks of the calm and "very vanilla" athlete who was so different from other NFL middle linebackers he encountered.
The Bucs had a tradition where new players bought Christmas gifts for veterans, and Ruud made an impression during his rookie year in 2005. The native Nebraskan handed out gift bags with tissue paper wrapped around CDs of his favorite band, Grateful Dead.
"Let's be honest, that wasn't the kind of music everybody was listening to in the locker room at that time," Becht said. "It was just funny to see the reaction from the players when they got that. But that was Ruud — like, 'I love this stuff, why don't you?' "
Becht still thinks Ruud, who had a track record of production, was shortchanged when Tampa declined to offer a long-term contract after the 2010 season. He jokingly wonders how Ruud is handling coaching when he was known among the Bucs for being anxious if a defensive call didn't come in quick enough.
"He wanted to have it right away so he could get out there and get set up," Becht said. "So I can just imagine now him as a linebacker coach against the fast-paced offenses out there."
Becht, who also had stops with the St. Louis Rams (2008), Arizona (2009) and Kansas City (2011), will arrive in Lincoln after calling a Jets preseason game Thursday night in New York. He said Memorial Stadium still has one of the top environments of any venue he's visited.
"They're just all-in there," Becht said. "It's one of the best college towns to go to. It's just phenomenal."
20 Husker football legends reveal why they're optimistic about Scott Frost's return to Nebraska
The World-Herald reached out to a number of former Nebraska players from several different decades to get their thoughts on Scott Frost returning to Lincoln. Here's what they think the hiring of the former Husker quarterback will mean for the NU program.