Sunday, July 27, 2014: 6:53 p.m.
Bo Pelini was preparing for Big Ten media days in Chicago when two long text messages landed in his iPhone.
They were from Mike Nobler and they started like this: "I got an idea ..."
The Nebraska football video coordinator had been meeting with two NU officials, trying to brainstorm a creative way to unveil the Huskers' new alternate uniforms. Many of the tricks had become cliché. But Nobler had something fresh.
"I think instead of a player surprising the team with the new uniform on," he explained in the second text, "it should be you. You wear the shoulder pads, jersey, pants, helmet and shoes and run into the auditorium. The players would go crazy. We would film it and post it that morning. After about 10 seconds after you run in you rip off your helmet and show them. Think about it. I think it would be big."
Five days later, Pelini followed the plan, bouncing around the room, throwing the bones, high-fiving players. When he took off his helmet, the auditorium exploded in laughter and applause.
Nobler's video crew recorded the scene, put it on Twitter and — boom — the national media were smiling at Nebraska again, just like Nobler had hoped.
The Husker football machine is stocked with people who work 12-to-14-hour days behind the scenes. But none quite like Nobler, the life of the office party, the sitcom neighbor who pops in and stirs silliness.
"He's a beauty," Pelini says. "I let him do his thing; I don't care. Sometimes you need that kind of thing around."
Nobler's greatest value lately may be inspiring Pelini's own comedy.
Chart Nebraska's social media successes over the past 18 months, and you'll find Nobler instrumental in almost all of them. If it wasn't his idea, his video crew was distributing the joke to the masses: The Harlem Shake. Smashing a cellphone with a hammer. Carrying a cat down the red carpet.
Social media and the public's 24/7/365 obsession with college football has put even more of a spotlight on coaches. Public perception is increasingly superficial. A coach can take advantage of the stage and craft his narrative carefully, like a politician. Or he can ignore this truth and fall victim to the whims of the online world. For years Pelini focused solely on football and allowed a caricature to flourish, much to the frustration of his friends.
Slowly, his image is changing. Despite what was at times a nightmare 2013 season, his status in the social media world has never been more positive.
Why? He's showing off his inner Nobler.
Monday night, the opening practice of fall camp, the 34-year-old who bears a resemblance to Steve Stifler of "American Pie" movie fame entered the Hawks Center looking like a 1985 version of Tom Osborne. He'd purchased a pair of red Bike brand coaching shorts for $30 off eBay. With knee-high white socks, aviator sunglasses and an old "NU" hat, he walked onto the practice field and caught Pelini's eye.
"I had to do a double take," Pelini said. "I was, like, 'Who the hell is that?' "
In June 2009, Carl Pelini was in charge of defensive line instruction at Nebraska's annual football camp.
Campers are high school kids dressed in helmets and shoulder pads. Some are college prospects, most aren't. Position drills consist of basic fundamentals.
That particular camp, Carl encountered a camper about 6-foot-1, 180 pounds, a little small for a defensive lineman. But that wasn't the camper's biggest problem. Every time Carl crouched and barked an order, the kid screwed it up. "All right, everyone, right hand down!" The kid put his left down. "Step with your right foot." The kid stepped with his left.
Finally, Carl blew his top.
Nearby, holding in laughter, stood Bo Pelini. The disobedient teenager was no teenager at all; he was new video coordinator Mike Nobler.
Thus began Nobler's summer camp tradition, which has victimized almost every new intern, graduate assistant and position coach in the past five years. In 2012 Nobler showed up in cutoff Wranglers, high-top tennis shoes and a neck roll (Bo personally put it on him).
He went through Rick Kaczenski's defensive line drill, doing his best to look like the worst football player Kaz had ever seen. Kaczenski bit his tongue, even pulled the kid aside and threw an arm around him. When Nobler looked up under the helmet and made eye contact, Kaz knew he'd been had.
This is Nobler's reputation on the football team. Yes, he has a serious job. Yes, he puts in long hours. But to the players, he's comic relief.
"He doesn't care what anybody thinks about him," cornerback Daniel Davie says. "He's just here to make us laugh."
Nobler has worked in coaches' offices for 15 years. He knows the culture. It's gravely serious.
"Every minute during this football season is the most important minute that we ever had in our lives, it seems like. The next practice is THE most important practice we've ever had. This upcoming special teams meeting today at 1:45 is THE most important special teams meeting we've ever had."
The best form of stress relief? Laughter — especially when it's endorsed by the boss.
Which is why Nobler pushes "business casual" to the limit on road trips. One day he's in cowboy boots, '70s polyester pants and a bolo tie. The next he looks like Don Johnson in "Miami Vice."
It's why he grew a "Civil War beard," then shaved only his chin to make it look even worse. Unfortunately, that's the day Tom Osborne introduced him to Shawn Eichorst.
"I'm thinking, 'Oh, God, I'm meeting my new director of athletics with these really bad Chester A. Arthur chops.' "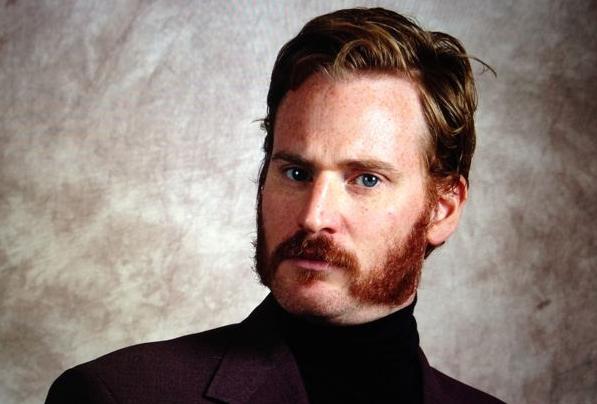 Nobler was sporting these "really bad Chester A. Arthur chops" on the day he met A.D. Shawn Eichorst.
When Carl Pelini left in December 2011, Nobler submitted a mock application for Nebraska's open defensive coordinator position: "I spent way more time on this than I should've."
Osborne, an able prankster himself, played along: "Mike, I reviewed your résumé. Though you meet all the qualifications, I think we're gonna go in a different direction."
Once upon a time, Nobler was the target of such high jinks, not the perpetrator.
He was new on the job and needed new brakes for his car. He asked for suggestions around the office. Pelini pounced, directing Nobler to his local dealer. A friend there will take care of you.
Sure enough, the dealership loaned Nobler a four-door sedan while his was in the shop. Nobler left work a little early, picked up his wife, and that's when things got weird.
"Hey, Mike, what is this?" she said, looking behind the seat.
She picked up two Ziploc bags. The contents of one bag looked like marijuana. The other looked like cocaine.
"Oh, my God, I have no idea," Nobler said.
It took a few minutes before Nobler realized he was transporting crushed-up parsley and flour. Next day, he arrived at work, where Pelini was shaking his head.
"You screwed it up," he said. "You screwed it up."
By leaving work early, Nobler had disrupted Pelini's grand plan. Campus police were supposed to pull Nobler over, search the car and find the "drugs."
"I haven't gotten him back with anything yet," Nobler said. "Usually, now, we join forces."
For signing day 2010, Nobler compiled a highlight video of his old high school clips. Memorial Stadium PA announcer Patrick Combs narrated it.
"Mike Nobler is a standout wide receiver prospect from the suburban Chicago area who brings excellent playmaking skills to the Nebraska program ..."
Initially the video looks legit, just like those that NU produces for incoming recruits. But as it continues, No. 80 never actually touches the ball. In most of the clips, he's on the sideline.
"... Nobler did not have any catches as a senior, largely because teams often designed their entire defensive game to stop his game-breaking skills. ... While opponents understood the immense impact of the 5-foot-11, 170-pound Nobler, his lack of statistics unfairly kept him off the East Suburban Catholic Conference all-league team.
"Nobler's only scholarship offer came from Nebraska, but he was also a key target of Carthage College in Kenosha, Wisconsin, as the program offered him a walk-on tryout and a chance to work nights and weekends in the video department."
Most of that biography is accurate.
After high school, Nobler enrolled at Western Illinois, where his roommate helped him grab a student manager's job on the football team. Two summers later the St. Louis Rams were in town for training camp and needed another video man.
Nobler caught his first break.
"I walked into their video room that they had mocked up in one of the dorm rooms and I thought, 'Holy cow, this is cool.' I had no idea this was even a job."
He interned with the Rams in 2001, then joined Bob Stoops' staff at Oklahoma, where he hit it off with then-defensive coordinator Pelini. The Sooner staff won a lot of games. They also had a lot of fun. If Bo ever got a head coaching job, Nobler told a colleague, he'd be the perfect guy to work for. The opportunity arose in '09.
"When the job came open here, he was the first guy I thought of," Pelini said.
Nobler jokes that his department is responsible for everything with an "on" switch. But his duties focus on cutting and editing film. An ordinary preseason practice illustrates the value of his department.
Six student cameramen stand in towers, two more shoot video on the ground, two more blast music. Halfway through practice, they rush their camera cards back to the office. Ten minutes later, the first half of practice is already on a 50-computer network. The whole practice is available on film before the Huskers hit the showers.
"Our players are watching it on the iPad while sitting in the locker getting undressed," Nobler says. "When you think about it, that's pretty mind-blowing."
But that's not the coolest part. Within a couple of hours, graduate assistant coaches have labeled every clip in the system, sorting them by formation, personnel group, coverage, etc.
If offensive coordinator Tim Beck wants to open his laptop at home and watch every three-step drop from quarterback Tommy Armstrong, he can.
"He's phenomenal at what he does," Pelini said of Nobler. "He's on the cutting edge. A lot of technology companies have tried to hire him away."
Nobler's work doesn't come without credit. In 2012 the Big Ten Conference named him video coordinator of the year. But there's one thing about his job even his peers don't understand, he says.
Every time he attends a "nerd convention," Nobler wears his Nebraska gear. And "every single time, it will not fail, somebody will come up to me and say, 'Boy, it must really suck to work for Bo.' 
"It kills me that people think that."
Nobler got a call on the eve of spring practice 2013. Bo Pelini had heard about the dance trend. He wanted his team to do it. Nobler's video crew sprang into action, preparing for a video that — 17 months later — has more than 382,000 hits on YouTube.
Five months later, Pelini revived a prank he used in 2008. Nobler, standing behind the lectern, secretly called defensive lineman Thad Randle's cellphone during a team meeting in the auditorium. When it rang, Pelini blew a gasket, smashing the phone with a hammer. As Randle and Pelini faked a fight in the hallway, sending the auditorium into panic, Nobler projected a message on the big screen — "Got ya!" The YouTube video has earned more than 858,000 hits.
Then came the cat. Nobler helped brainstorm the spring game Tunnel Walk. The original idea was leading the kitty down the tunnel on a leash.
"But just for safety reasons of the cat — and Bo didn't want to be dragging a cat — it turned into, 'Let's just carry the cat,' " Nobler said.
No one inside the Osborne Complex, including Nobler, directly sought to reform Pelini's image via hilarious viral videos. But that's undoubtedly what has happened. The coach has always enjoyed his high jinks; now he's releasing them to the public like short movies.
"Let's get it out there," Nobler says. "Let's show everyone how much fun we're having here."
Monday night at practice, Pelini was still chuckling at Nobler's tight shorts when the video coordinator shared a revelation. You know, we have carved out a niche, he said.
"We got this reputation now that we're the nuthouse of college football. This is turning into a thing."
Of course, Nobler occasionally spots a moment he wishes the public could see.
Tuesday he was filming Kaczen ski's defensive line drills. The pupils weren't high school kids or undersize video coordinators, they were authentic 300-pound Huskers. And they were struggling to understand the lesson.
Kaczenski was furious: "You're wasting reps!" Pelini walked up and took it all in for a minute.
When sophomore Vincent Valentine circled around to the back of the line, Pelini grabbed him and gave him an instruction, just as he gave Nobler at summer camp.
Go up to Kaz and ask him to explain it again.
"Obviously Vincent didn't do it," Nobler said. "But it was so great that Bo walks up and puts his arm around Vincent and tells Vincent to just keep poking the bear. Just knowing that it would set Kaz off."
Pelini probably would've done the same thing a few years ago, Nobler said. But that moment cemented what he already knew.
"This is gonna be a fun year."
The day before Pelini entered the team auditorium wearing the alternate uniform, he flew to ESPN headquarters in Bristol, Connecticut, to participate in the Big Ten coaches' "car wash."
ESPN shuffles coaches from one interview to another. TV. Radio. More TV. It's a good way for schools to get exposure. It's a good way for ESPN to fill slow summer news days.
At one point Pelini was standing for snapshots when an ESPN photographer told him to point at the camera and show a mean face.
Oh, boy. Posing for the camera? Embracing the caricature? Pelini would've rather shined Urban Meyer's shoes. He surveyed the room and called a quick timeout.
"Nobler," he said. Pelini's video coordinator was standing behind the cameraman. "Turn around or look the other way. I can't do this with you in the room."
The office goofball turned away. The coach locked in on the camera and pointed. If the world wanted a scowl, the least he could do was try.