There's a first for everything. And on Monday, it was Alex Gordon pitching in an MLB game.
With the Oakland Athletics sporting a 15-3 lead over the Kansas City Royals in the seventh inning, left fielder Alex Gordon made his way to the mound.
The former Husker hadn't pitched since a college summer baseball his freshman year. He allowed two hits and one earned run — a solo homer to Matt Chapman. He threw 15 pitches, six for strikes.
"I was smiling at Chapman," Gordon told the Kansas City Star. "Our guys were telling me to throw a changeup, but every time I did, they crushed it. I should have just stuck to my fastball or sinker or whatever it was. But my first changeup was to Chapman and obviously he crushed it. I was kind of laughing at him as he was running around the bases."
But wait, Gordon wasn't done yet.
He made his way back out for the eighth inning. Unfortunately for Gordon, it didn't go quite as well. He opened the inning by allowing one run on three consecutive singles and another on a fielder's choice. After allowing a walk, Gordon was lifted in favor of shortstop Humberto Arteaga.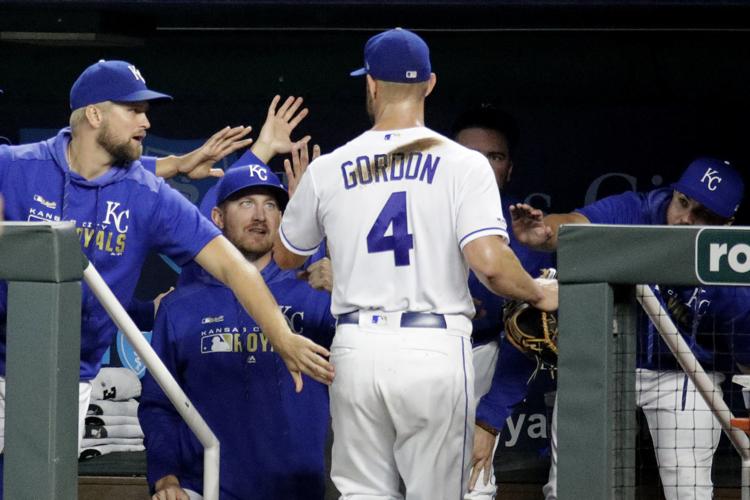 "I thought I might have been getting squeezed," Gordon said. "But then you go look at the replay, and it wasn't close. I did think I was throwing harder, like maybe 88. Then I looked up and it was 81. I was a little depressed over that."
In total, Gordon allowed three runs on five hits and a walk in 1⅓ innings as the Athletics went on to win 19-4.
Sign up for World-Herald daily sports updates
Get the headlines from Creighton, Nebraska, UNO, high schools and other area teams.
For his career, Gordon has now played everywhere except catcher and second base, according to Baseball Reference. Here's the number of times he's appeared at each position so far in his career:
Last three players to start as a cleanup hitter and come in to throw more than one inning in relief:

Aug. 26, 2019 - #Royals Alex Gordon
Aug. 24, 1940 - #RedSox Ted Williams
July 30, 1919 - #RedSox Babe Ruth

— Ryan M. Spaeder (@theaceofspaeder) August 27, 2019
The Nebraska 100: Our greatest athletes
The Nebraska 100, originally selected in 2005 and then updated and re-ranked in 2015, came from a pool of nearly 500 names from the ranks of high school, college, amateur and professional sports from the past 140 years. Assistance came from a panel of veteran sports observers from across the state, with the newspaper's sports staff determining the final rankings.