This article was originally published in October of 2018. It has been updated ahead of the 2019 Minnesota-Nebraska game.
Nebraska has dominated Minnesota since 1963, claiming 19 of 22 games, including:
» Sixteen consecutive victories from 1963 to 2012 in which the Huskers outscored the Gophers 632-128. That's an average score of 39.5-8.
Eighty-four points?! That's a modern Husker record for points scored and margin of victory (71 points).
How exactly did Nebraska make it happen?
» A school-record 10.82 yards per attempt helps, as NU carried the ball 55 times for 595 yards — sixth-most in program history. The top-five rushing-yard marks in program history all have at least 68 carries.
» 790 total yards — third-most in NU's history — on 70 plays, an average of 11.286 yards per play — second-highest in program history behind 11.288 against Kansas State in 2010.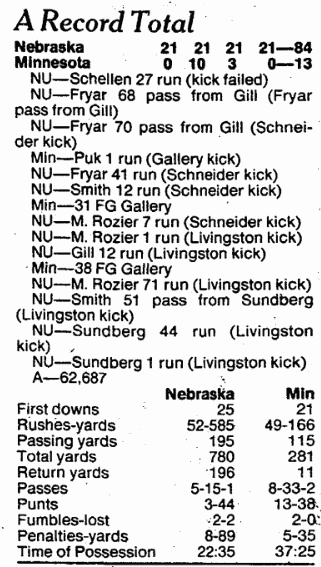 "They were talking a lot of junk on and off the field," 1983 Heisman Trophy winner Mike Rozier said after the game. "They were telling us we were no good and how we were not going to win the game. We just kept our mouths shut and went out and did our jobs."
"I loved it," NU center Mark Traynowicz said. "We didn't come up here to make friends. As far as I'm concerned, I'd like to score that many points every game."
Despite that, Minnesota is one of eight programs that has played Nebraska at least 10 times and claims a winning record, joining Oklahoma, Pittsburgh, Indiana, Texas, Wisconsin, Syracuse and Michigan.
The Gophers are 32-24-2 all time against the Huskers. All but three of those wins happened in 1960 or earlier. The first?
"It was the finest exhibition of football ever seen on a Nebraska gridiron, and was witnessed by 5,000 gally beribboned enthusiasts, of whom almost a thousand came down from the snow covered fields of Minnesota to wager their money that the light and lithe Nebraskans could not score against their brawny, light haired northern giants," The World-Herald published on Nov. 30, 1900.
NU has played Minnesota every year since joining the Big Ten, going 5-3. The most notable happening? Maybe the $5 or bits of broken chair trophy created thanks to a social media discussion between Faux Pelini and the Gopher mascot.
Notes
» Despite trailing in wins in the series, Nebraska has outscored Minnesota 1,082-1,031 all time. 
» Nebraska has three players from Minnesota — David Alston, JD Spielman and Bryce Benhart. All time, the Huskers have 54 players from Minnesota — 50 on scholarship. Minnesota currently has no players from Nebraska.
When was Nebraska last ranked No. 1? Husker football's entire history in the AP Top 25
How often has Nebraska football been ranked at each position? When did the Huskers first appear at No. 1? When was the last time NU was in the top 10? Check out this photo collection featuring how Nebraska has fared at each spot in the AP Top 25.