Which direction is Nebraska trending? How much confidence do fans have in the coaches? Do the Huskers have the talent to win a Big Ten title?
We asked fans earlier this summer to give us their thoughts on the state of the Husker program with our Big Red Ballot. We received thousands of responses on questions that fit into four categories: the program, the conference, the coaches and the players.
Most fans haven't lost confidence in Mike Riley and the Huskers. In fact, many expect a division title — and even a Big Ten championship — to come within the next few years. And fan support is still as high as it's always been.
But it's clear the pressure's on for NU to live up to those expectations. Not all fans are as confident about the Huskers' future as they were one year ago. Improvement will need to be shown to avoid that pessimism from catching hold with the majority.
Below is an overview of some of the key findings from the Big Red Ballot to show the state of the Nebraska football program:
The program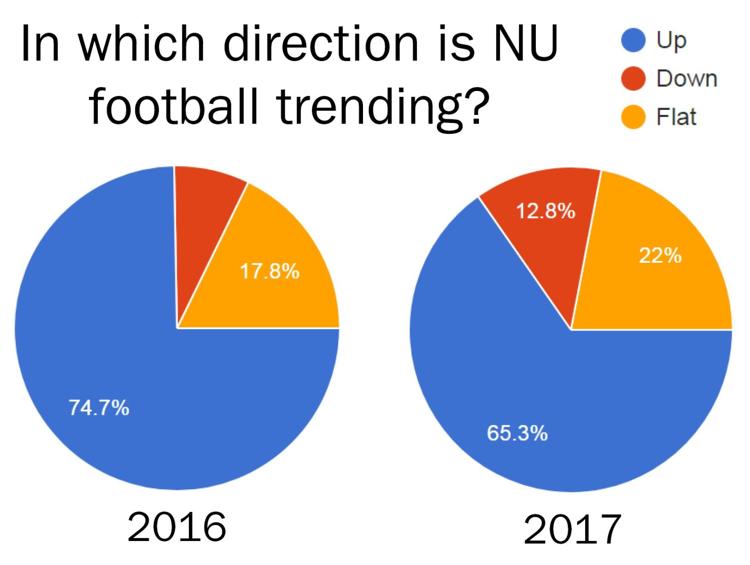 Most fans still believe NU is in better shape under Mike Riley than it was before he was hired, but for how much longer? About two-thirds of responses agreed the program is better off than it was four years ago, but fans don't seem to be as positive about the direction NU is trending as they were prior to the 2016 season.
More fans than last year responded they think the program is flat or trending down. The majority of fans still believe the Huskers are trending up, but it seems Mike Riley will need to reward that faith with a step forward in 2017. Most fans said they expect NU to win eight or nine games this year. Will that be enough to keep fans happy?
The conference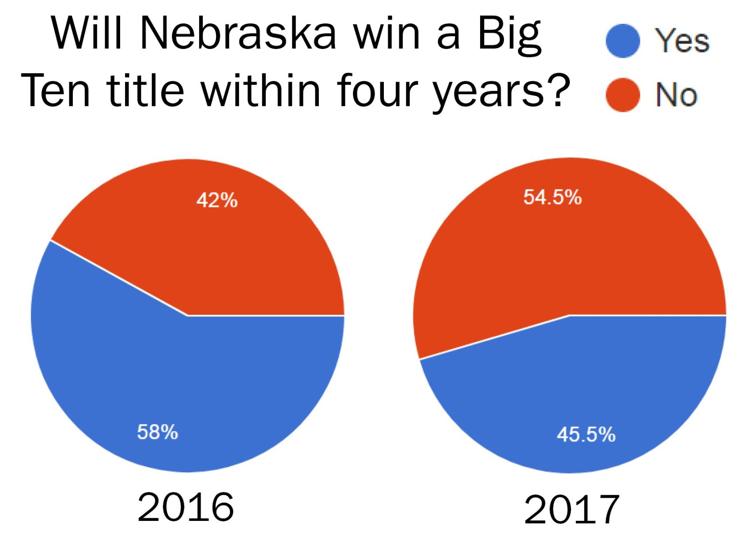 We asked fans where they think Nebraska is going to finish in the division this season, and most expect the Huskers to fall short of the title. About 43 percent believe NU will finish second and 24 percent pegged the Huskers to finish third (a first-place finish was the third-most popular response at about 20 percent).
The majority of fans still think Nebraska has what it takes to win the division in the next four years — about 76 percent answered positively, but that's about a 10 percent decrease from the responses in 2016. Fan confidence in NU's ability to win a Big Ten championship has also gone down — with 45.5 percent answering positively this year compared to 58 percent in 2016.
The coaches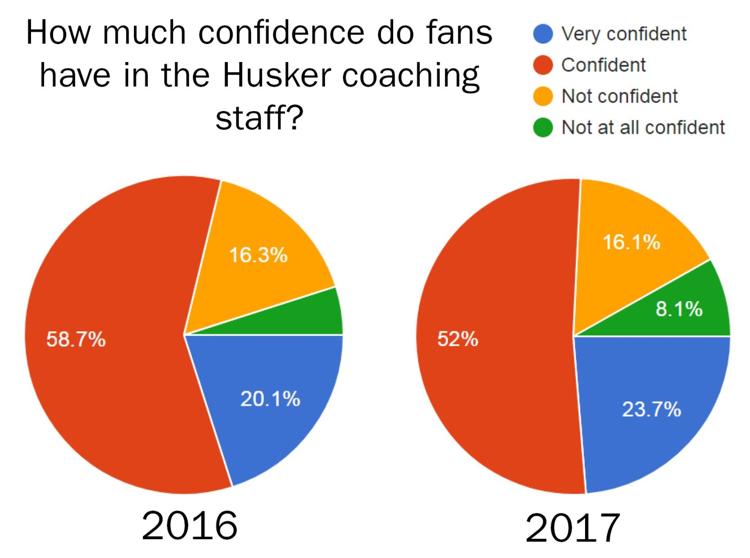 Bob Diaco hasn't coached a game yet for the Huskers, but fans hold him in high regard. About 85 percent of fans responded that they were confident in Nebraska's new defensive coordinator. At this time last year, 55 percent felt confident in Mark Banker's ability to lead the defense, and he lost his job following the 2016 season.
Overall, about 76 percent of fans are confident in the coaching staff as a whole. Riley also received about 76 percent confidence, and offensive coordinator Danny Langsdorf received about 60 percent confidence.
The players
Most fans still think Nebraska currently has enough talent on the roster to win a division championship — though positive responses dropped from about 83 percent in 2016 to about 67 percent this year.
Confidence drops off when fans start considering the potential for Big Ten and national championships. Only about 36 percent of fans think NU has the players capable to win a conference title, and only about 15 percent think they can win it all.
Perhaps those figures will start turning upward in the future, though, as about 79 percent think recruiting is trending in the right direction.